Comics
Published May 31, 2017
Celebrating Star Wars #4
An eclectic cast of characters joins Luke and company for adventure!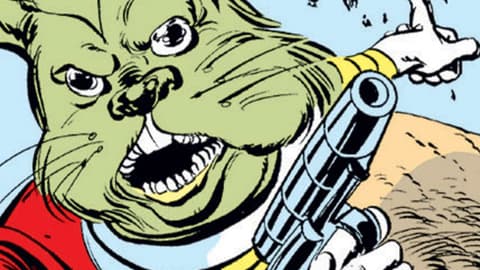 We all know that the first Star Wars film changed the face of pop culture forever when it hit theaters 40 years ago today—but it's not just the movie that's celebrating that milestone in 2017. Star Wars comics arrived with force in 1977, and hundreds of issues later, they're more popular now than ever.
To celebrate the 40th anniversary of Star Wars, we're looking back at our 40 favorite moments from the history of comics from a galaxy far, far away—one day at a time.
After their six-issue adaptation of "A New Hope" concluded in 1977, writer Archie Goodwin and artist Howard Chaykin faced an unthinkable reality to modern fans: What's next for Luke, Leia and Han? With no clue of what a "Hoth" or a "Yoda" were, the creators let their imaginations run wild, resulting in content that—in the very best, most delightful way possible—today feels like it belongs in a galaxy far, far away from the Star Wars galaxy itself.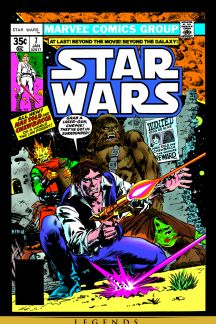 STAR WARS #7 starts out quite connected to Episode IV, with the Millennium Falcon en route to Dantooine to pay off Jabba. After space pirates board the ship and steal the bounty, however, Han and Chewie decide to lay low on Aduba-3, where things start to get a little weird when they team with a band of quirky characters to help protect the planet. Among them: Hedji, a man who looks like a cat but shoots quills like a blaster; Don-Wan Kihotay, who claims to be a Jedi; Jimm, the Starkiller Kid—probably named as an homage to "Luke Starkiller's" original name; and the white-haired Amaiza, clad in what can only be described as a red battle bikini.
But best of all: the six-foot green rabbit man known as Jaxxon. His last appearance may have been 1978's STAR WARS #16, but Jaxxon remains a sentimental favorite to fans to this day, even starring on his own variant covers for STAR WARS #1, VADER DOWN #1 and POE DAMERON #1. As one single character, he exemplifies the sheer sense of fun exuded from these crazy classic issues.
The Hype Box
Can't-miss news and updates from across the Marvel Universe!