Comics
Published August 24, 2017
Celebrating Star Wars #40
As our 40-part series ends, we look back at Marvel treating readers to "The Last Jedi!" in 1981.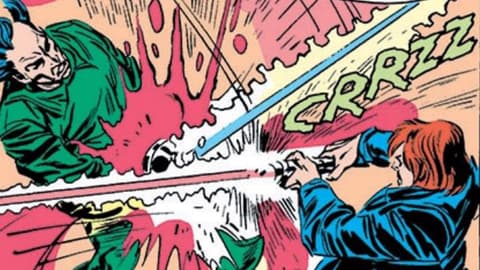 We all know that the first Star Wars film changed the face of pop culture forever when it hit theaters 40 years ago—but it's not just the movie that's celebrating that milestone in 2017. Star Wars comics arrived with force in 1977, and hundreds of issues later, they're more popular now than ever.
To celebrate the 40th anniversary of Star Wars, we're looking back at our 40 favorite moments from the history of comics from a galaxy far, far away—one day at a time.
By now, you're well aware that a short time from now in our very own galaxy, "Star Wars: The Last Jedi" hits theaters everywhere. In the spirit of the upcoming release of Episode VIII, the 40th and final entry in our "Celebrating Star Wars" series features a story you may not recall—but 1981's STAR WARS #49 certainly does boast an intriguing title: "The Last Jedi!"
Outside of the mere appearances of Luke Skywalker, Princess Leia and the droids, however, a shared name is probably all that Episode VIII and STAR WARS #49 have in common. To that end, this adventure, set shortly after "The Empire Strikes Back," features our heroes disguised for more than half of the issue—and it's a safe bet that we won't see Episode VIII's Luke standing on the steps of his island hideaway wearing an eyepatch and red wig.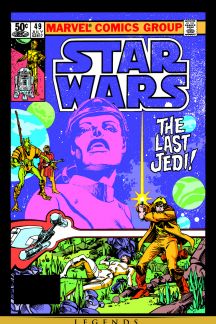 The "last Jedi" referenced in the issue's title is actually no Jedi at all, but rather a purple alien named Jedidiah, who suffered a traumatic brain injury while heroically defending the prince of Velmor. "His injuries robbed him of his reason," Prince Denid tells Luke and Leia, who have arrived on a secluded planet to answer their distress signal. "He remembered only his lost dream of becoming a Jedi Knight…"
From there, our heroes rescue the shipwrecked duo and rush to return Denid to Velmor so that he can be properly crowned before his Empire-loving younger brother is declared king instead. Of course, a climactic battle ensues in order for Denid to claim his rightful rule—but not without some touching further heroics from Jedidiah. Luke himself greatly respects his actions and dubs Jedidiah "the last Jedi."
As with every other comic featured in the Celebrating Star Wars series, STAR WARS #49 can be read in its entirety by anyone with a Marvel Unlimited subscription. It's a fun curiosity that's worth checking out. …Just don't go in expecting any Episode VIII spoilers.
The Hype Box
Can't-miss news and updates from across the Marvel Universe!