Comics
Published June 2, 2017
Celebrating Star Wars #6
Dark Empire provides intergalactic action for starving Star Wars fans!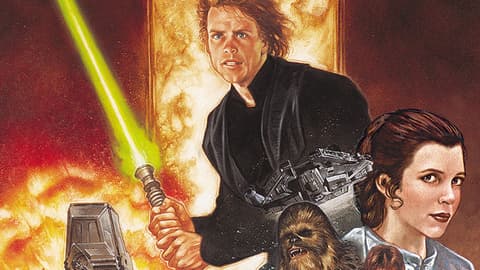 We all know that the first Star Wars film changed the face of pop culture forever when it hit theaters 40 years ago today—but it's not just the movie that's celebrating that milestone in 2017. Star Wars comics arrived with force in 1977, and hundreds of issues later, they're more popular now than ever.
To celebrate the 40th anniversary of Star Wars, we're looking back at our 40 favorite moments from the history of comics from a galaxy far, far away—one day at a time.
By the end of the '80s, even the biggest Star Wars fans felt the franchise had fallen dead; no new movies, comics, or TV shows had been produced in years. It's a period fans refer to today as "the Dark Times."
But then along came 1991. With three key new pieces of Star Wars media, the Dark Times got some light. Leading the charge was "Heir to the Empire" by Timothy Zahn, which kicked off the fan-favorite Thrawn Trilogy of novels. A few months later, an NES game from JVC and Lucasfilm Games provided the first Star Wars console title in North America since 1984. Finally, in December, Dark Horse released the classic STAR WARS: DARK EMPIRE #1, the first of hundreds of Star Wars comics it would continue to publish for more than 20 years to follow.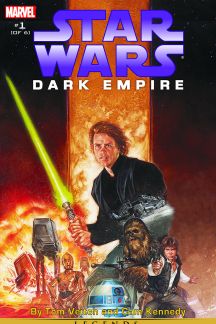 Drawn in by incredible cover art from Dave Dorman, fans were not let down with the new beautiful Star Wars content they had been craving for years. In just their first issue, writer Tom Veitch and artist Cam Kennedy dive head-first into the fan service: everything from the Millennium Falcon and Star Destroyers to Han shutting up C-3PO and a hint of Leia's capabilities as a "Jedi Warrior." We even see Luke take down an AT-AT using his powers alone, as well as the first-ever visual representation of Coruscant.
But things get creepy when Luke indicates he must stay on the planet because he senses the dark side there. The issues to come will include Luke embracing the dark side of the Force to learn its secrets, a clone of Emperor Palpatine, and other significant events that blew fans' minds in the early '90s.
The Hype Box
Can't-miss news and updates from across the Marvel Universe!