Comics
Published June 7, 2017
Celebrating Star Wars #9
Another highlight moment for Boba Fett in the pages of Dark Empire!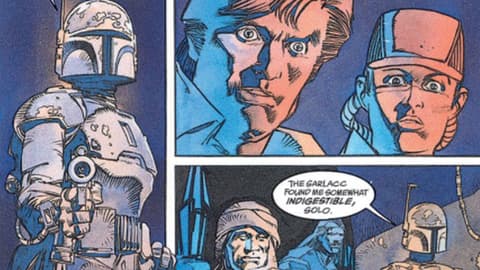 We all know that the first Star Wars film changed the face of pop culture forever when it hit theaters 40 years ago today—but it's not just the movie that's celebrating that milestone in 2017. Star Wars comics arrived with force in 1977, and hundreds of issues later, they're more popular now than ever.
To celebrate the 40th anniversary of Star Wars, we're looking back at our 40 favorite moments from the history of comics from a galaxy far, far away—one day at a time.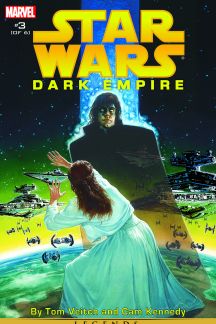 Last week, we took a look at Star Wars' triumphant return to comics with STAR WARS: DARK EMPIRE #1. One particularly memorable moment occurs three issues later—one that would affect the Star Wars Legends continuity for years to come.
Remember, we're talking six years after "Return of the Jedi" here, and DARK EMPIRE #3 ends with a message for Han Solo that he shouldn't be getting: "A Mr. Fett here to see you, sir," his servant droid Zee-Zee tells him.
Cut to the first panel of DARK EMPIRE #4: "Greetings, Solo." It's Boba Fett, the legendary bounty hunter…who's supposed to be in the Pit of Carkoon being feasted upon for another 9,994 years. "The Sarlacc found me somewhat indigestible," he explains.
And that's all there is to it. With that simple explanation, one of the most popular Star Wars villains of all time gets a new lease on life, collecting bounties throughout the galaxy for years to come.
The Hype Box
Can't-miss news and updates from across the Marvel Universe!