Comics
Published December 13, 2018
Champions: It's a Weird, Weird, Weird, Weirdworld
Come on a journey of one of Marvel's craziest fantasy-scapes!
The saga of Marvel's coolest young heroes in Weirdworld that began in CHAMPIONS #25 wheels its way to a wrap-up in December's CHAMPIONS #27, but some of you wonderful people might still wish to know what's up with Weirdworld.
Well, we're here to wrangle an answer for you while it's still wide open.
INITIAL WEIRDNESS
It all began back in 1976 and the one-and-only edition of a Marvel magazine called MARVEL SUPER ACTION #1. In it, legendary creators Doug Moench and Mike Ploog introduced readers to a fantasy-scape in the grand tradition of "The Lord of the Rings" they dubbed "Weirdworld." There, along with elf hero Tyndall, they spun a tapestry that continued the next year in MARVEL PREMIERE #38 and from there in MARVEL SUPER SPECIAL #11-13 in 1979.
Tyndall's battle with evil took a break until 1981 when it resumed in EPIC ILLUSTRATED and even later still in 1986's MARVEL FANFARE #24. The path to Weirdworld for us mere mortals disappeared for the most part after that, though Tyndall made appearances in 2015's SQAUDRON SUPREME.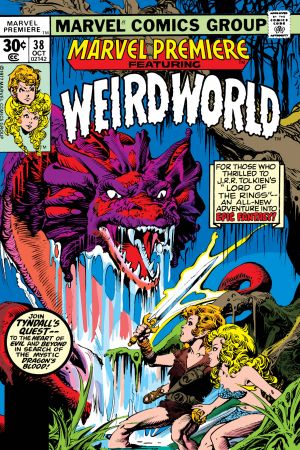 Marvel Premiere (1972) #38
published

added to marvel unlimited

penciller (cover)

writer

penciller

editor

letterer

colorist

inker
What is Marvel Unlimited?
SECRET WEIRDNESS
The unique fantasy world itself finally returned in 2015's SECRET WARS event, albeit in a somewhat altered state. Part of Doctor Doom's cobbled-together Battleworld, Weirdworld existed alongside other Marvel "magical" lands for the duration of a five-issue WEIRDWORLD limited series, populated by such luminaries as Morgan le Fay, Skull the Slayer, and a version of the mysterious Man-Thing. When the universe's greatest heroes smashed Doom's godhood and with it Battleworld, Weirdworld somehow transitioned to the remade prime Earth and waited to take center stage once more in new stories.
Weirdworld (2015) #1
published

added to marvel unlimited

rating

editor

painter

painter (cover)

penciler (cover)

writer

letterer
What is Marvel Unlimited?
NOW EVEN WEIRDER
It didn't wait long. In 2016, a new WEIRDWORLD limited series invited readers to tour its twisted landscape with a young woman from Earth named Becca Rodriguez as guide. Interestingly, at the same time, the heroic Black Knight fled to Weirdworld at a dark time in his career and set up a new kingdom there in the five-issue BLACK KNIGHT series. With weirdness all around, he held off an incursion to root him out by the Avengers Unity Squad and eventually relinquished his hold on that eldritch land.
Since that time, none other than Spider-Man and Deadpool made their way to Weirdworld in the pages of SPIDER-MAN/DEADPOOL #13 to make themselves scarce while being sought by Itsy Bitsy and cause mischief by a woman who's no stranger to that land, Morgan le Fay. In addition, Weirdworld also played a part in recent WEAPON H series when it became known that the crooked Roxxon Corporation attempted to more-or-less weaponize the land's unique energies, an act that didn't sit well with its denizens.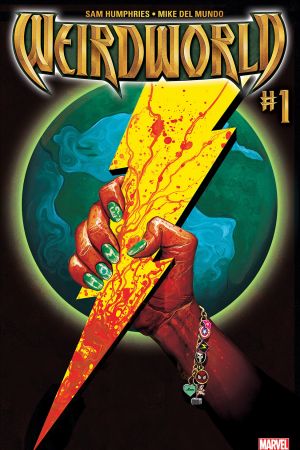 Once a standalone saga, but now squarely and surely part of the larger Marvel Universe, Weirdworld seems destined to always be at the center of action and adventure for years to come.
CHAMPIONS #27 is available now, both online and at your local comic shop!
The Hype Box
Can't-miss news and updates from across the Marvel Universe!