Comics
Published March 16, 2017
Champions of Hope
Go inside the creation of a Marvel comic for children's hospitals!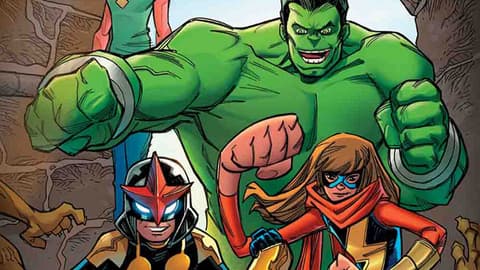 One of the things many of us love about comics is their ability to inspire and uplift. With that in mind, Marvel, Disney and hospital child life specialists have created a custom, quad-fold comic that features some of our favorite young heroes, and addresses topics like teamwork and asking for help when you need it. It will be distributed to select children's hospitals nationwide. As Kevin Callahan, Vice-President, Community Engagement and Strategic Philanthropy at Disney Citizenship, commented:
"We are proud to work with the Marvel Publishing team and child life specialists in creating the fourth custom comic book for children's hospitals. The message about the importance of friendship, aligns well with Disney's commitment to bringing happiness, hope, and comfort to children and families who need it most."
We caught up with writer Marc Sumerak, artist Craig Rousseau, and colorist Carlos Lopez about their experience working on this powerful project.
Marvel.com: The team of characters who have now formed the Champions are perfect for this project. What do you think makes them a good fit?
Marc Sumerak: Marvel has a whole new generation of young heroes, so I see it as quite natural that some of them might occasionally find themselves in over their heads as they explore their own limits. Whether they've made it to the big leagues and served on the Avengers—like Nova and Ms. Marvel—or they've carved their own heroic paths—like the Totally Awesome Hulk and Viv Vision—these young champions are still in the process of learning what it really means to become a hero and how to work as a team to save the day.
Craig Rousseau: The Champions seem like a young group trying to find their own place and role in the world, working together to help each other and others.
Carlos Lopez: I agree! They are young, and in the process of learning to become heroes. Learning about their place in the world. Children often find themselves in the same situation. And this journey is fantastic!
Marvel.com: What do you see as the significance of making stories like this available in hospitals?
Marc Sumerak: I've always seen Marvel's heroes as symbols of hope. When times get tough, they rise above it all and find a way to win. But that doesn't make it easy. Even heroes have struggles and doubts, and they know they can't always do it alone. Seeing a hero's strength, and at the same time recognizing their vulnerability and humanity, can really inspire the readers.
Craig Rousseau: I absolutely see stories like this as positive motivation and encouragement for kids spending any length of time in a hospital.
Carlos Lopez: Comics like this are amazing. They have the power to bring joy and hope.
Marvel.com: What has it meant to you personally to participate in this project?
Marc Sumerak: It's always an honor to contribute to a project that uses Marvel's iconic characters to share a very important message. These heroes speak to fans of all ages, and if their trials and tribulations can inspire a young reader somewhere to make the right call when they need help, I can't think of a greater reward.
Craig Rousseau: I jumped at the chance to work on this, knowing from experience just how much it can make a difference; our youngest has Type 1 diabetes, and when she spent days in the hospital after her initial diagnosis, it was the books and stories she read to pass the time and engage her imagination that helped the most.
Carlos Lopez: It made me very happy to have the honor of contributing to a project as incredible as this.
Marvel.com: Can you tell us about your experience working on a project that has this kind of specific purpose in mind? Has it impacted your creative process?
Marc Sumerak: For me, the most important thing when working on a story like this is making sure to incorporate the message in an organic way. I wanted to integrate the main ideas—in this case, relying on others and working together as a team—into the core of the story from the very beginning. It has to make sense for all of the characters involved. No one enjoys reading a story and suddenly having a character teaching you an awkward lesson out of nowhere. If we've done our job well, that lesson will unfold naturally over the course of the story in a way that feels as fun and exciting as any other mainstream Marvel comic.
Craig Rousseau: I try and gear my artwork towards a specific audience if appropriate, and this one felt like it needed to be big and to have action-packed fun.
Carlos Lopez: I felt very proud. I remember thinking, "This is a really special project, I have to make something really great here."
Marvel.com: What other characters do you think would work well in a project like this? Maybe Nadia Pym or Lunella Lafayette?
Marc Sumerak: Marvel's younger characters all want to make their own mark as heroes. So many of them feel willing to step up and face danger alone when the need arises. But we also see them starting to understand the value of surrounding themselves with other like-minded—and like-powered—allies. I'd love to see more of Marvel's newest generation, from Ironheart and Moon Girl to Wasp and Wolverine, expounding the virtues of teamwork.
Craig Rousseau: Oh, I think we could have a lot of fun with Squirrel Girl in a story like this!
Carlos Lopez: I think Moon Girl would be very appropriate in stories like this.
Marvel.com: Would you like to mention anything else?
Marc Sumerak: The story starts with Nova in a strange place in his life. He has just left the Avengers and we see him trying to prove himself as his own hero. But when he gets in over his head, he realizes that he still has friends out there who will help him, no matter what. I think that's an important realization that everyone—super hero or otherwise—needs to have. Even when we feel like we have no choice but to face something alone, we still have people who love us who will have our backs in our hour of need.
Craig Rousseau: Man, that was a lot of Moloids to draw!
Carlos Lopez: I'll say the same as Craig—a lot of Moloids to color!
The Hype Box
Can't-miss news and updates from across the Marvel Universe!