Comics
Published July 12, 2017
Champions: Old Versus New
The Champions and Avengers fight to take the lead against a new threat!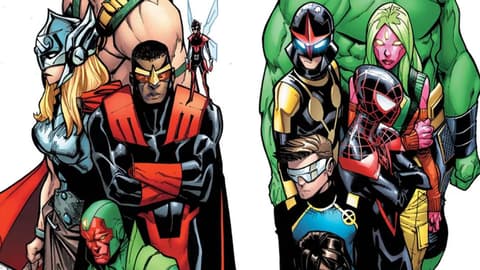 It's the same old group with some not so same old problems. CHAMPIONS #13 sees our young heroes stepping up to bat with the likes of their childhood heroes, the Avengers, as writer Mark Waid and artist Humberto Ramos bring us up to speed on their life of heroics post SECRET EMPIRE.
"Following the events of SECRET EMPIRE, the kids are re-evaluating their mission statement – do they need to step up to bigger threats," says Waid, This leads to both the Champions and Avengers responding to the same threat and while they manage to come together to subdue the initial threat, Waid says that's when the real tension begins. "Some of the Avengers think that the Champions ought to guard the home front while they take on one of the biggest threats ever." And as you can imagine that prompts a whole lot of, in the words of today's youngins, 'hells nah' from the Champions.
"The teams have radically different ideas as to how to handle the first assault from the High Evolutionary," notes Waid, "The biggest hurdle will be to get Vision and his daughter, Viv, to get on the same page." But should that really surprise us? After all, it is very common for teenage synthezoids to rebel against their parents, #growingupsynthezoid, right?
Maybe that's exactly what this team up needs, a little old school meets new school coming together to get the jobs done – ah -mixed school style. "You'll see different combinations and pairings of the Champions and the Avengers than you've every imagined," exclaims Waid, "Both teams are going to come out of this story with an altered view of the other – and I can't promise that it'll be a nice one."
And if that isn't enough to peak your interests, Waid did let slip he's looking forward to a conversation between Ms. Marvel and Hercules. It's flexibility meets brute force, I can only imagine what will come out of that chat. But whatever that may be, you can bet our young heroes come leave this battle with a new take on not just how to work as a team, but how to truly become the Champions today's world needs.
Will the Champions become more like their older counterparts or stick to their new-age heroics? Find out in CHAMPIONS #13 written by Mark Waid with art by Humberto Ramos.
The Hype Box
Can't-miss news and updates from across the Marvel Universe!