Comics
Published November 30, 2018
Chip Zdarsky and Marco Checchetto Reveal Their Plans for Next Year's 'Daredevil'
Marvel Comics hasn't seen the last of the Man Without Fear...
The last time we saw Matt Murdock in this week's DAREDEVIL #612, he was in a very precarious state -- not surprising for a story arc entitled "The Death of Daredevil." However, despite this dire dilemma, have we really seen the last of the Man Without Fear? Short answer: No! Daredevil will return in a new run with a new creative team in February 2019! Writer Chip Zdarsky will team up with artist Marco Checchetto for the new DAREDEVIL, which will follow the five-issue limited series MAN WITHOUT FEAR, written by Jed MacKay with art by Danilo Beyruth, coming in January.
Marvel.com spoke with Zdarsky and Checchetto to gain some insight into what's in store for Matt Murdock, his alter ego, and the city he protects.
Chip Zdarsky, writer:
Marvel.com: At the end of Charles Soule's run, which is called "The Death of Daredevil," a battered Matt Murdock is -- at the very least -- near death. What goes through your head when crafting the story of someone coming back from an experience like this?
Chip Zdarsky: Things can't be business as usual no matter how badly Matt wants them to be. That was in my head from my first conversations with Charles about the book. The character's been put through a lot over the years, but I think "The Death of Daredevil" is going to be a real "come to God" moment for Matt. What does that look like? What will he become?
This series is going to be about big questions and finding answers in strange places.
Marvel.com: DAREDEVIL started out as a fun adventure comic back when Stan Lee wrote the first issues of it. Since its debut in 1964, the character and story have undergone major changes in tone, becoming gritty and dark, but still giving Matt/DD a chance to have a sense of humor once in a while. How will your upcoming arc portray the Man Without Fear and the city he protects?
Chip Zdarsky: He's trying to prove himself. That he can do the job. I've always loved the various tonal takes on DAREDEVIL, but for this run I've decided to really go deep on the realities of being a vigilante in this world. Out of all the main Super Heroes, Daredevil has felt like the one you could do that with. I don't care to see a "reality-based" Fantastic Four (though as I type that I remember how much I loved UNSTABLE MOLECULES. The exception to prove the rule!), but I love the idea of a reality-based DAREDEVIL.
Marvel.com: At the end of DAREDEVIL #612, Matt is considering the endless cycle of fighting. What does a victory for Daredevil look like to you, and is this something you would ever give him while you were in charge of his story?
Chip Zdarsky: My run is very much about that cycle. Honestly, Charles and I knew everything about each others' stories as we were writing them so there's definite continuity between them in terms of theme. It's wildly intimidating to follow him on this book, but he's handing over some great gifts, like Mayor Fisk for one, which is a character I'm going to really explore.
Marvel.com: What was your collaborative process like with Marco Checchetto? What kind of direction did you give him in your scripts?
Chip Zdarsky: Oh, Marco is amazing. He really leveled up on OLD MAN HAWKEYE, one of the best books of last year, and he's somehow even better on DAREDEVIL! He's extremely dedicated as an artist and ever since pages started coming in I get even more excited when writing scripts, imagining how gorgeous he's going to make them.
Marvel.com: Since you're also an artist/illustrator, is it ever a challenge to leave the art up to someone else, or does "speaking the same language" as an artist help the collaboration?
Chip Zdarsky: Both? I can't help but visualize the page when I'm writing, but I try to push it out of my head immediately afterward so I can view the incoming artwork with fresh eyes. Guys like Marco are excellent storytellers, so I'm almost always pleasantly surprised when the pages come in.
I think artists like my scripts? I try to not hinder them with too much direction, but when I do make those kinds of notes, I hope being an artist myself helps convey them better.
Marvel.com: Matt Murdock has been put through a lot of wringers -- how else can he possibly be tested at this point?
Chip Zdarsky: Oh, you'll see.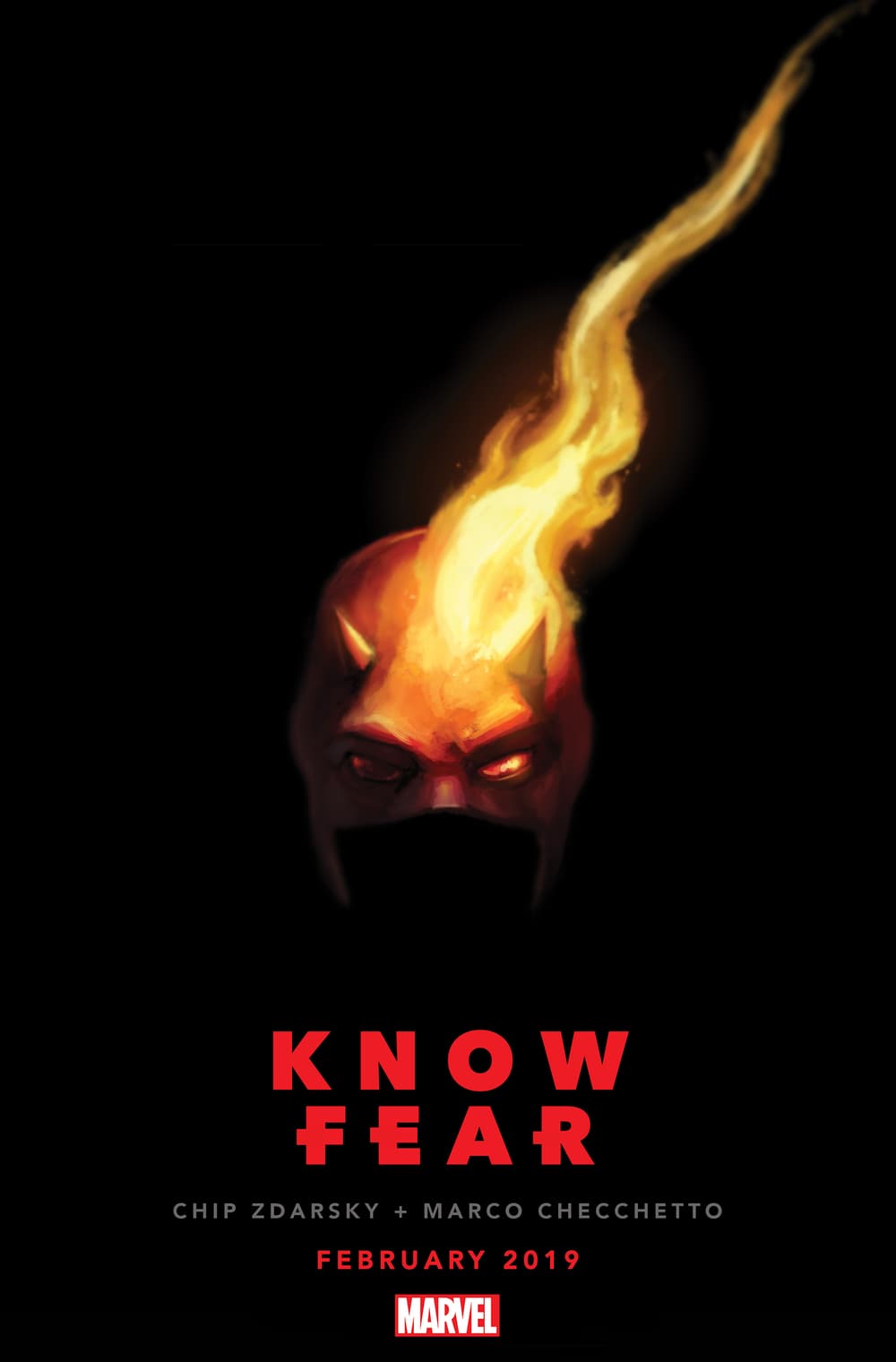 Marco Checchetto, artist:
Marvel.com: You've drawn for street-level heroes -- including Daredevil -- as well as cosmic ones. Where do you feel most at home as an artist?
Marco Checchetto: Ciao! My favorite characters are Spider-Man, Daredevil, and Punisher, so my home is absolutely the street-level heroes, but I like to work on different series sometimes. I'm a Marvel Zombie. There are a lot of series where I'd like to do something, like Thor or Wolverine.
Marvel.com: Do you feel that there's an inherent darkness in drawing Daredevil and his New York City?
Marco Checchetto: It's been five or six years since I've worked on an urban series. In five years, I changed a lot my style and I can't wait to draw dark scenes like these instead the sparkly and brilliant space environments of Star Wars and GAMORA.
Marco Checchetto: New York is the most important character in the series after Matt. I think it's important to show the dark relationship between Daredevil and the city. I hope to do a great job in this sense. Daredevil and Spider-Man are the symbols of New York. 
Marvel.com: What is it like to collaborate with writer Chip Zdarsky (who is an artist in his own right)?
Marco Checchetto: I felt in love immediately with Chip's script. It's in pure Daredevil style. We love the same stories and characters and we have a similar vision for this series, how Matt has to look and his costume for example, or the page layouts. I like his storytelling -- it's very simple to work on his script, it's all perfect and measured. It's a joy when you can work with writers like him. The fact he is an artist too can help to find some visual idea. Chip did the first teaser of the series for example.
Marvel.com: What's more compelling to draw -- action scenes or more quiet, introspective scenes? Where do you feel you have the most creative freedom?
Marco Checchetto: I love to draw both moments and I have total freedom when I work with Marvel. It's great when I can draw a sad Daredevil, sitting on the top of a water tower or in the middle of a fight... it's less fun when I've to draw lawyers in their offices. [Laughs]
Marvel.com: What kinds of scenes can you tease in the upcoming run?
Marco Checchetto: I don't know if I can say something about that. I can say that to draw the first splash page with Daredevil in action gave me chills.
DAREDEVIL #1, written by Chip Zdarsky with art by Marco Checchetto, will go on sale in February 2019! Stay tuned to Marvel.com for more details!
The Hype Box
Can't-miss news and updates from across the Marvel Universe!