Comics
Published October 25, 2018
Comics to Read for a Marvel Halloween
Take a guided tour of Marvel Unlimited's voluminous and vaunted horror offerings!
No matter what the weather might be at the moment, it's time to deal with the chills and shivers of the Halloween season!
You've probably already got a list of the horror films and shows you're going to watch as October 31 looms closer, but what about comics?
With thousands of issues to read through, Marvel Unlimited is the number one place to go for spooky stories from the haunted House of Ideas, but having all of those options can be a little daunting. To narrow down the potential Halloween reading, we've put together this handy guide that offers comic suggestions based on popular horror genres!
Classic Monsters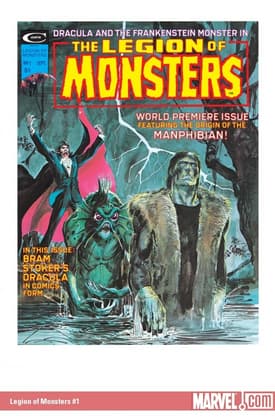 Dracula, Frankenstein's Monster, the Wolf Man, the Mummy, and the Creature From The Black Lagoon have been freaking fans out in various capacities for around a century, if not longer. Each one of them has also made quite an impact on Marvel Comics, especially in the '70s when books like TOMB OF DRACULA, WEREWOLF BY NIGHT, and THE MONSTER OF FRANKENSTEIN launched. In the spirit of classic crossover films, they even all came together in LEGION OF MONSTERS #1 and MARVEL PREMIERE #28!
Old School Anthologies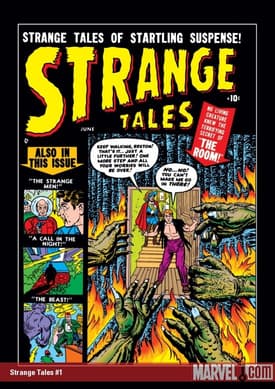 If you're a fan of old school scares from small and big screens, then you can't go wrong with the earliest issues of Atlas titles like JOURNEY INTO MYSTERY, STRANGE TALES, and TALES TO ASTONISH, all of which debuted in the 1950s. The stories themselves feature mad scientists, giant monsters, ghosts, goblins, and just about every other thing that could go bump in the night. Better yet, each issue featured multiple stories by some of the greatest minds in comics, ranging from Stan Lee and Jack Kirby to Steve Ditko and Jack Davis, among dozens of others!
Gateway Horror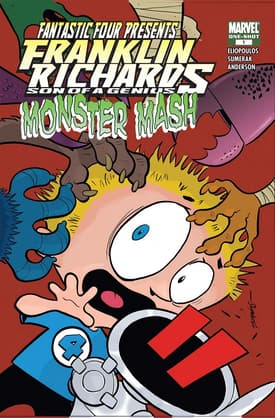 Horror isn't just for grown-ups; kids can get involved too! They just need appropriate material designed for them.
For younger readers, check out FRANKLIN RICHARDS: MONSTER MASH, a one-shot by Chris Eliopoulos and Marc Sumerak. This comic strip-esque adventure, starring the child of Mr. Fantastic and the Invisible Woman, finds our hero searching for creepy creatures...but with a humorous tone. Meanwhile, older kids will want to give DISNEY'S KINGDOM'S SEEKERS OF THE WEIRD a read. This five issue limited series features a brother and sister team not only realizing they have ties to wild magic and monsters, but also trying to save their parents all while doing their best to survive the Museum of the Weird!
Demons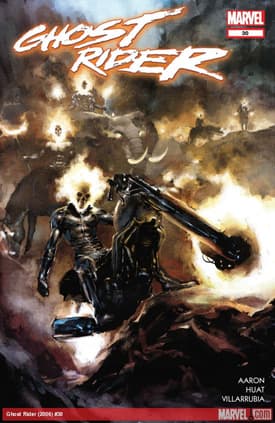 For those who prefer to delve into the eternal struggle between demons and angels, you can't go wrong with Jason Aaron's GHOST RIDER run, especially if you like a grindhouse element to that kind of tale. Packed with blood, flying feathers, fire, killer nuns, super strong zealots, and more Ghost Riders than you can shake a stick at, GHOST RIDER #20-35 and the finale GHOST RIDER: HEAVEN'S ON FIRE #1-6 should be right down your grimy alley.
And, if you like seeing Daimon Hellstrom in his appearances, go back and give his series SON OF SATAN a read as he does his best to rage against his demonic dad!
Zombies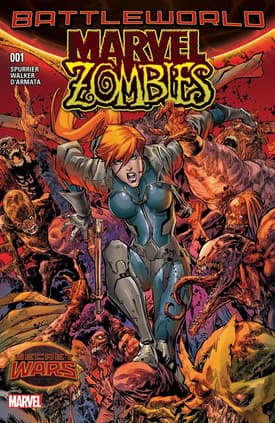 Going back decades, the ravenous fans of the House of Ideas have been known as Marvel Zombies. However, it wasn't until 2005 when Robert Kirkman and Sean Phillips took the nickname and made the obvious jump into title territory. The book, with its alternate reality look at a Marvel Universe overrun by flesh-eaters, spawned MARVEL ZOMBIES #2-5 as well as other limited series like DEAD DAYS, EVIL EVOLUTION, RETURN, SUPREME, and DESTROY, plus the robots versus zombies action of the Secret Wars tie-in AGE OF ULTRON VS. MARVEL ZOMBIES!
There's a whole lot of undead action for any zombie fan out there!
Slashers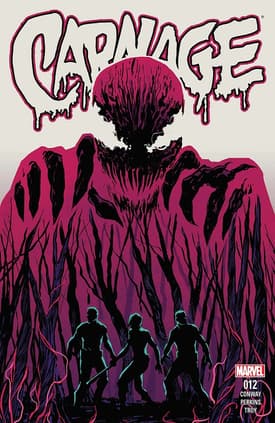 Though no longer as popular as they were in their '80s heyday, slashers still make up a solid chunk of the horror output when it comes to films. And, when you think about masked Marvel maniacs with high body counts, you don't have to ponder long before Carnage pops into your head! Besides, Cletus Kasady had already earned a fearsome reputation before joining forces with the Carnage symbiote in AMAZING SPIDER-MAN #361. Since then, he's starred in any number of stories, but pay close attention to Zeb Wells' work with the character in the 2010 CARNAGE and CARNAGE, U.S.A, as well as Gerry Conway's 16-issue CARNAGE series that launched in 2015.
Witches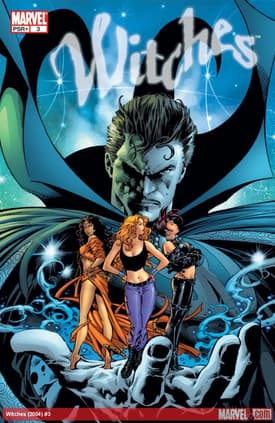 Whether played as earth-worshiping women or devil-loving demons, witches have long held a strong place in horror history. They've also made their presence felt in the Marvel U, ranging from Avenger Scarlet Witch to Runaway Nico Minoru. Three others–Topaz, Jennifer Kale and Satana–teamed up in the aptly named WITCHES to stop a huge demon released from a mystical book. For another take on the genre, dig into the Secret Wars series 1602 WITCH HUNTER ANGELA, wherein an alternate version of the Asgardian slays mystical creatures for King James!
Giant Monsters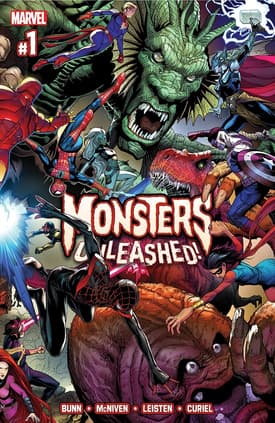 Giant monsters and aliens made up a huge number of entries when it came to those classic anthologies mentioned previously. Super Heroes eventually took over the game, with the torch being passed from monsters to heroes in FANTASTIC FOUR #1. However, those big beasties continue to appear from time to time. Just last year, many of them came together to defend the Earth from another batch of alien monsters intent on our destruction in a five issue limited series called MONSTERS UNLEASHED! Those adventures later carried on in an ongoing series as well.
Horror Comedy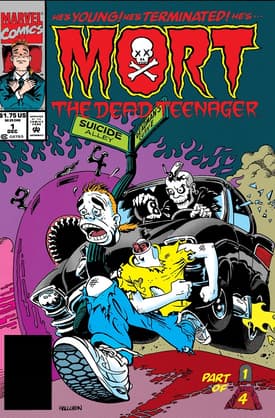 While some might not see the connection between horror and comedy, they both can be judged based on the physical reaction from the audience—whether that be jumps or laughs. MORT THE DEAD TEENAGER, from 1994, might not send anyone screaming into the night, but it's a darkly funny book about a recently dead doofus haunting his parents and friends, only to realize they're not too broken up about his departure. Definitely not for everyone, MORT should be just right for those of you who have a dark sense of humor!
Monster Hunters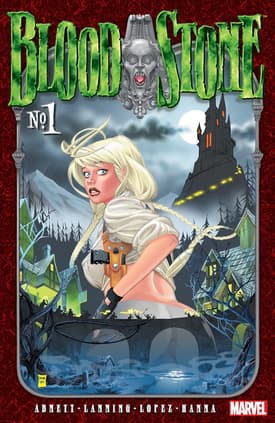 Sometimes the monsters take center stage in a horror film, while others we focus in on the ones chasing them down and putting them (back) in the ground. And the House of Ideas is packed with some truly excellent monster hunters! Blade debuted in the aforementioned TOMB OF DRACULA, but has gone on to star in several of his own books. Another vampire slayer, Union Jack, took on the nefarious Brother Blood in his late '90s three issue limited series. Looking for more? Okay, give BLOODSTONE a read to see Elsa's earlier days following in her dad Ulysses' footsteps as a globe-trotting dispatcher of creatures!
Dig into these books as you celebrate the Halloween season with Marvel Unlimited today!
The Hype Box
Can't-miss news and updates from across the Marvel Universe!