Comics
Published November 20, 2017
Coming Home: A Generation X Sketchbook
Amilcar Pinna helps bring back Gen X alumni as part of Marvel Legacy!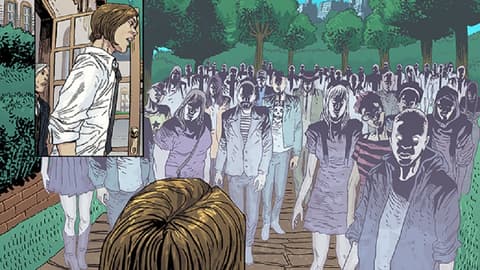 Marvel Legacy continues to reintroduce concepts and characters that have played important parts during the House of Ideas' storied history. When it comes to GENERATION X that means that Jubilee's crew of outsider mutants will come face to face with their 90s namesakes.
In other words, writer Christina Strain and artist Amilcar Pinna plan to reintroduce many OG Gen Xers—like Monet, Husk, Chamber and a few other surprises—as they continue with the story began earlier this month in GENERATION X #8. As the book picks up its classic numbering with December 20's issue #85, everyone will be dealing with M-Plate, the combined might of siblings Monet and Emplate.
We talked with Pinna about integrating the classic characters into the series, returning to work with Strain, and using the "natural approach" to drawing these characters together.
Marvel.com: You worked with Christina to launch this series, working on the first three issues. How is it returning after some time away?
Amilcar Pinna: It feels good to be back. These characters have a special place in my heart now! I love drawing those kids!
Marvel.com: As the book shifts into Marvel Legacy territory, you'll also be dealing with members of the original Generation X team. How has it been working them into the book?
Amilcar Pinna: It's been really fun for me to have the opportunity to draw such classic characters!
Marvel.com: The classic Generation X members have had a variety of looks over the years. What was the process like for nailing down the ones this time around?
Amilcar Pinna: I did try to stay faithful to the classic looks and at the same time give them a more "natural approach" since almost every time [we see them] they wear regular clothes instead of classic spandex uniforms.
Marvel.com: A major part of the story revolves around the bonding of Monet to Emplate. How does this new relationship between the siblings change how they carry themselves?
Amilcar Pinna: Actually, I'm getting to know Monet/Emplate as I work on GENERATION X—such cool characters! They are new to me. All that I can say is that I love to draw that type of character. Monet gives a darker mood to the series and I like that!
Marvel.com: How has it been integrating the classic Gen Xers with the new crop?
Amilcar Pinna: Christina makes it seem very natural, integrating them with her writing. The relationships between the new and the classic [characters] always [work] fine and natural for me.
Kick it old school with Christina Strain and Amilcar Pinna on GENERATION X #85, headed your way December 20!
The Hype Box
Can't-miss news and updates from across the Marvel Universe!