Comics
Published October 25, 2019
Conan Ventures into Strange Territory in 'Conan: Battle for the Serpent Crown'
Saladin Ahmed and Luke Ross take Conan deeper into the Marvel Universe!
Just announced at MCM Comic Con London, Conan will be starring in a new series that will take the barbarian to places he's never gone before! Conan made his grand return to the Marvel Comics earlier this year and now, CONAN: BATTLE FOR THE SERPENT CROWN will have the legendary Robert E. Howard character diving deeper into the Marvel Universe, meeting a wide variety of Marvel heroes and daring to go up against Marvel's most iconic villains, including the devilish Mephisto! A far cry from the Hyborian Age, Conan will take his relentless strength and savage sword to Las Vegas on an epic quest to find the Serpent Crown of Atlantis. Guiding him on his journey to Sin City and beyond will be writer Saladin Ahmed (BLACK BOLT, MILES MORALES: SPIDER-MAN) and artist Luke Ross (STAR WARS: ALLEGIANCE, SAVAGE SWORD OF CONAN).
Here's the cover by Ross with colors by GURU-eFX: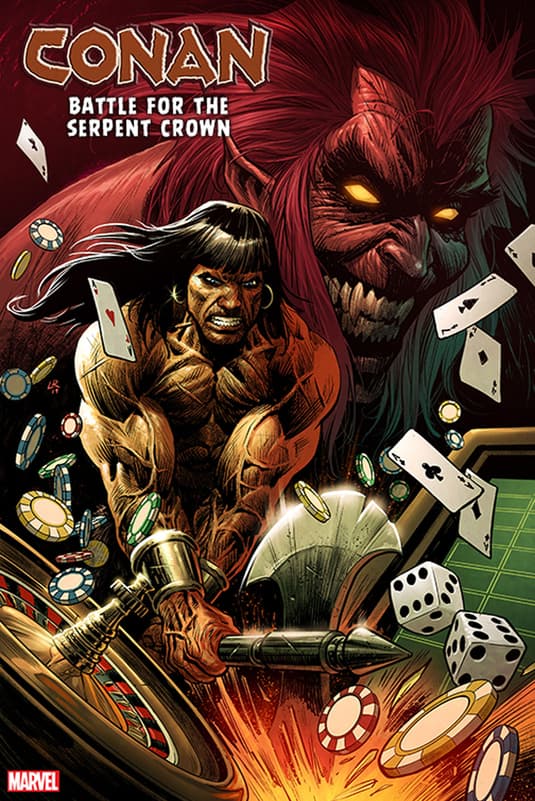 "Getting to write Conan the Barbarian taking on the Marvel Universe is a high-octane, widescreen dream gig for me," says Ahmed. "The 616 is a world full of unimaginably powerful treasures and absurdly wealthy kings -- the perfect place for Conan to ply his trade as a warrior-thief. From Las Vegas to Atlantis, Conan will carve a path of plunder -- and face some of the mightiest heroes and villains in the Marvel universe!"
"Since being transported into the Marvel Universe in AVENGERS: NO ROAD HOME and SAVAGE AVENGERS, Conan's been drawn into his own adventures as he explores this strange new world, and now we're going to get a look at one particular quest," says Marvel Editor Mark Basso. "Far from home, but far from helpless, this is Conan as you've never quite seen him before."
Conan's foray into the Marvel Universe continues this February in CONAN: BATTLE FOR THE SERPENT CROWN!
Stay tuned to Marvel.com for more news about all upcoming comics releases!
The Hype Box
Can't-miss news and updates from across the Marvel Universe!