Comics
Published May 28, 2019
Continuing the Original 'Star Wars' Comic After a 33-Year Break
See where the original series left off in 1986's 'Star Wars' #107 before tomorrow's 'Star Wars' #108!
This week, your favorite classic Star Wars characters finally return! That's right, after decades of existing mostly in back-issues, the likes of Jax, Amaiza, Valance, and Domina Tagge reemerge in all-new stories with STAR WARS #108!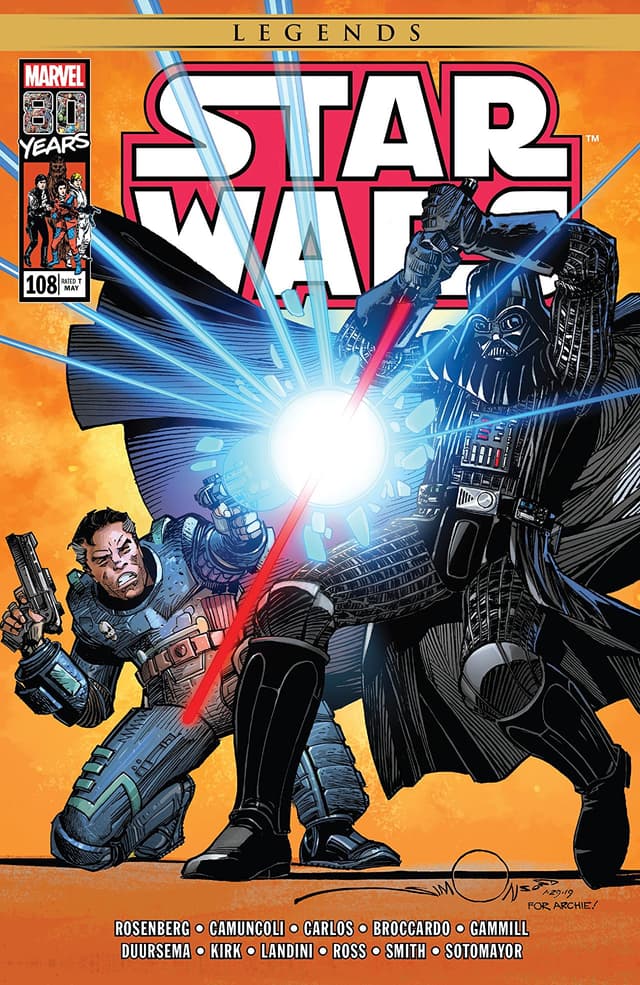 The original STAR WARS comic book series launched in 1977 just as the movie busted blocks around the world. After a legendary run, the series ended over 100 issues later in 1986 before going dormant for the next three decades... But now, writer Matthew Rosenberg has teamed up with a slew of spectacular artists to revive the original, picking up the Legends series where it left off in issue #107! 
And since it's been thumping 33 years between issues #107 and #108, we've crafted a quick guide to get you caught up on all things STAR WARS! 
Adapt Or Die
Back in the mid '70s, Marvel took a risk on a big budget sci-fi flick called Star Wars that wound up taking the world by storm. Roy Thomas and Howard Chaykin launched the series and took the first six issues to adapt the film which debuted on May 25 that same year. From there, a variety of creators—including Archie Goodwin, Carmine Infantino, Chris Claremont, Walt Simonson, Jo Duffy, and Cynthia Martin—would continue building the comic book iteration of the universe until the series ended in 1986. 
Hopping Along The Stars
Aside from the first six issues and issues #39-45 (which adapted The Empire Strikes Back), the writers, artists, and editors on STAR WARS had a lot of space to fill between films. As such, Luke Skywalker, Princess Leia, Han Solo, Chewbacca, C-3PO, and R2-D2 went on plenty of adventures where they encountered strange and unusual folks.
Some of the more popular newbies came from the book's second arc, which ran from issues #7-10, when Han and Chewie wound up helping a band of freedom fighters including a giant green rabbit called Jaxxon and his white haired future partner Amaiza Foxtrain! Along with several others, they helped stop both a ruthless local mobster and a giant monster! Some of the survivors, including Jax and Amaiza, dubbed themselves the Star-Hoppers and continued traveling the cosmos together.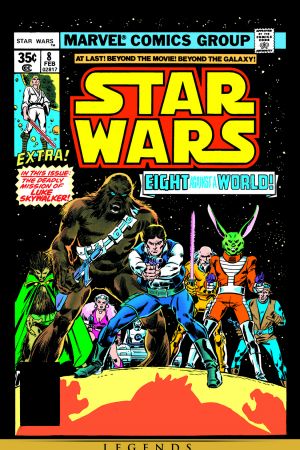 Beware The Hunter
A popular figure to emerge from the original series was Valance—a droid-hating bounty hunter that turned out to be a cyborg himself!
He debuted in issue #16 and ran right into the Star-Hoppers. Along the way, he developed a hatred for Luke Skywalker and his beloved droids, and he reappeared to make his hatred material in issues #27 and #29! 
Tagge, You're It
Great heroes need more than just a single enemy to go up against... Early on in the STAR WARS run, Archie Goodwin and Carmine Infantino introduced exactly that with the House of Tagge and the Tagge Company. First mentioned by name in #18—an issue interestingly titled "The Empire Strikes!"—readers eventually met brothers Baron Orman, Imperial Fleet Commander Ulric, and scientist Silas in marvelous mags #25-26, #30-37 and the super-sized #50.
Later, Darth Vader tricked their sister Domina into thinking that Luke Skywalker had killed her brothers. But, in a turn of events, Domina would go on to save Luke's life by curing the a disease called Crimson Forever. 
Party On Zeltros
After being mentioned several times in the latter half of the series, the planet Zeltros finally appeared in issue #104. The planet became a must-see location for anyone looking to enjoy a hedonistic world where art and leisure flourished. And thanks to the Zeltrons naturally-emitted pheromones, everyone who landed planetside usually just wanted to have a good time—even potential invaders. However, when Luke, Leia, Lando, Han, Chewie, Threepio, and Artoo wound up there in #104-106, they found themselves in the midst of a three-way invasion from the Hiromi, Nagai, and Tofs.
But thanks to the efforts of our heroes and the strange bedfellows that war can make, some enemies became allies, other enemies were defeated, and an epic party took place! 
The Grand Finale
After nearly a decade in existence, STAR WARS came to an end in 1986 with issue #107.
Written by Jo Duffy and drawn by Cynthia Martin, the ish found the book's stars—both from the films and the comics—coming together to overthrow the invasion of Saijo, a less advanced world that happened to be situated perfectly for trade with the outer worlds. After winning, Luke offered a rousing few words to close out the book, "For the first time in a long, long time, all of us, as races and as individuals, have a fair chance at making peace. And I hope...no I know...we can do it!"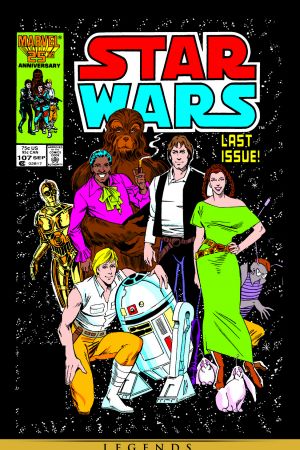 The Hype Box
Can't-miss news and updates from across the Marvel Universe!