Comics
Published October 4, 2018
Cosmic Ghost Rider Joins the Guardians of the Galaxy
Donny Cates and Geoff Shaw assemble the new-look squad!

Last month, writer Donny Cates and artist Geoff Shaw revealed that their Guardians of the Galaxy would be made up of an all-new roster. And teasing the lineup, they asked #WhoAreTheGuardians? Today, we have our first answer...
The Cosmic Ghost Rider.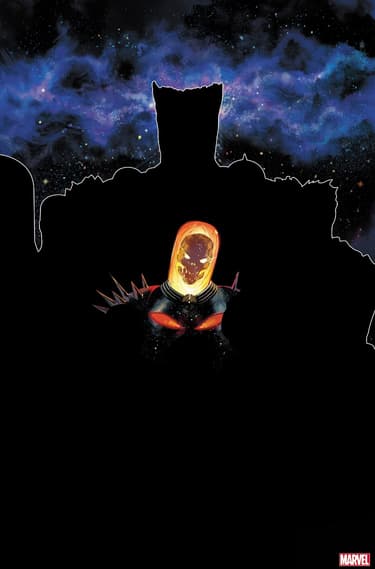 A spacefaring Frank Castle, eons in the future, joins the new team next year when GUARDIANS OF THE GALAXY begins anew in 2019.
The universe is on fire. Hundreds of worlds are at war. Never has there been such hatred and division across the cosmos. And in spite of all this, Thanos of Titan is still dead…or is he? Now, more than ever, the cosmos needs the Guardians of the Galaxy…but in the aftermath of the Infinity Wars, who is left to answer the call? Featuring every cosmic Super Hero in the known universe, a new adventure is set to begin.
"My first job at Marvel, with 'Thanos Wins', was inspired by the work of my hero, one of the greatest cosmic storytellers ever, Jim Starlin. So being able to tell that Thanos story was a dream come true," says Cates. "And now that Thanos has died in the pages of INFINITY WARS, my best friend Geoff Shaw and I could not turn down the opportunity to tell a story set during the fallout of the Mad Titan's death."
"Geoff and I always lean towards stories that are a little bit loud," the writer explains, "and in space, the stakes and action can be bigger than anywhere else. This was our chance to do things we've always wanted to do. To tear #$%@ up."
"And of course Cosmic Ghost Rider is on the team. How could he not be?"
Read GUARDIANS OF THE GALAXY by Donny Cates and Geoff Shaw, coming next year!
The Hype Box
Can't-miss news and updates from across the Marvel Universe!