Comics
Published January 31, 2019
Crafting a New X-Men World
'Age of X-Man: Alpha' #1 writers Zac Thompson and Lonnie Nadler chat about creating a new realm for the mutants!
AGE OF X-MAN: ALPHA #1 opens up a new world for the Children of the Atom.
When X-Man, Jean Grey, Nightcrawler, Nature Girl, Magneto, Storm, and Colossus enter a mysterious mutant utopia, they quickly learn the dark complexities of the new terrain... 
Starting with AGE OF X-MAN: ALPHA and then continuing into MARVELOUS X-MEN, NEXTGEN, AMAZING NIGHTCRAWLER, X-TREMISTS, PRISONER X, and APOCALYPSE & THE X-TRACTS, writers Zac Thompson and Lonnie Nadler are masterminding a new mutant mythology. And it all begins here.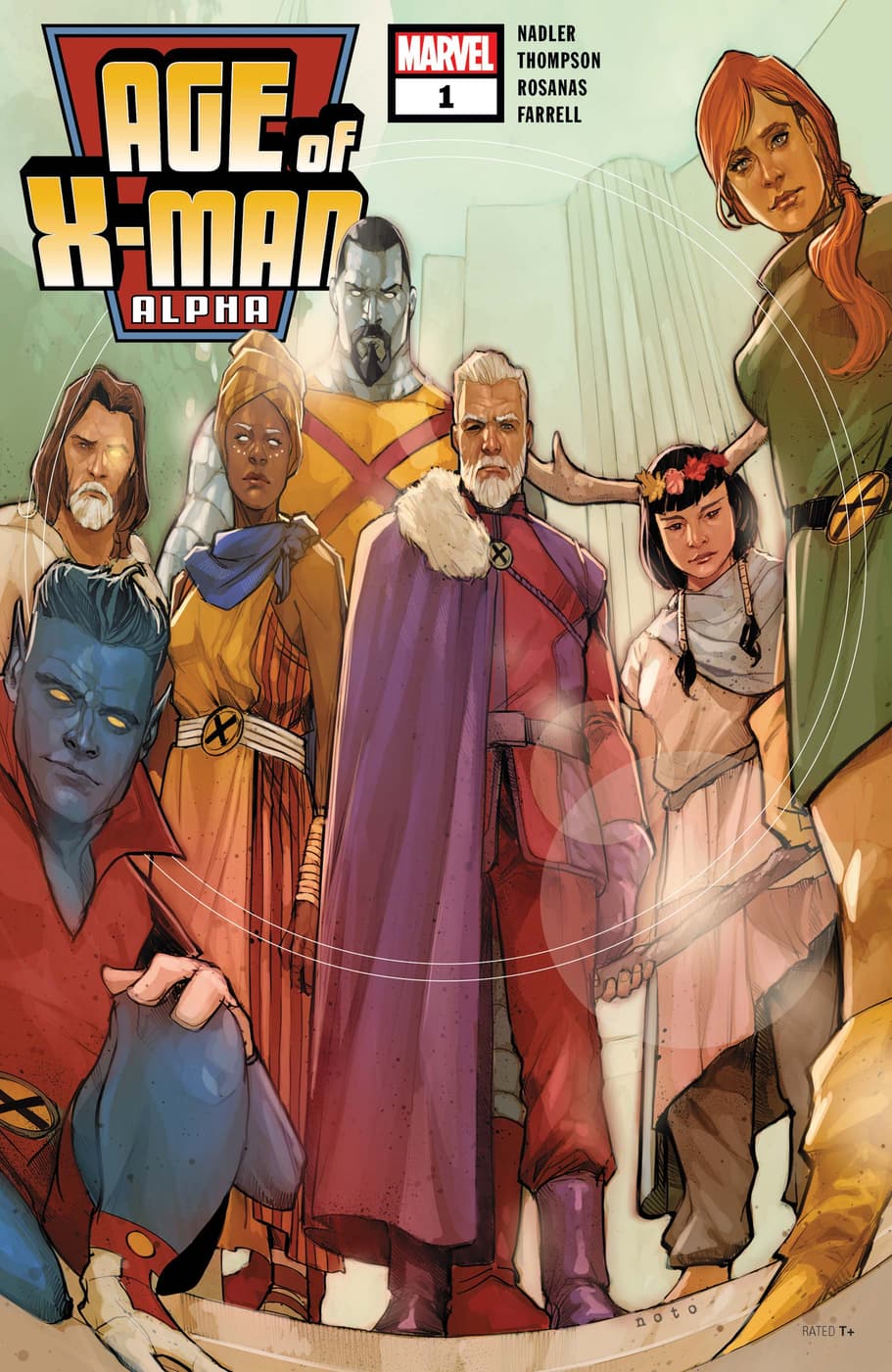 We sat down with Thompson and Nadler to discuss how they worked alongside artist Ramon Rosanas and colorist Tríona Farrell to realize the Age of X-Man.
Marvel.com: What has been the best and most surprising part of working with Ramon Rosanas on this book?
Lonnie Nadler: I'm glad you asked this because Zac and I were very excited when we learned Ramon would be drawing the book, but he completely outdid himself with the ALPHA issue. Ramon is a guy who we've been admiring for a while now, but after actually working with him, I have a new level of respect for his artistry.
Zac Thompson: Ramon is a master.
Nadler: Ramon is the kind of artist that we dream of working with as writers. He read our script, he read our notes to him, and not only understood exactly what we were trying to achieve, but knew how to augment it at every turn. He's a natural storyteller, his sequential art is masterful, and the amount of detail is truly inspiring. We threw a lot at him in our script and he brought it to life seamlessly. I know this might all sound a bit hyperbolic, but after we saw the first pages for this issue, we knew that there was no one else who could have done it.
Thompson: There is so much that the ALPHA has to accomplish and every page is layered with an insane amount of detail. It's exactly as Lonnie said, Ramon's expert storytelling sensibilities took our script and elevated it to a level that is absolutely stunning. It's a dream come true having him introduce readers to this world with us.
Nadler: I know this might all sound a bit hyperbolic, but after we saw the first pages for this issue, we knew that there was no one else who could have done it.
Marvel.com: How does the collaboration work between between y'all and Ramon?
Nadler: It's actually quite interesting because often with our work, Zac and I will have lots of communication with the artists we work with. They'll send us their roughs or thumbnail layouts for the book, we'll give some notes, and then they make some corrections and then draw it.
But with Ramon, he literally just sends us the finished pages and they're perfect.
Marvel.com: How do y'all work in concert with everyone on the AGE OF X-MAN: ALPHA #1 team?
Nadler: We have more direct contact with some and with others, its handled through our glorious editors. I'll start with the colorist on this, Tríona Farrell, because she was an absolutely integral part of this book. When Zac and I started to see Ramon's pages coming in we knew we needed a colorist who was versatile and would do justice to the amazing line work while also elevating the story. We'd worked with Tríona on our EDGE OF SPIDER-GEDDON issue and loved her work and so we asked our editors if we could get Tríona on the Alpha issue. Thankfully our editors agreed.
When Tríona came on we sent her a list of inspirations for this world and described what we were looking for, exchanged a few emails and such. And then she sent the first batch of pages and Zac and I were just like, "Whoa." It was exactly what we asked for but also so far and above and enhanced the story. While Zac and I like to control a lot of aspects of the book, we generally have less say in things like design and covers. Lettering is all done through our editors, we get drafts, give notes, our editors give notes, and it's a real productive back and forth. Clayton Cowles lettered this and I think after the first draft Zac and I felt very lucky. It was smooth and the sound effects had real character to them.
Thompson: Yes, Tríona and Ramon are a dream together, Lonnie perfectly summed it up. We couldn't be more thrilled but I'd be remiss if we didn't mention our fantastic editors. We worked closely with the entire X-office to build out this big ambitious world. Everyone couldn't have been more supportive and collaborative throughout the entire process. Jordan D. White and Annalise Bissa have been with us every step of the way and were always so down to talk about this world and help us solve problems in the early stages. Something this complex takes a lot of minds to create a seamless vision. Jordan and Annalise put up with our relentless questions and pedantic notes while also pushing us to be better.
Darren Shan, our incredible editor from CABLE, worked closely with us in building some of the elements of this world he was responsible for. And [editor] Chris Robinson really came in hard with us from the beginning and helped us answer a lot of questions about a particular part of the world, he was super collaborative and supportive throughout. Everyone in the X-office has just been the best. And I have to mention [Editor in Chief] C.B. Cebulski as well, he's a massive AGE OF APOCALYPSE fan and he was behind our ideas right from the get go.
We originally sent in this massive world-building bible document that only received support across the board. Every step of the way, it took a village. It takes a lot of people to create a world that sets up six individual miniseries, and everyone at Marvel was super helpful in shepherding this vision to life.
Experience the life within AGE OF X-MAN: ALPHA #1 at your local comic shop today!
The Hype Box
Can't-miss news and updates from across the Marvel Universe!