Comics
Published February 13, 2018
Creator Commentary: Old Man Hawkeye
Ethan Sacks gives a behind-the-scenes look at how the comic came to life!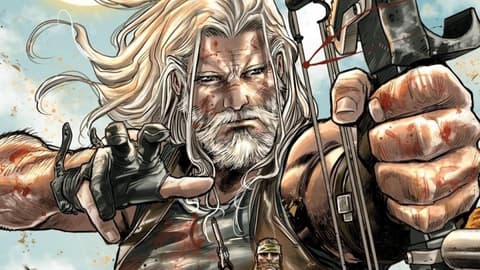 In our new series, Creator Commentary, we're giving the floor to our storytellers as they present behind-the-scenes looks at the decisions that go into every panel and page—in their very own words. And for our first installment, writer Ethan Sacks gives a tour of the hidden secrets and influences behind OLD MAN HAWKEYE #1.
Ethan, over to you…
The Inspiration
One of the breakout characters from "Old Man Logan" was Old Man Hawkeye. That the seminal event, set 50 years from the present, has a blind Clint Barton—though he's been able to adjust; he's a great fighter, and he's driven. Hawkeye has a plan in "Old Man Logan" to strike back at the Red Skull, who has harmed him in so many ways, but I've always wondered what the hell was Clint doing for 50 years before that? Why did it take 50 years to get there?
My original pitch for OLD MAN HAWKEYE was to set it five years earlier than "Old Man Logan," as he's losing his vision, to see the struggle. He has survivor's guilt that he got to be one of very few heroes still living in this era while many "better" heroes didn't. He's been looking for a way to make everything right, but at his heart, he feels powerless. When he realizes he's losing his vision, he decides there's one thing he can do: get revenge against a specific set of people—people I will not yet reveal until a later Creator Commentary—before he runs out of time.
Easter Eggs
One thing I loved about "Old Man Logan" was seeing that the Hulk grandchildren flew in the Fantasticar—the Fantastic Four vehicle—so I thought about what would happen to some of these random vehicles and things from the Marvel Universe 45 years into this horrible future. During the scene in the very first panel on page one of issue #1, the characters are driving a vehicle from the 1990s series FORCE WORKS—the Force Wagon—which, in the future, is just a vehicle that a merchant of illegal drugs bought to ferry his stuff across the country.
They're also driving through Tannenbaum Gorge, which was a little nod to an obscure Marvel villain called Doctor Tannenbaum. I figured that the better villains would have cities named after them but, because this poor guy couldn't even beat the Great Lakes Avengers, he'd have this uninhabited ravine named after him. Apologies to any Doctor Tannenbaum fans out there.
With the first issue, we wanted to show what Hawkeye is doing at this point in time—that he's essentially running protection for merchants. And here, his crew gets ambushed by the Madrox gang. In the opening action scene, we have the Madrox gang and, on page three, we see them in all their glory. We thought that, over the years, all that self-cloning and breeding would make him actually forget who he really was; he would evolve into this totally different personality. He was like a copy of a copy of a copy, and he's degraded. I like the idea of him being an entire outlaw gang and, every time he gets killed, he just makes more of himself. The other purpose of the scene is that we see Hawkeye—who never misses—actually miss one of the people he's aiming at, accidentally hitting him in the shoulder. And that miss has consequences later.
On page eight, you may notice that Hawkeye has a little scar in the shape of the Avengers "A." That was Marco Checchetto's contribution. He liked that. There are many little visual nuances like that.
Old Man Logan
By page nine, Hawkeye's been given the bad news that he's losing his eyesight quicker than he thought, so he goes and tries to recruit Logan. Now, I love Logan and he's obviously the hero of "Old Man Logan," but in our story—because he's still a pacifist for another five years—he has to deny Hawkeye's request. Hawkeye has a crushing realization that his best friend has no interest in helping him.
I wanted to put in a couple of little details that allude to "Old Man Logan," so on pages 10 and 11, Hawkeye brings a gift—an Xbox. It's the same Xbox that Logan's kids have at the beginning of the story that begins five years from this point. I wanted to reveal the secret origin of that Xbox, just in case people were spending sleepless nights wondering about that.
After Clint talks to his friend, he speaks to Ashley. Now, for those who have not read "Old Man Logan," Ashley is Hawkeye's daughter and Peter Parker's granddaughter. And by the point we see her in the original story, she's essentially a super villain. So I wondered how this daughter of an Avenger—this granddaughter of one of the best super heroes ever to live—could have turned out the way she did. I wanted to explore Hawkeye's neuroses about being a dad and how he wasn't always there for her.
The Big Bad
Then, because the sole surviving Madrox clone is in a lot of pain, he can't concentrate on duplicating, so he's just trying to survive and he runs into the Venom symbiote. We talked about some of the villains we could use and we thought—without giving too much away—that Venom merging with the Madrox clone might be really, really cool.
The wonderful world that Mark Millar and Steve McNiven made allows for a kind of an upside-down feeling, because the villains run everything. So villains do so some of the functioning jobs. And we have a great villain in as the local Marshal—as the law enforcement. Once it becomes obvious that a real super hero has resurfaced after all these years, it is on this Marshall to hunt down that super hero.
I begged my editors to allow this bad guy to have Deathlok enhancements. Because why not? I wanted to enhance him, while diminishing the skills of his prey; I wanted the reader to see that this villain outclasses Hawkeye.
So, Hawkeye is hunting some people who've wronged him in the past and, unbeknownst to him—at least for now—he's being hunted as well.
Continue the story by reading OLD MAN HAWKEYE #2, from Ethan Sacks and artist Marco Checchetto, tomorrow—February 14!
The Hype Box
Can't-miss news and updates from across the Marvel Universe!