Comics
Published April 18, 2018
Crime and Punishment! Matthew Rosenberg Talks Punisher's Next Targets
Matthew Rosenberg discusses what happens after Frank Castle's romp as War Machine!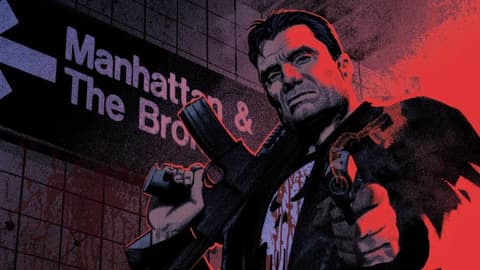 By Jess Harold
He put Frank Castle in the War Machine armor for Marvel Legacy — but that was just the start. Now writer Matthew Rosenberg discusses his plans to take the Punisher's war on crime to the next level in a brand-new series!
Marvel: In the new Punisher series, Frank will no longer have the War Machine armor. Is this, then, a back-to-basics approach?
Matthew Rosenberg: In some ways yes, and in some ways no. We're going to get back to Frank Castle with a handgun and a knife, stalking the streets of New York, and getting his hands dirty. But we're also going to see a man who has changed from his time in the armor. He developed a taste for bigger game and larger targets, and he's not going to give that up easily. So in a sense it's back to basics — but on a bigger scale.
Marvel: What will Frank have learned from his time with the armor?
Matthew Rosenberg: I think the big thing for the Punisher is the knowledge that he can affect things in a more direct way. We're going to have seen him travel overseas to overthrow a government and kill a world leader, and then come back home and go toe-to-toe with some of the most powerful people in the Marvel Universe. He's been able to do real damage, cause real change, in ways he's not used to. They used to say that when a shark attacked a human they had to be hunted down because once they'd developed a taste for it they'd never stop. That's Frank. He's back on the streets, but he has a taste for the bigger game and he isn't going to stop until he puts them in the ground — or they put him in it.
Marvel: And what have you learned in your time writing Frank? Has he surprised you in any ways?
Matthew Rosenberg: I think the big thing that surprised me about writing the Punisher was the ease with which you can find humor in him and the situations. I know Garth Ennis was a master at this, and others have followed suit. I think Jason Aaron and Becky Cloonan both had some real dark humor hiding just under the surface. But yeah, it's fascinating. Frank lends himself to these uncomfortable situations where you just can't help but giggle. There is this disturbing, awkward humor to him that doesn't diminish the severity or the drama of the story. That's been fun to explore.
Marvel: Obviously, Frank is not an overly loquacious character like, say, Spidey or Deadpool. He likes to do his talking with guns. What is the secret to capturing his "voice"?
Matthew Rosenberg: Frank is direct and honest. He's here to kill people, and he doesn't need to spend a lot of time debating them or telling them why they're about to die. But I think the thing about Frank that a lot of people miss, because it's subtle, is his very dry sense of humor. He says a lot of things that are clearly just for his own quiet amusement. He is the ultimate comedic straight man. People think Frank is doom and gloom all the time, but if you dig through you will find these gallows-humor moments that are maybe a sliver of who he once was.
Marvel: What can you tell us about the kind of big game Frank is going to be targeting in his new book?
Matthew Rosenberg: I can't say too much, but I can say that issue #1 has some of the biggest bad guys in the Marvel Universe pop in. And that Frank still has his eyes on shaping nations these days. The classic Marvel villains are getting savvier. They aren't thugs and gangsters anymore. They're becoming mayors and CEOs and kings. But Frank is still coming for them.
Marvel: Frank has a complicated relationship with other vigilantes, such as Spider-Man and Daredevil. Is that something you'll touch on?
Matthew Rosenberg: Frank and the capes will most definitely be touched upon. More than touched upon. With Secret Empire, the War Machine armor, and what he has coming up, he has made himself something that means they can't just look the other way. And he knows that. He's operating in cape spaces these days, and he knows that puts a target on his back. But he also knows he's willing to do what they won't — and that gives him an advantage over the capes on most days.
Marvel: You have Riccardo Burchielli on art. He hasn't done a lot at Marvel before, but he certainly knows his way around military combat, following a lengthy run on DMZ. Are Frank Castle fans going to like what he brings to the party?
Matthew Rosenberg: I am so excited to work with Riccardo. I am a huge DMZ fan, and his work on that book is really unparalleled. The sense of detail he brings to a city, to a war zone — and to the people in both — is breathtaking. I think those who aren't familiar with his work are going to be absolutely shocked. There is just this sense of the world he conveys, this realism, that is so captivating. You can feel the buildings rise up around you and the bullets fly past your head. It's going to be a real treat watching him drag all of us down into Frank Castle's world.
Marvel: Finally, what's your one-line pitch for the new PUNISHER book?
Matthew Rosenberg: With some of the biggest villains in his sights, the best heroes on his tail and every nation on high alert, this is Frank Castle against the world.
THE PUNISHER #1 by Matthew Rosenberg and Riccardo Burchielli is on sale August 1!
The Hype Box
Can't-miss news and updates from across the Marvel Universe!