Comics
Published October 14, 2022
Daredevil: A Romantic Recap on Matt Murdock and Elektra
Revisit key moments from this complicated comics couple!
Have you tried Marvel Unlimited yet? It's your all-access pass to over 30,000 Marvel comics at your fingertips. Start your 7-day free trial, or sign up with plans as low as $9.99 a month.
In 1981's DAREDEVIL (1964) #168, Elektra Natchios stormed into the life of Matt Murdock, AKA Daredevil, and nothing has been the same since. Writer and artist Frank Miller quickly established that Matt and Elektra had a relationship in their college years before they fought in the streets of New York against emerging underground evils. Through tragedy, trials, tribulations, and even death, Matt Murdock and Elektra found their way back to each other in the pages of DAREDEVIL (2019). And for the first time in years, they were truly a couple.
Now, in DAREDEVIL (2022) #4, writer Chip Zdarsky and artist Rafael De Latorre have delivered another important milestone in the lives of Matt and Elektra. This issue represents a major shift in their relationship, as the two Daredevils ready themselves for the final war against the occult ninja organization called The Hand. Take a look back at the key moments that have led to this one with our complete relationship recap—from Matt and Elektra's first meeting to their dual stints as Daredevil, all on Marvel Unlimited.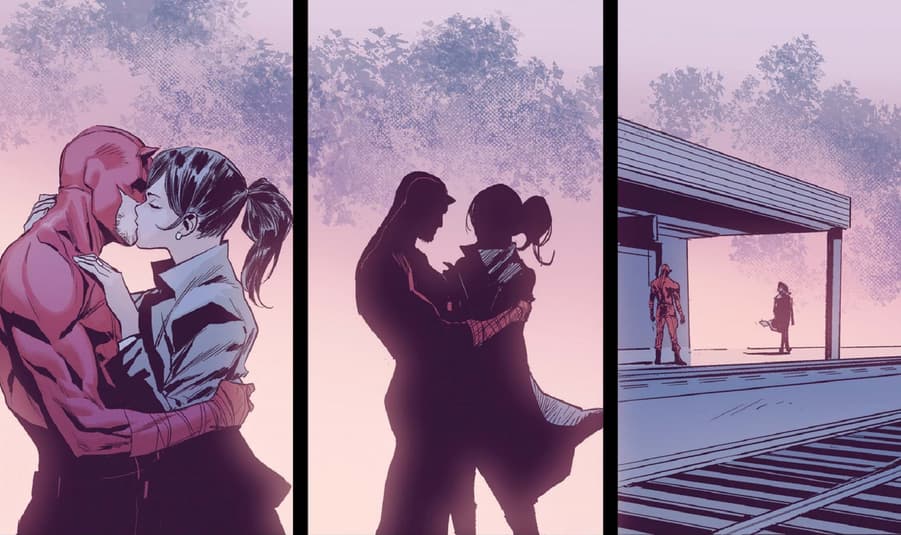 "WHO'S THAT GIRL?"
DAREDEVIL: THE MAN WITHOUT FEAR (1993) #2 gave us a detailed account of the first time that Matt became aware of Elektra. Even before he knew her name, Matt went on a wild chase to catch up with her. Elektra's presence was intoxicating to Matt, and she clearly wanted to lure him in by encouraging him to let go of everything that was holding him back.
However, DAREDEVIL: WOMAN WITHOUT FEAR (2022) #1 put a darker spin on this romance when it was revealed that Elektra knew about Matt long before she met him during those wild college days. And it was her original intent to seduce him into joining The Hand for a lifetime of shared servitude.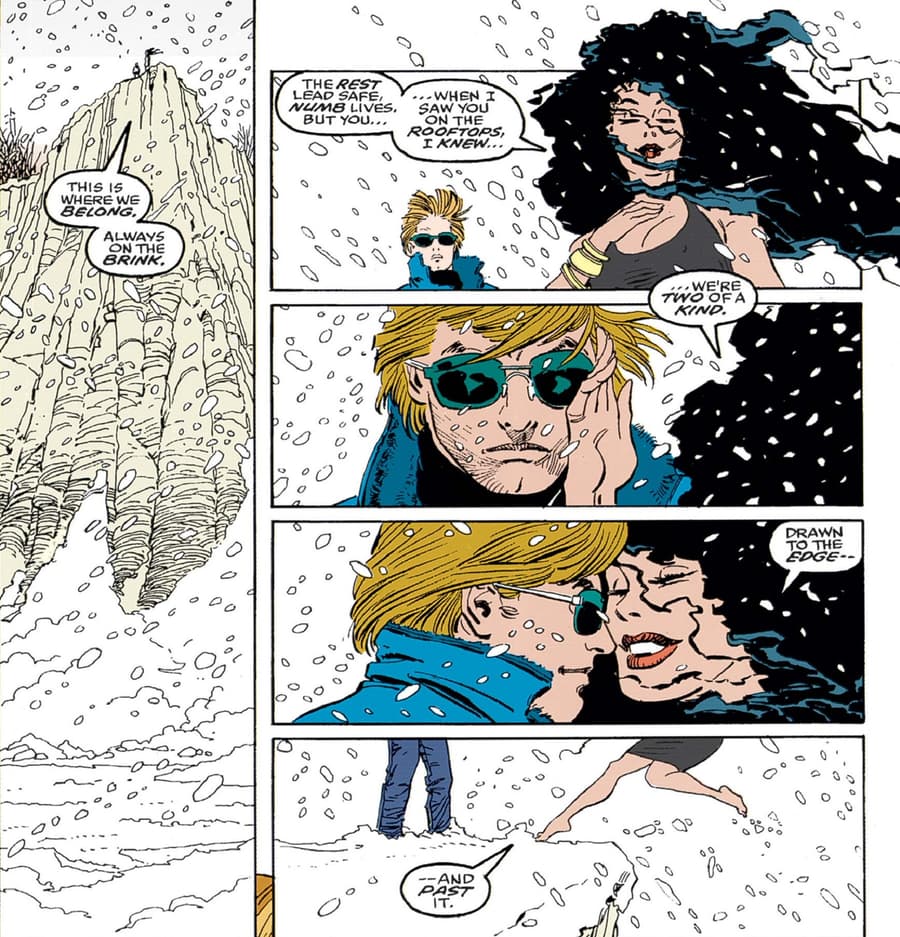 WHIRLWIND ROMANCE
Who has time for a first kiss? Matt and Elektra skipped several steps in their burgeoning relationship in DAREDEVIL: THE MAN WITHOUT FEAR (1993) #3. This was a view of their college years that had only been glimpsed previously. But it skipped over the incident that ultimately put Matt and Elektra on wildly different paths…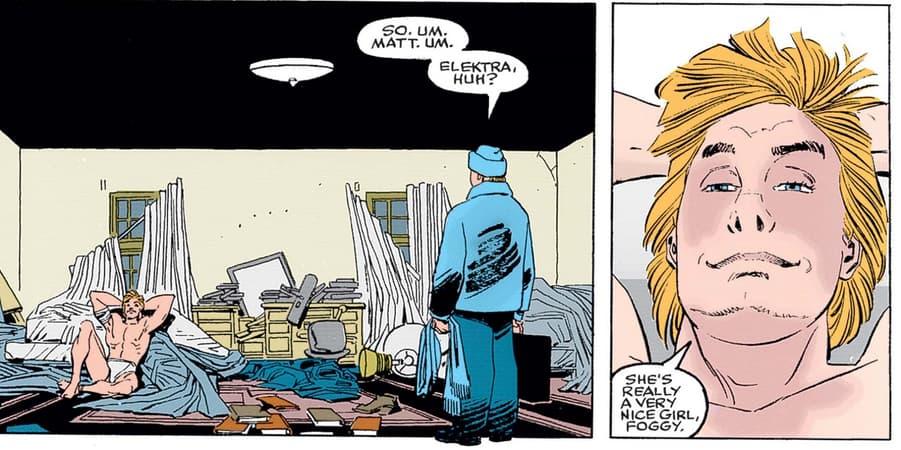 TRAGEDY STRIKES
Elektra's first ever appearance in DAREDEVIL (1964) #168 revealed that she and Matt were dating when her father, the Greek ambassador Hugo Natchios, was held hostage alongside Elektra by terrorists. Although he wasn't Daredevil yet, Matt took it upon himself to save Elektra and her father. He was only partially successful, as Hugo was accidentally killed by the police who were trying to shoot the terrorists.
In her grief, Elektra left Matt behind and threw herself into her studies to become a great warrior. She ultimately chose the path of The Hand before returning to New York as one of the deadliest assassins in the world.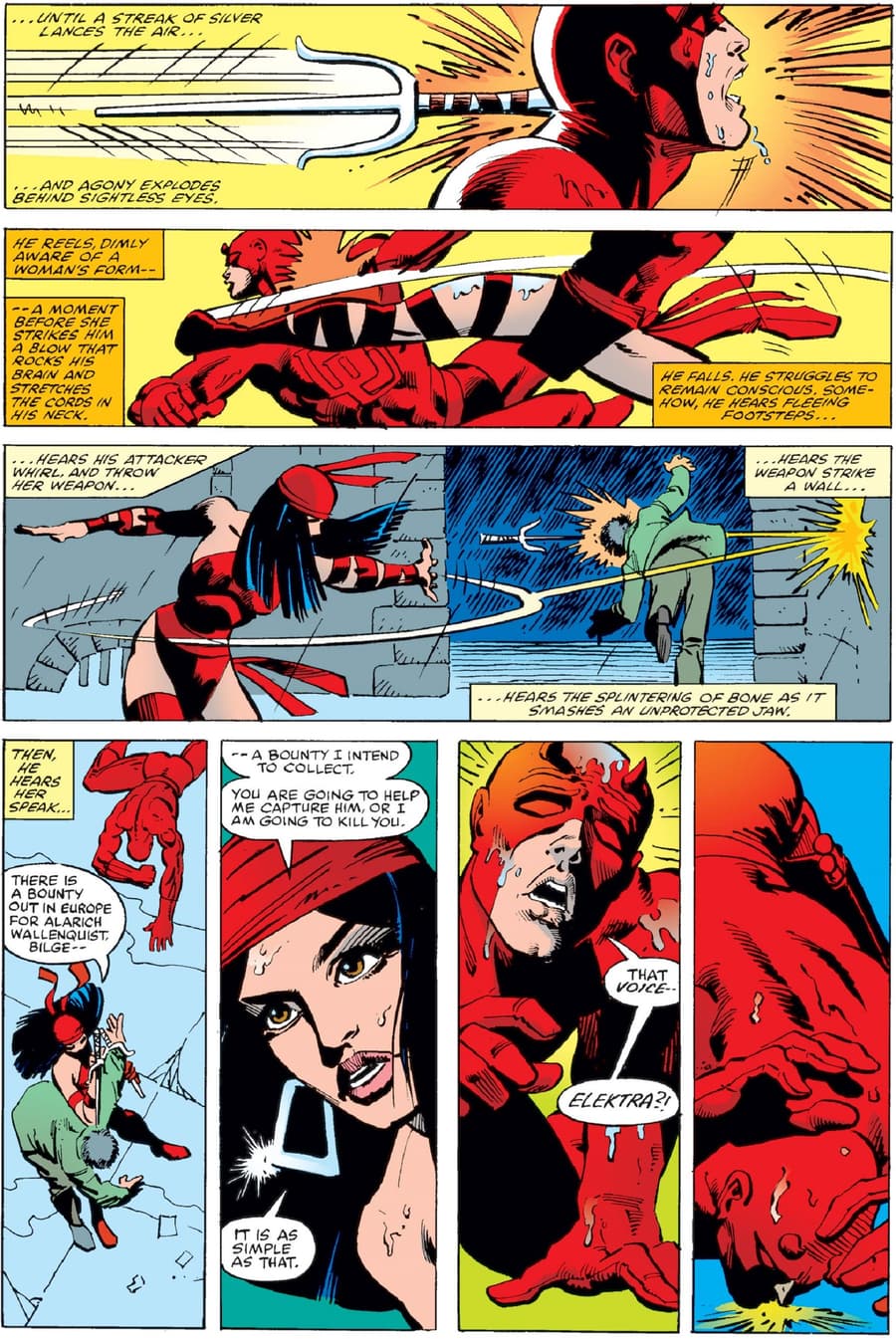 THE DEATH OF ELEKTRA
DAREDEVIL (1964) #181 is the now-classic battle for the ages when Elektra and the maniacal Bullseye went head-to-head. And only one walked away. For the first time, Elektra was up against a foe she couldn't beat. And it ultimately cost Elektra her life when Bullseye impaled her with her own sai. As she bled to death, Elektra managed to drag herself to Matt's door and reconcile with him before she died in his arms.
It was a devastating moment and a defining one in Matt's life. But in the Marvel Universe, death is rarely the end.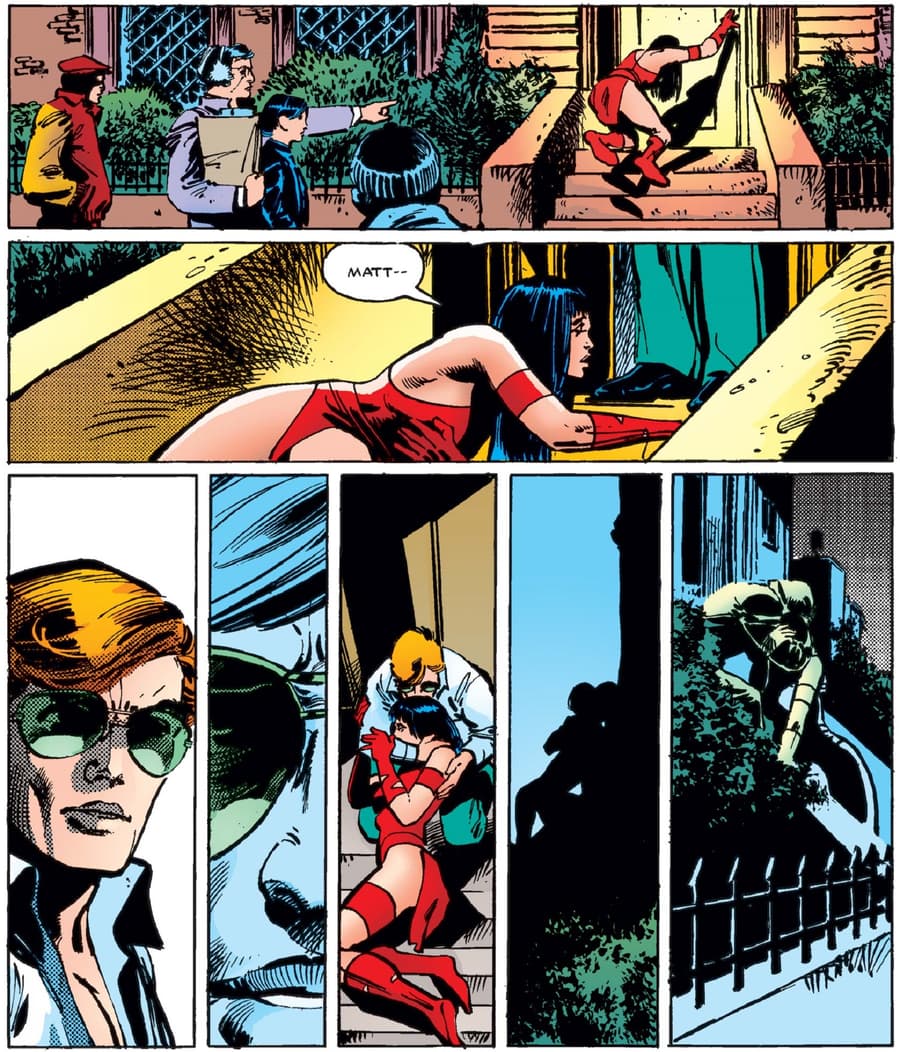 RESURRECTION
The Hand wanted to bring Elektra back from the dead so that she could serve them again as an immoral, immortal totem. Matt couldn't let that happen, which set up a showdown in DAREDEVIL (1964) #190. But when faced with Elektra's body, Matt couldn't pass up the chance to try to resurrect her himself. Although Matt believed he had failed, Elektra lived again. And, for a time, she was cleansed of the darkness that had haunted her ledger for years. Love had truly conquered all.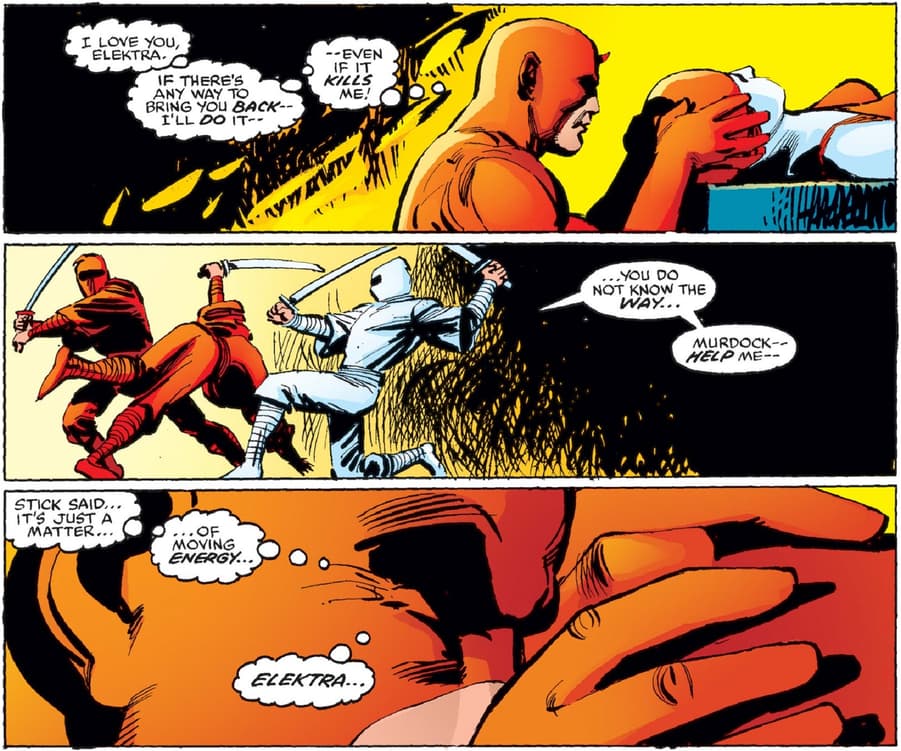 TEMPTED BY THE DARK SIDE
As a consequence of Elektra's redemption and resurrection, her darkness manifested as Erynys, and she was essentially Elektra's spiritual evil twin. For the first time in years, Elektra reunited with Matt to face Erynys and defeat the darkness once and for all. But in DAREDEVIL (1964) #325, Elektra paid a high price for her victory. Once Erynys was dead, the darkness that was inside of her returned to Elektra and she was forced to confront her truest nature once again.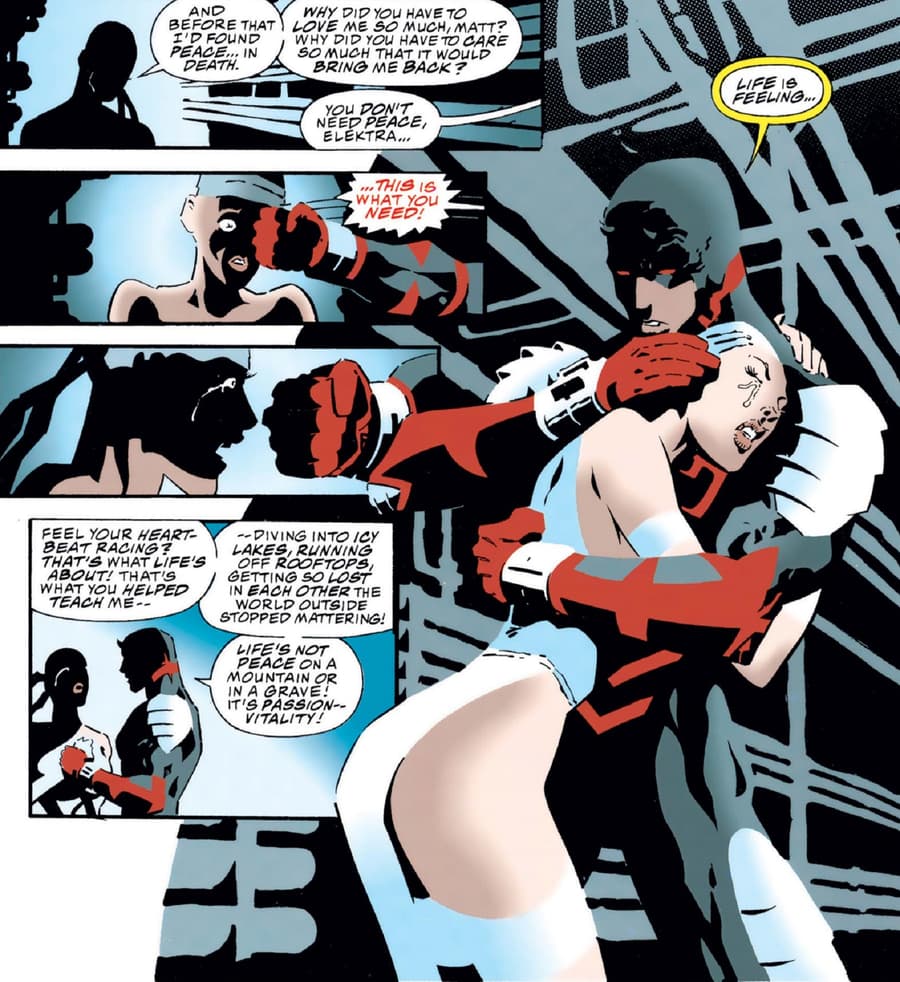 A NEW DAREDEVIL
After a long period of estrangement, Elektra reentered Matt's life in DAREDEVIL (2019) #10 with an offer to help him regain his edge. Of course, she also had an ulterior motive. Elektra had already decided to reform The Fist to end The Hand, but she needed Matt's trust to do so. And because Matt had no faith in her, Elektra resolved to prove herself worthy by becoming the new Daredevil in DAREDEVIL (2019) #25.
While Matt languished in prison, Elektra assumed his mantle and fought by his rules. She even refrained from killing, because it wasn't what Matt would have wanted. Although Matt was incredulous about Elektra's decision, her actions won him over and they finally rekindled the love that had abandoned their lives years ago.
MARRIAGE BY FIRE
Having accepted Elektra's proposal to lead The Fist together and take down The Hand, Matt and his longtime love underwent a stressful trial by fire in DAREDEVIL (2022) #4. To become the King and Queen of The Fist, Matt and Elektra had to battle a gauntlet of The Hand's undead warriors and make it out alive.
After a grueling battle, neither Matt nor Elektra could stand up, but they were declared man and wife by Stick, which technically makes this the second time that Matt has been married. Together, they can face almost anything. But Matt may not realize that one of the key prophecies of The Fist is that either the King or the Queen must die to fulfill their mission.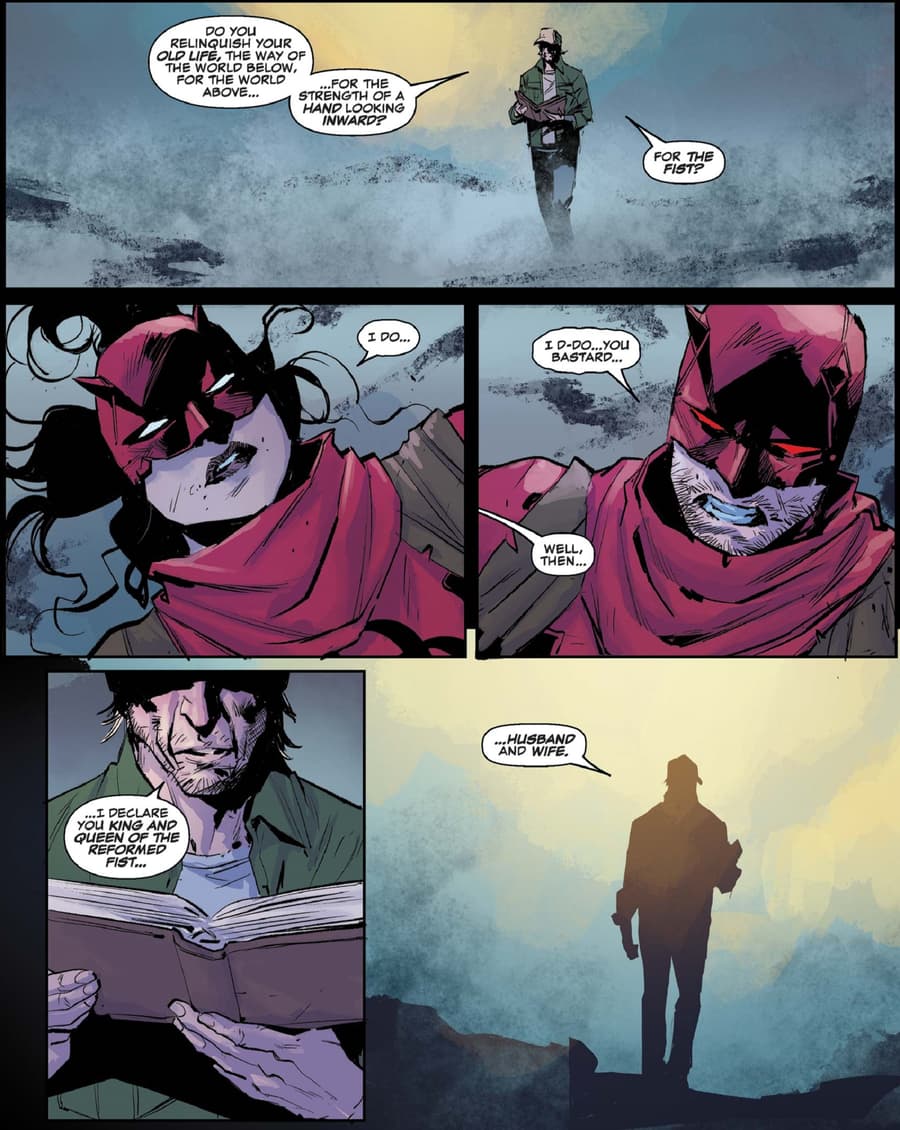 The Hype Box
Can't-miss news and updates from across the Marvel Universe!