Comics
Published April 17, 2017
6 Super Heroes with Secret Identities
Matt Murdock and five other heroes who tried to hide their IDs!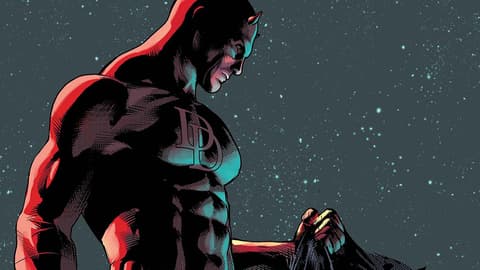 Some heroes have gone to some pretty lengthy extremes to conceal their identities. Here's a look at a few of them…

Daredevil
The Man Without Fear's latest efforts to restore his secret come after a number of attempts and accidents that left him exposed.
Way back in the original DAREDEVIL #24, Spider-Man, of all people, wrote a letter to Matt Murdock telling him he knew his secret—but he promised he wouldn't tell anybody. Too late, Wallcrawler; Foggy Nelson and Karen Page read the letter. Matt covers up his secret by creating a fictional twin brother: Mike Murdock.
Eventually Mike "dies," but DD's identity woes don't end there. In one instance a TV station broadcasts Matt's secret, but Black Panther helps save it by dressing as Daredevil. Many others discovered his secret ID over the years, leading to a storyline where he continued to deny it while a tabloid tried to out him. That song and dance continued until our hero went public and told everyone—leading us to the current storyline.

Spider-Man
Spider-Man not only almost screwed up his buddy's secret identity, he's had plenty of close calls himself. The list of people who knew Spider-Man's real name grew over the years, and then during the first Civil War event, Peter Parker took Tony Stark's advice and revealed his true name and face to the world.
But only for a short time. The "One More Day" storyline saw Spidey sacrifice his marriage to Mary Jane to Mephisto in order to save Aunt May's life. A few years later, a tale called "One Moment in Time" revealed how time "reset" itself after the couple made that call—and why Peter decided he needed his secret identity back. Kingpin came after several of our hero's loved ones, so the Webslinger asked Doctor Strange to cast a spell to make everyone forget his secret. Working with Tony Stark and Reed Richards, the Sorcerer Supreme did the deed, with only Peter and MJ escaping its effect.

Captain America
In the late 1980s, John Walker temporarily replaced Steve Rogers as Captain America after the government tried to make Steve part of their political agenda. The new Cap's tenure proved difficult, and eventually the powers-that-be decided to hand the suit and shield back to his predecessor. In the press conference announcing the return of the original, a member of the militant Watchdogs apparently assassinates Walker—but only "apparently." The staged shooting allowed the former Cap to put his old life and mistakes behind him and return in a new identity: U.S. Agent.

Wolverine
During the Fall of the Mutants, the X-Men, including Wolverine, gave their lives on television to save the world from a being called The Adversary. The goddess Roma, however, took pity on the mutant heroes, resurrecting and giving them the opportunity to operate in secret. She even made them "invisible" to any sort of surveillance beyond regular eyesight.
While the X-Men moved to Australia and established a secret base, Wolverine had his own agenda—and storylines—going on in his solo title. Logan established a new identity, Patch, on the island of Madripoor, where he engaged in an underworld battle with the local crime lords. The eye patch kept his resurrection somehow "secret," despite the iconic claws and hairdo.

Iron Man
Back in 1998, Captain America and Iron Man teamed up in the aptly titled IRON MAN/CAPTAIN AMERICA '98 ANNUAL. In the story, Tony Stark and Steve Rogers battled A.I.M. and M.O.D.O.K., and we learned in a flashback that the duo also took on Mentallo, who had created a way to control the minds of everyone on Earth. Iron Man not only took out the telepathic villain, but also used his technology to make everyone forget his secret identity. Years later, it wouldn't matter, as Tony revealed his name and face to the entire world again anyway.

Thor
To teach his son humility, Odin stripped Thor of his memories as a god and sent him to Earth as Donald Blake, a mortal medical student with an injured leg. Eventually Blake discovered his true origin, and Thor spent time on Earth not only in his godly, heroic identity, but also as the good doctor. Eventually the Thunder God gave up his ability to turn into his human alter ego.
Years later, when Thor decided he wanted a life on Earth again, he didn't ask Odin for another spell. Instead, he turned to Nick Fury, who created a new civilian identity for him: Sigurd Jarlson. Transforming into Jarlson didn't require Thor striking his hammer on stone; it only needed civilian clothing and, of all things, a pair of glasses—who would use a pair of glasses to try and hide their true identity?
The Hype Box
Can't-miss news and updates from across the Marvel Universe!