Comics
Published January 23, 2017
Daredevil: Love Without Fear
Follow the perilous fates of those who grew close to Matt Murdock!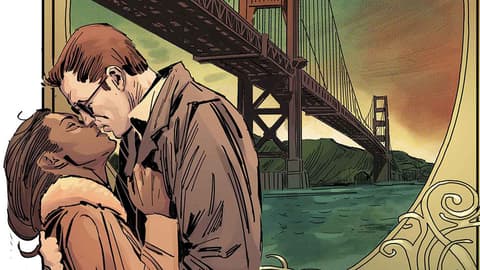 Love can beautiful and love can be hard work. Often both at the same time. When it comes to loving Matt Murdock, though, love can be downright deadly. Or worse.
Below, we peek inside the attorney's little black book to take stock of his past affairs of the heart.
Elektra
The first amongst equals, Elektra has always acted as a warning, a—usually—living testament to what could have happened to the Man Without Fear with a few more missteps along the way. Her father died, she embraced chaos; Matt's died and he embraced the law. She took her Chaste training and became one of the world's most dangerous assassins; Murdock used his to become one of the Marvel Universe's most dogged vigilantes.
Though their passion has arguably burned more intensely than any other relationship on this list—or perhaps because of that—the two cannot seem to stop hurting one another, physically and emotionally. However, not even deaths and resurrections have managed to severe their deep bond.
Karen Page
Karen stepped into the life of Daredevil as the secretary to Nelson & Murdock. Love quickly blossomed but, eventually, she had to strike out west to try and realize her dreams of stardom. Instead, she ended up exploited, slipping so far away from herself that she ended up selling the truth of DD's identity for a moment's relief from the pain of withdrawal.
And the pain did not even end there.
While she and Matt reconciled and she became a crusader against the forces that derailed her—drugs and exploitative pornography—her romance with Murdock remained rocky. Typhoid Mary, madness, seeming death, and his life as a vigilante all but decimated their hopes of making a relationship work.
Unfortunately, we can never know if they might have found a way to persevere despite all that as Bullseye ended Karen's life in a church as she fought to protect Matt and an innocent child.
Black Widow
His partner, his lover, his friend; Black Widow acts as kind of a counterpoint to the likes of Elektra indicating that yes, Matt can have a relationship with a highly talented and driven member of the costumed community without it all being a disaster.
In fact, despite it ending, their relationship stands as probably the closest to a truly successful one. Yes, her independence and fear of vulnerability and his anger and, well, fear of vulnerability led to their uncoupling, but it did not lead to either of them dying or repeatedly kicking the stuffing out of one another. Instead, they act like so many exes, stuck in the same industry together—by turns friendly, loving, flirtatious, and awkward.
Heather Glenn
In so many way, Heather seemed like the perfect tonic for Daredevil: a rich young woman with a love of fun and frivolity. Even if it did not last, certainly the relationship would brighten Matt's life for a time.
Well…
Unfortunately, Glenn's glittering surface hid some fairly dark issues. For one, her father had shady dealings that Matt, as the Man Without Fear, had to expose. This led to the elder Glenn's suicide to avoid prosecution and Heather ascending to head a corrupt business she felt obligated to protect from her lover's alter ego despite having no real interest in running it.
In time, her love of partying quickly became revealed as less of an enjoyable pursuit and more of an unshakeable dependence on alcohol. The relationship shattered in short order and Murdock distanced himself from Heather. Alas, in his attempts to establish healthy boundaries, he failed to hear her cry for help and she ended her own life, by hanging, while intoxicated.
Glorianna O'Breen
Their romance began when, essentially, Glorianna began to crash at Matt's place after escaping the Troubles in Ireland. While they seemed to have a genuine sweet chemistry with one another, Matt's frequent absences and seeming lack of care about their relationship sunk them quick. To make matters worse, she took up with Foggy Nelson—who also happened to be her aunt's ex-husband—just as Murdock's life spun out of control at the start of "Born Again."
While her story should have ended there—a failed romance with Matt and a failed relationship with Foggy—O'Breen returned only to be thrown out a window by Kruel during one of the darkest times in DD's life.
Typhoid Mary
With his life back on track and his relationship with Karen blossoming once again, Matthew Murdock looked to be heading for a period of relative calm and stability. So, in true DD style, he acted against his own self-interest and messed it all up.
In fairness, he can share some of the blame with Mary. Dissociative Identity Disorder, super powers, and Kingpin manipulations combined to make her both the most attractive and most dangerous woman Daredevil had ever encountered. Battering his body as Typhoid and capturing his heart as sweet, quiet Mary, she forced him to flee New York, his second chance with Karen reduced to ash, his body a mess of bruises and scars, and his psyche lacerated.
In the years since, they have continued to square off but Matt, now wise to her powers, no longer seems to be under her sway. She can beat him physically, but the days of her being able to wage psychological warfare seem largely past. On the other hand, Hornhead has successfully used her mental illness to break her on a few different occasions, an experience that leaves the reader and Murdock feeling queasy.
Echo
Gifted with the ability to match the physical activities of nearly anyone, Maya Lopez became a physical dynamo and incredible concert pianist. She also captured Matt Murdock's heart—and gave him hers—with the quickness.
Unfortunately, she had been raised by Kingpin since Fisk killed her father. Over the years, he had not only hidden the fact that he made her an orphan but also placed the blame firmly on Daredevil. Thus, despite their burgeoning romance, the relationship could not flourish. Even after the truth became revealed Lopez simply could not move past what had transpired.
Milla Donovan
Smart, funny, and wildly compassionate, Milla seemed to promise Matt a non-costumed equal; a partner who need not get in dustups every now and then. Matt knew it too and so he made the leap for the first time, marrying Donovan and revealing his identity. Unafraid, she jumped in along with him.
Unfortunately, her fearlessness dissipated as she, secretly, became the pawn of Mr. Fear. With the villain using her to break down Daredevil, Milla eventually snapped under the rogue's manipulations, committed manslaughter, and ended up in an institution. She remains there today, paid for by her now ex-husband, one Matthew Murdock.
Dakota North
Before the divorce, however, Matt reached out to new friend Dakota North and one thing led to another. It proved a short-lived affair and, truth be told, understandable given Milla's seemingly un-addressable mental state and the pain that caused Matt. Nonetheless, when Kingpin leaked photos of the North and Murdock that made it clear the Man Without Fear had sought physical comfort with another, both parties ended up dragged in the dirt with what might have been quickly dissipated into mist.
Kirsten McDuffie
More than Matt's equal in the courtroom, McDuffie delighted in using his not-so-secret identity against him to prevent his ability to practice law effectively. Somewhere along the way, the love of parrying him in court became an enjoyment of one-upping flirtation became a full blown relationship. She even followed him to San Francisco to help him practice law and get Foggy the cancer treatment he needed.
The Hype Box
Can't-miss news and updates from across the Marvel Universe!