Comics
Published March 23, 2017
Daredevil: Supreme Power
Charles Soule guides the Man Without Fear through the legal system!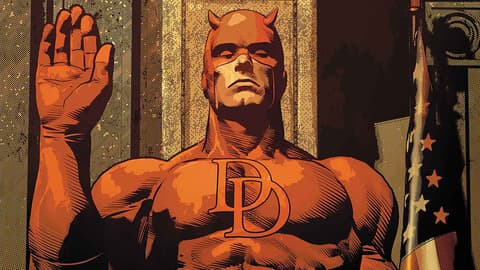 It may be a cliché that not all heroes wear capes, but can super heroes still be champions for good when they're not running around in costume saving the day? That's exactly what Matt Murdock seeks to prove in the upcoming "Supreme" arc of DAREDEVIL from writer Charles Soule. He's foregoing the usual red, skin tight number in favor of a simple suit and tie as part of a plan to take care of crime in New York with the legitimate fists of the legal system.
However, Matt's tour de force of lawyerly prowess could prove to be the undoing of not only the bad guys, but all of New York's vigilantes as well. Even his recently recovered secret identity stands at stake in this story, which promises to be an explosive courtroom drama chock full of surprises, exciting cameos, and homages to classic sitcom tropes.
Since Charles practices as an attorney, we asked him to make a few opening statements on behalf of "Supreme." He's far from resting his case, your honor. In fact, it's just waking up.
Marvel.com: In this story arc, Matt has a plan to take care of crime in Manhattan via the legal system as opposed to his vigilante work as Daredevil. As a practicing lawyer and fellow Columbia Law graduate, were the specifics for this arc drawn from your own experiences as an attorney? If so, can you go into detail about your inspirations without breaching attorney-client privilege?
Charles Soule: I've been building to this story since I first started thinking about my run [on DAREDEVIL]. This has been what it's all been about, from the start. This is why Matt joined the DA's office, it's what he decided to do with his secret identity, all of it. He has a plan based on a particular area of criminal law that I came up with when I was doing my initial research, talking to people who've worked in the Manhattan DA's office, etc. The funny thing—while I am a practicing attorney, I don't work in this particular area, and so I am sure I'm screwing stuff up as far as the specifics. That's okay, though, I have a wonderful crutch to rely on for that stuff: "Law is a little different in the Marvel Universe."
Marvel.com: Are there any holdover repercussions from the "Purple" arc that centers around Matt trying to hold onto his secret identity?
Charles Soule: The whole "Supreme" arc is all about it. We learned in "Purple" what Matt did to put his identity as Daredevil back in the bottle, and in "Supreme" all of that is put at risk. We understand the stakes.
Marvel.com: What is the climate like in New York City to allow Matt to take this route rather than just beat the snot out of bad guys as Daredevil?
Charles Soule: Beating up bad guys is great, but it's a one-at-a-time sort of solution. Every once in a while maybe you can take down a big player like an Owl or even a Kingpin, but just because you beat someone up doesn't mean they will actually get convicted of a crime and go to prison. Matt's plan here is designed to bring his vigilante work and his legal work closer together—and not just for him, but for everyone like him. The Spider-Mans, the Blindspots, the Ms. Marvels— everyone with a secret identity working in New York as a vigilante could be affected by what he's doing.

Marvel.com:  Moreover, how does he feel about the possibility that the city may not need the hero after this case is over?
Charles Soule:
He's not worried about that at all. New York will always need heroes.
Marvel.com:  The criminal underworld can't be happy about this trial. What action will they be taking to stop Matt?
Charles Soule: Stay tuned. That's a huge part of the story. We'll see some great bad guy appearances here, including the return of a fun Z-lister from the 90s, another long-demanded character from my SHE-HULK run with Javier Pulido, and another massive Daredevil bad guy I haven't used yet.
Marvel.com: The irony of Daredevil needing to take the stand and testify is a bit of a two-dates-to-the-prom—or courtroom in this case—situation for Matt. How will he go about handling that particular dilemma?
Charles Soule: That's issue #22—and man, it's fun to write that stuff. Classic silly sitcom with super heroes material.

Marvel.com: Luke Cage and Echo will be guest starring in this arc. What will their roles be in this case? Will they be taking to the stand and should we prepare for any other cameos?
Charles Soule: They show up early, but we shift away from them to allow for some other folks to appear. I'm trying to get in a bunch of cool cameos here; don't want to spoil it, but I had Daredevil appear in a big three-part story in my SHE-HULK run. It might be time to return that favor…
Charles Soule kicks off "Supreme" in DAREDEVIL #21, coming this June!
The Hype Box
Can't-miss news and updates from across the Marvel Universe!