Comics
Published March 22, 2017
Daredevil: The Man Without Friends
Charles Soule examines what has dissolved the bond between Matt Murdock and Foggy Nelson!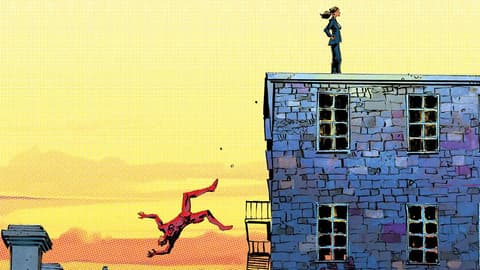 Super heroes need friends, it's as simple as that. Fighting for ideals is nice, but fighting for those you care about is better. You can beat up as many villains as you like, expose their crimes and put them in jail, but you need someone there at the end of the day who will kick back with you at Josie's for a couple of pints.
At the moment, the friendship of Matt Murdock and Foggy Nelson lies on the rocks in the current "Purple" story arc for DAREDEVIL written by Charles Soule with art from Ron Garney. Yes, Matt has his secret identity back, but how did he achieve such a feat and will it prove worth it if his once best friend Foggy doesn't have his back? As the arbitrator between the two parties, Charles gave us his hot take on the frail friendship and the delicate secrets threatening to tear it apart forever.
Marvel.com: We're currently in the middle of the four-part "Purple" arc where we're dealing with the idea of Matt Murdock restoring his secret identity and the return of a classic Marvel villain in Zebediah Killgrave aka Purple Man. And that's not even mentioning the bounty on Daredevil's head in the "Seventh Day" arc. With all this going on, what are the ripple effects being felt on Matt and Foggy's friendship?
Charles Soule: The "Purple" arc is designed to pull back the curtain on why Matt's made a lot of his recent choices; not only does it explain how he got his secret identity back, but it tells you what he decided to do with it. From Murdock's perspective, a secret identity is a tool: it's the first time he's been able to work full on as an attorney in a while without people knowing that he's also Daredevil—years, really—and he's going to use that to its fullest extent. Unfortunately, Matt's choices also caused him and Foggy Nelson to go "on a break"—they've interacted a bit in the 20 or so issues of my run so far, but it hasn't been the full-on friendship they're known for. Things seem very strained, very tense. It's a shame!
Marvel.com: In anticipation of issue #19 coming April 19, can you give any hints as to what caused a rift between Matt and his best friend?
Charles Soule: Well, the real explanation comes in issue #20, but honestly, the pieces have been there since issue #1. Matt has his secret ID back and Foggy doesn't like something about the way it happened, or what Matt's decided to do since he got it back. Foggy's the only person in the world who knows the truth, and he doesn't know that he's too excited about carrying that burden. But more to come on that…
Marvel.com: Are they coming at it from a lawyerly perspective or is emotion clouding their otherwise rational minds?
Charles Soule: This one's 100% emotion, despite what they tell themselves. Matt Murdock is a big rationalizer; after all, the fact that he's Daredevil at all requires being able to jump through some pretty big moral hoops, especially while being a lawyer at the same time. As an attorney myself, that was always one of the things I found most interesting about Daredevil as a character. A lawyer really can't do what Daredevil does, not ethically—and Matt certainly knows that—but he does it anyway, because he's compelled to. That's great stuff.
Marvel.com: There's no doubt that these are trying times for both Matt Murdock and his vigilante persona. It sure would help to have a friend around, but he's out of luck. How is Matt handling things without this extra support and comfort from Foggy? In other words, what does it mean to be strained?
Charles Soule: I think we've seen it all through the run so far. On the surface, everything seems "fine"—Matt's being heroic, stopping bad guys, all of that. But if you look a little deeper, the man's barely holding it together. He can't do it alone, but he thinks he can—also great for drama. This tension has brought him back to the Catholic Church, though, which was a nice thing to be able to return to the Daredevil mix. I always thought it was interesting that Murdock had a strong religious faith as part of his character, and it's been a little missing from his portrayals recently. The church isn't a substitute for a best friend, though.
Marvel.com: What is more important to Matt, saving his secret identity or his friendship?

Charles Soule: I think we're about to find out…
Get the next hints on Matt's secret identity and friendship woes when DAREDEVIL #19 by Charles Soule and Ron Garney hits on April 19!
The Hype Box
Can't-miss news and updates from across the Marvel Universe!