Comics
Published December 11, 2017
Death Comes for the Mighty Thor
What price will Jane Foster pay in the penultimate showdown with Mangog?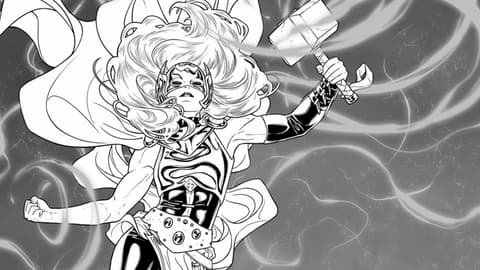 The murderous Mangog has set himself on a collision course with the God of Thunder–could a story titled "The Death of the Mighty Thor" end any other way than in tragedy?
With the fate of Asgard in jeopardy, Jane Foster takes up the hammer against her formidable foe in MIGHTY THOR #705, available March 21 from the creative team of writer Jason Aaron and artist Russell Dauterman. Thor has run the gamut of her predecessor's greatest foes since the start of this ominous arc in MIGHTY THOR #700. By the time she gets to Mangog, our truly Worthy hero may be operating low on lightning and unable to fully bring the thunder.
"This is it folks," teases series editor Wil Moss. "The big showdown between Thor and Mangog. The penultimate chapter of 'The Death of the Mighty Thor.' Jason Aaron and Russell Dauterman have been building to this issue for over three years, and you absolutely do not want to miss this. You may think you know where things are going, but I promise you do not."
Jane Foster faces her most devastating foe as Mangog comes calling and the Goddess of Thunder has no option but to answer. Find out what happens when the unyielding meets the unstoppable on March 21 in MIGHTY THOR #705–and take a sneak peek at  awesome Dauterman art from issues #703–out January 17–and #704–coming February 21–as well as the cover to #705 in the pages above!
The Hype Box
Can't-miss news and updates from across the Marvel Universe!