Comics
Published May 19, 2020
Didja Know... The Signficant Spidey Specifics
Read 'Amazing Fantasy' #15 and 'Amazing Spider-Man' #1-10, now FREE on Marvel Unlimited!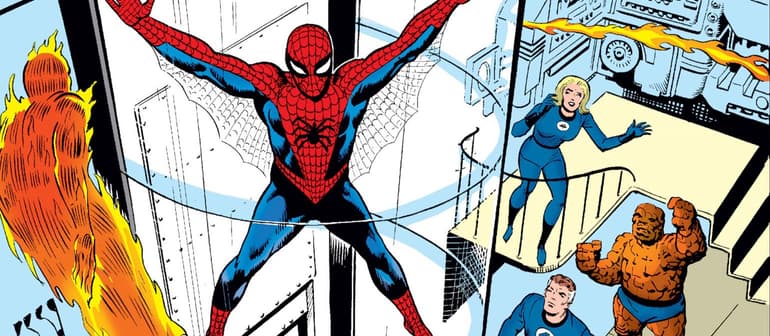 READ SPIDER-MAN'S ORIGINS HERE!
Didja know we consider the very earliest Spider-Man stories to be some of the finest sagas ever spun here at ol' Merry Marvel?
Just take a look at those first ten issues of AMAZING SPIDER-MAN—not to mention that outrageous origin in AMAZING FANTASY #15—and you'll feast your peepers on Stan Lee and Steve Ditko really cookin' with gas as they craft and create Peter Parker's universe and all the guys, gals, and goofballs that populated it!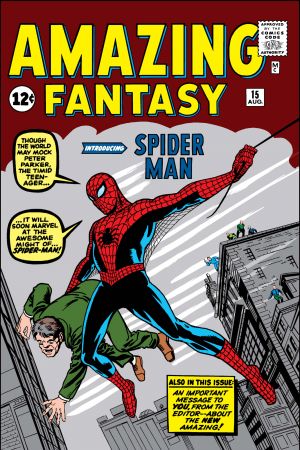 Here's a few of our fast and furious favorite facts from those electric early days of the wondrous webslinger!
Didja Know… Peter Parker had to make his own costumes?
It's one of the sad situations of being a solo super hero—who else is gonna sew up your skintights? Peter was no exception, True Believers, and he even had a few moments in those first few months that probably made him question the whole blamed ball of wax!
Take his very first mask, for example—we used t'call 'em "stocking masks" because, yep! They were made from ladies' stockings! Peter donned one to fight Crusher Hogan in the ring to earn some bread, and though it worked wonders to conceal his identity at that time, he knew he couldn't continue with it. Nossir…he had to get a regulation costume like all the other super-types sported.
Here's a funny little side-note to all this: In AMAZING SPIDER-MAN #4, he actually tore his own mask while skirmishing with the Sandman! Kind gives you an idea of Peter's sewing skills—in fact, he later had to repair it and declared, "I'm no cotton-pickin' seamstress!" All we can say is that swinging around the city on weblines is one thing, but threading a needle to sew up a storm is another deal all together!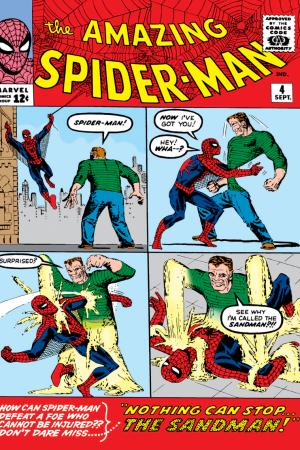 Didja Know… Peter Parker hit the Fantastic Four up for some cash?
Hey, he was a teenager at the time! And with an ailing aunt t'boot! Peter realized he couldn't keep using Spidey to drum up some dough, 'cept to push some photos of his crimebustin' to J. Jonah Jameson, so he began to explore other avenues…which led him straight to the Baxter Building.
See, in AMAZING SPIDER-MAN #1, Peter's light bulb idea was to swing over to the Fantastic Four's headquarters, impress them with his mad skills, and end up on their payroll. Well, it didn't go exactly how he'd hoped—they had to explain they paid no salaries or bonuses—but what it did accomplish was to begin to cement a relationship between Spidey and the team that lasts to this day. Heck, the wall-crawler even duked it out with Doctor Doom in AMAZING SPIDER-MAN #5!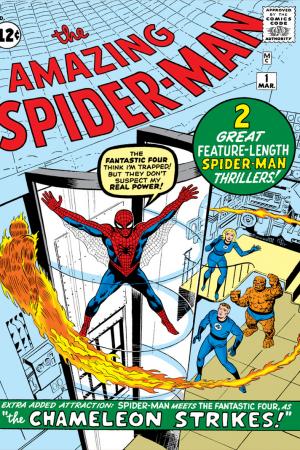 By the by, since we're stuck on the subject, didja know what sweet little nicknames the ever-lovin' Thing planted on Spider-Man during that first fantastic foray? Howabout "teen-age cornball," "Rubber-Face," and "kook"? Yeah, that's what we thought, too…
Didja Know… Peter Parker used to wear glasses?
This is gotta be our most-favorite Spider-Man specific of all his early-days details: he was originally a four-eyes! Peter sported spectacles right off the bat in AMAZING FANTASY #15, but readers received a glimpse at the future when he nonchalantly set his glasses aside to zoom off to zap Crusher Hogan. After that he only ever wore them when he was around others—which may have given fans the idea that he didn't really need 'em anymore after his radioactive spider-bite.
Flash-forward to AMAZING SPIDER-MAN #8 when Flash Thompson pushes Peter and oops! go the glasses. Our favorite high schooler then thinks to himself, "I'm through pretending to be a pantywaist to conceal my real identity! I don't need those specs anyway!"
The Amazing Spider-Man (1963) #8
published

added to marvel unlimited

writer

inker

penciler

penciller (cover)

letterer
What is Marvel Unlimited?
Gee, Pete; we coulda told ya that! And here's one more funny for you: Nobody questioned his lack of glasses after that. Not his classmates, his girlfriend, not even his dear, old Aunt May…guess they all knew it before even Mr. Parker figured it out!
Looking for more iconic arcs, complete events, and Marvel must-reads you can read for free? Read online here, or download or update the Marvel Unlimited app for iOS or Android at the Apple or Google Play app stores today.
For more of Marvel's greatest comic books in print, please reach out to your local comic book shop to ask about services they may offer, including holding or creating pull lists, curbside pick-ups, special deliveries and other options to accommodate. Find and support your local comic book shop at http://comicshoplocator.com.
The Hype Box
Can't-miss news and updates from across the Marvel Universe!