Comics
Published December 20, 2018
Doctor Strange: A New Beginning
Take a different look at how the Sorcerer Supreme got his start!
Every now and then it makes sense to shake things up with a particular character or group. J. Michael Straczynski, Samm Barnes and Brandon Peterson did exactly that in the 2004-launching six issue limited series STRANGE published through the Marvel Knights imprint.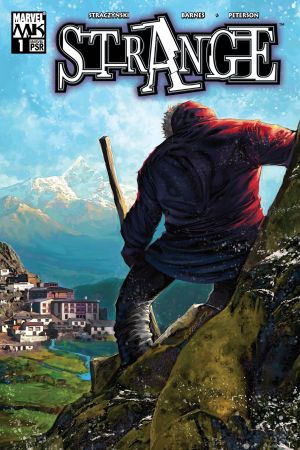 The series kicked off by showing a younger Stephen Strange doing charity work in Nepal where he had been taking care of a young man named Wong and met a mysterious stranger on a mountain. He said he wanted to return, but his dedication to his studies and then himself kept the doctor away for years.
Instead of losing his hands in the car accident scenario we're used to, this version of Strange injured himself while skiing. The results remained the same, though: the complete loss of his ability to perform surgery.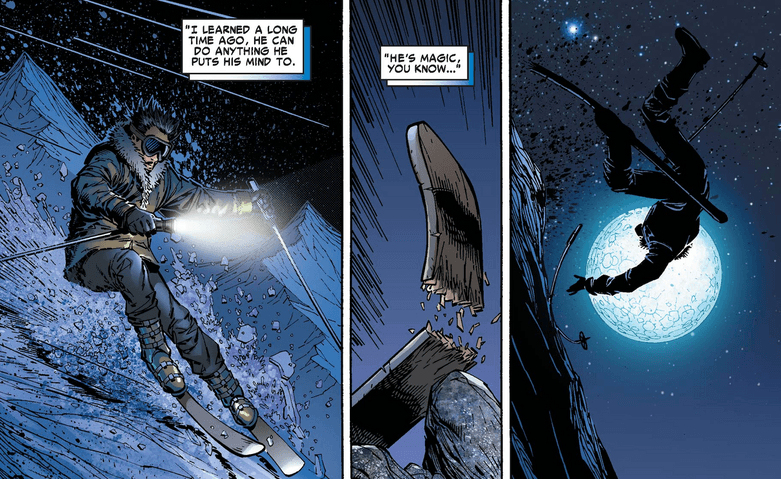 After kicking around the globe for a while, Strange finally discovered that the rumored healer he'd been looking for actually lived just two blocks from his place in New York City. Upon returning home, he found himself attacked by demons and protected by a mysterious woman called Clea.
The duo escaped relatively unscathed and Clea took Strange to the bigger-on-the-inside domicile of the man known as The Ancient One. There he also rekindled his relationship with Wong, who had become a healer himself using Eastern methods instead of Western.
The Ancient One told Stephen he could not fulfill his desire and heal his hands, but did offer him the chance to help humanity by studying and wielding magic. The old wizard also revealed that they'd been waiting for Stephen to find his way to them ever since his childhood.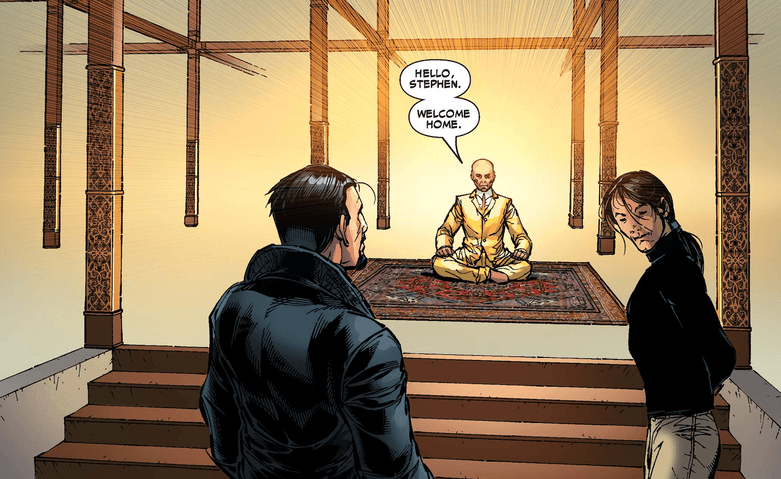 Though incredulous to the whole idea of magic, Strange soon turned himself around after being granted a look at how many supernatural agents actually lurked the Earth. Before long he reunited with Clea, discovered that one of his good friends had been trying to influence him negatively this whole time, and decided that he truly desired to learn magic.
After some training that made his med school days look like pre-school, Strange stood beside Clea and Wong as they tried to defend the Ancient One against the Mordo-summoned Dormammu. With the villains vanquished, Strange embraced his new status as a Master of the Mystic Arts, but soon discovered the price: his entire history had been erased as a way to keep his family members safe from supernatural threats.
Opening the Book of Vishanti
At the same time that JMS, Barnes and Peterson attempted to give Doctor Strange's origin a polish, the character also appeared in AVENGERS #502, halfway through the "Chaos" storyline by Brian Michael Bendis and David Finch. On a day when everyone from Ultron and the Kree attacked Avengers Mansion, killing Hawkeye, Jack of Hearts, and Vision in the process, Doctor Strange appeared to inform them that magic forces created all of these disturbances. Even worse? They had been cast by their teammate Scarlet Witch. During a mystical battle, Strange used the Eye of Agamotto to make Wanda see the truth, which knocked her unconscious. Not long after Magneto scooped her up and later she created the House of M reality and nearly decimated the mutant population.
The Hype Box
Can't-miss news and updates from across the Marvel Universe!