Comics
Published May 30, 2018
Doctor Strange Enters the Infinity Wars
See how issue #3 of the new series ties into the cosmic event!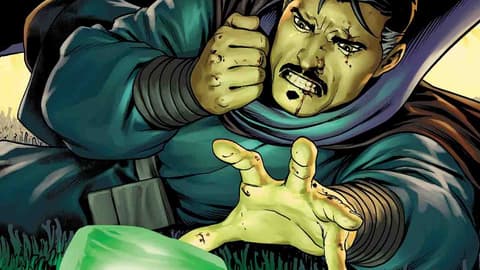 After finding the magic of planet Earth depleted, Doctor Strange takes to the stars.
There, he expects to find alien sorcerers and mystical artifacts, but in DOCTOR STRANGE #3, he finds something much more powerful…an Infinity Stone!
This July, the Super-Skrull has the Time Stone, and Doctor Strange can't let him keep it in this special INFINITY WARS lead-in!
Written by Mark Waid with art by Jesus Saiz, Stephen Strange joins the escalating action of this cosmic event.
As series editor Nick Lowe describes the action, things are going to get messy pretty quickly for the mage. "As if you didn't need enough reasons to pick up DOCTOR STRANGE #1 next week, did we mention that issue #3 is part of the set up for INFINITY WARS? A nearly de-powered Doctor Strange ends up face-to-face with the Super Skrull, which puts Stephen in deep doo-doo. And Strange doesn't even know the Skrull has an Infinity Stone. So I guess this is the last issue of DOCTOR STRANGE?"
On July 4, journey across the stars with the INFINITY WARS lead-in DOCTOR STRANGE #3, by Mark Waid and Jesus Saiz!
The Hype Box
Can't-miss news and updates from across the Marvel Universe!