Comics
Published November 7, 2018
Doctor Strange: Strange Sanctuary
Take a tour of Doctor Strange's Sanctum Sanctorum!
The Master of the Mystic Arts has returned to Earth again as of DOCTOR STRANGE #7, out Wednesday, November 7, and will soon discover if "home is where the heart is" – or in his case, where the magic resides.
For Doctor Strange, of course, he's called his Sanctum Sanctorum in New York City home for many years, through triumph and turmoil, good times and bad. That weird, old house has seen many, ahem, strange events throughout its history, and if the past is any indication, the future's going to be no different for it.
From Basement to Baseboards and Beyond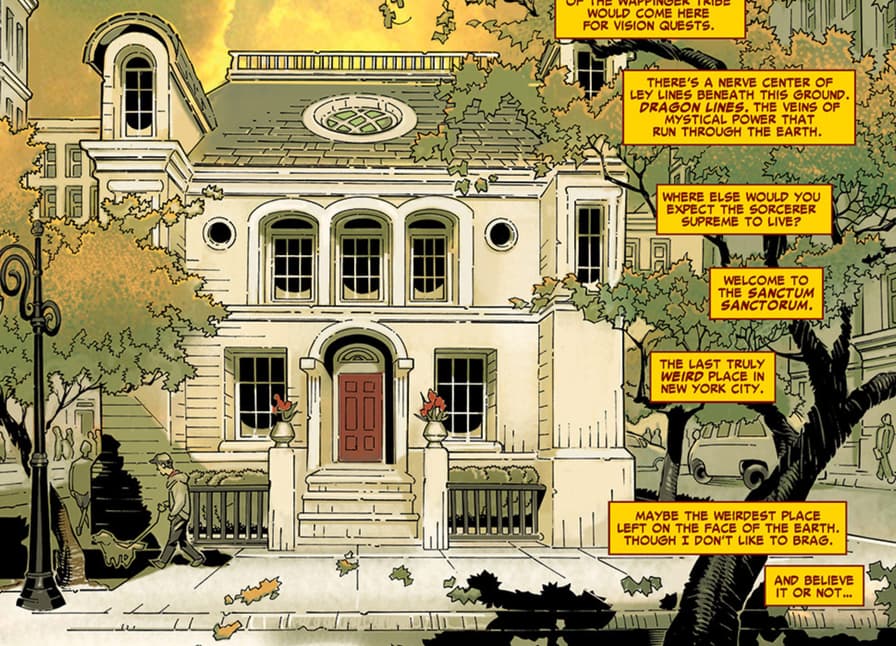 The house sits quietly, at least from outward appearances, at 1774 Bleeker Street, but from the time of its debut—along with its owner—in STRANGE TALES #110, it exists as part fact and part fiction. Legends tell of the land it rests upon as witnessing mystic Native American rituals and mass graves, but the truth of it may never fully be known. Regardless, the Sanctum Sanctorum seems a part of its Greenwich Village surroundings to passersby, innocent people with no idea of what its walls really contain.
Inside, the house changes almost constantly, due to the sheer weight of the magic that suffuses it. From the lowest point in its basements to the glorious Seal of Vishanti window at its highest level, the Sanctum's inner architecture rearranges itself to suit the needs of its master, yet also perhaps other intangible necessities. The library in the house alone holds more magical marvels than any other occult holdings on the planet, and it's where Doctor Strange goes to study, research, and sometimes only observe the forces he wields.
Beyond all this, the Sanctum Sanctorum exists as the focal point for Strange's adventures and a balm for his weary soul once they reach their end.
Strange Residents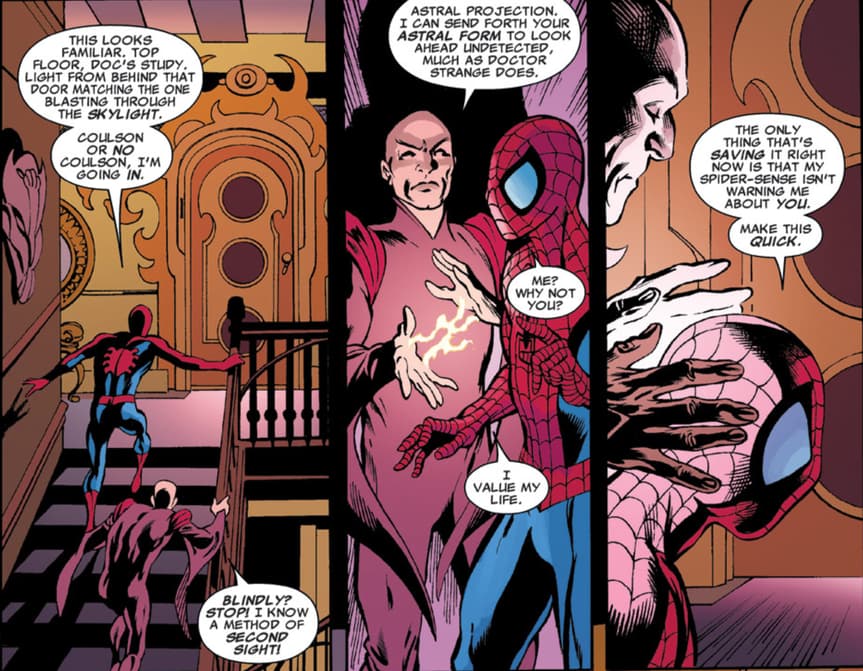 Besides Stephen Strange, the house may boast a plethora of distinguished occupants over the years, and not all of them invited or desired. The Sanctum's true caretaker, Wong, met readers in STRANGE TALES #110 to open the door to the doctor's first "client," and since that time has proven himself much more than a manservant. In fact, Strange and the house could scarcely do without Wong's steadfast service.
The Defenders soon began to think of the Sanctum Sanctorum as their unofficial meeting place as early as when the Hulk arrived there in DEFENDERS #1. By DEFENDERS #5, Valkyrie called it home at the insistence of Strange, and from there a steady stream of the group's members flowed in and out its doors until the Defenders eventually relocated to Nighthawk's ranch. Much later, Doctor Strange invited a group of heroes sought by the authorities to use the house as their secret base, circa NEW AVENGERS #27, and the doctor cast an illusion of a condemned building upon it to further dissuade prying eyes. Later still, the sanctioned Mighty Avengers tried to usurp the Sanctum during a time when Strange and his fellows fell on harder times.
Trials and Tribulations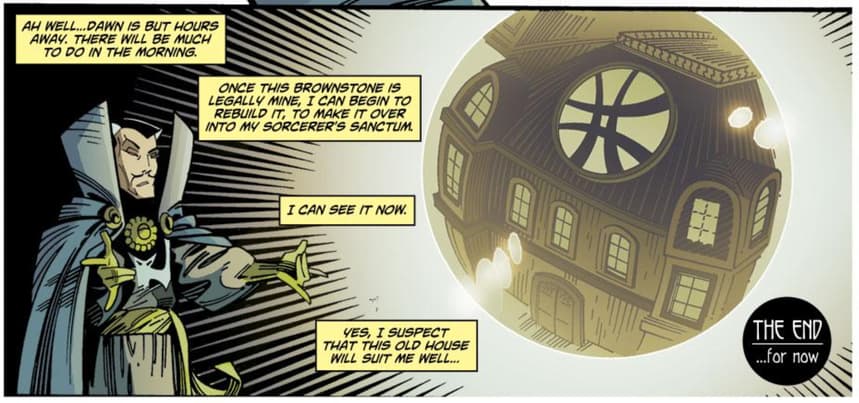 As stated before, the Sanctum Sanctorum has seen its share of woe as much as wonder. In one of Doctor Strange's earliest dives into danger after taking on the mantle of Earth's mystic master, his enemy Baron Mordo plunged the house into another dimension in STRANGE TALES #117 to inaugurate a scheme to rid himself of the doctor's presence and fool their teacher the Ancient One into believing Mordo had turned over a new leaf.
In more recent years, the house appeared to be destroyed in an attack on the Midnight Sons, and somehow withstood invasion by the Hulk's alien Warbound in WORLD WAR HULK #3. Strange played with fire to repel the green behemoth during that event, a situation most likely ill suiting the Sanctum's stature. In NEW AVENGERS ANNUAL #2 the powerful crook called the Hood unleashed a coven of criminals on Strange's abode, marking yet another moment when it seemed to not be able to stand such an assault on its foundations.
Yet, when all looks most grim for the Sanctum Sanctorum, it survives to continue to offer solace and sanctuary to Earth's Sorcerer Supreme and his chosen allies.
DOCTOR STRANGE #7, written by Mark Waid with art by Javier Pina, is available now both online and at your local comic shop!
The Hype Box
Can't-miss news and updates from across the Marvel Universe!