Comics
Published December 9, 2016
Download Episode 267 of This Week in Marvel
Enjoy the latest episode of the official Marvel podcast, ft. comics, movies, TV, games, and more!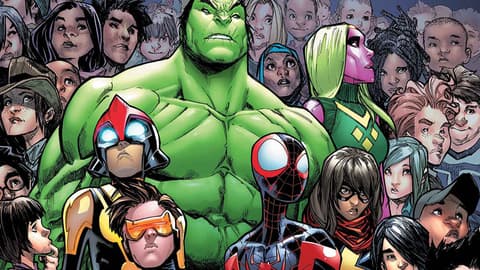 Can you believe it! It's already the end of the week, and here to usher you into the weekend is a brand new episode of This Week in Marvel!
Ben and Ryan tackle this week's new comic releases, including NOVA, STAR WARS: DOCTOR APHRA, CHAMPIONS, and more! Marc and Christine cover film and TV news. Ben talks to CHIKARA'S Director of Fun, Mike Quackenbush. Plus, we answer your questions, comments, and emails on This Week in Marvel #267! Tweet your questions and comments using #ThisWeekinMarvel, and email us at twimpodcast@marvel.com!
Read THOR THE MIGHTY AVENGER for the next This Week in Marvel Unlimited Reading Club and share your thoughts using the hashtag #TWIMURC!
Loot Crate has assembled the Marvel Gear and Goods crate for the ultimate Marvel fan. This crate will feature official Marvel items like collectible home goods, apparel and more every other month! Our theme this month is SUPER SCIENCE. The kitchen is the hidden laboratory of the home—give it a Marvel-style upgrade with uniquely designed wares, apparel, and more featuring the greatest minds in the Marvel Universe. This crate features items from your favorite Marvel super stars like Antman, The Black Panther, Modok, and more! Sign up today at lootcrate.com/marvel. Use promo code "marvelpod" to save $3 off your Marvel Gears and Goods subscription today
Download episode #267 of This Week in Marvel from Marvel.com, check out Marvel Podcast Central, grab the TWiM RSS feed and subscribe to This Week in Marvel on iTunes, so you never miss an episode! We are now also on Soundcloud! Head over now to our new hub to listen to the full run of This Week in Marvel including our latest episode!
This Week in Marvel will focus on delivering all the Marvel info on news and new releases–from comics to video games to toys to TV to film and beyond! New episodes will be released every Thursday (or so) and TWiM is co-hosted by Marvel VP & Executive Editor of Digital Media Ryan "Agent M" Penagos and Marvel Editorial Director of Digital Media Ben Morse, along with Marvel.com Editor Marc Strom, Marvel.com Assistant Editor Christine Dinh, and Manager of Video & Content Production Blake Garris. We also want your feedback, as well as questions for us to answer on future episodes! Tweet your questions, comments and thoughts about TWiM to @AgentM, @BenJMorse, @chrissypedia or @Marvel with the hashtag #ThisWeekinMarvel!
The Hype Box
Can't-miss news and updates from across the Marvel Universe!