Comics
Published December 29, 2016
DOWNLOAD EPISODE 270 OF THIS WEEK IN MARVEL
Enjoy the latest episode of the official Marvel podcast, with comics, movies, TV, games, and more!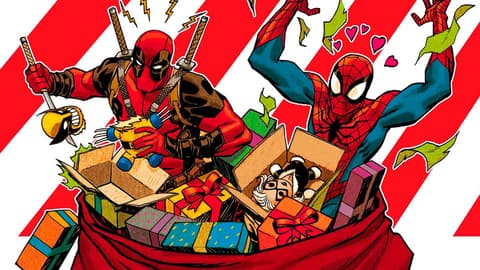 True Believers, we've got the very last episode of This Week in Marvel, EVER…of 2016! Brought to you by Loot Crate, we've got everything Marvel for you to end the year on a high note!
The full team of Agent M, Ben, Marc, and Christine gather to talk this week's comics releases, including BLACK WIDOW, HULK, and SPIDER-MAN/DEADPOOL, as well as celebrate the best of 2016!
Loot Crate is launching its second Marvel Gear & Goods crate. They are serving up some of your favorite minds from the Marvel Universe to outfit your lab (aka Kitchen) in true heroic fashion! This crate will be filled with home goods and unique apparel featuring Hulk, Iron Man, Ant Man Spider-Man and Black Panther and is over an $80 value for just $39.99. Give your kitchen the Marvel upgrade at lootcrate.com/marvel and use promo code "marvelpod" to save $3 off your first Marvel Gears and Good subscription today.
Download episode #270 of This Week in Marvel from Marvel.com, check out Marvel Podcast Central, grab the TWiM RSS feed and subscribe to This Week in Marvel on iTunes, so you never miss an episode! We are now also on Soundcloud! Head over now to our new hub to listen to the full run of This Week in Marvel including our latest episode!

This Week in Marvel will focus on delivering all the Marvel info on news and new releases–from comics to video games to toys to TV to film and beyond! New episodes will be released every Thursday (or so) and TWiM is co-hosted by Marvel VP & Executive Editor of Digital Media Ryan "Agent M" Penagos and Marvel Editorial Director of Digital Media Ben Morse, along with Marvel.com Editor Marc Strom, Marvel.com Assistant Editor Christine Dinh, and Manager of Video & Content Production Blake Garris. We also want your feedback, as well as questions for us to answer on future episodes!  Tweet your questions, comments and thoughts about TWiM to @AgentM, @BenJMorse, @chrissypedia or @Marvel with the hashtag #ThisWeekinMarvel!
See you on the other side!
The Hype Box
Can't-miss news and updates from across the Marvel Universe!