Comics
Published April 14, 2017
Download Episode 285 of This Week in Marvel
Enjoy the latest episode of the official Marvel podcast, with comics, movies, TV, games, and more!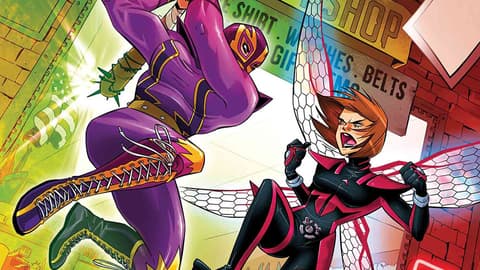 We've got a brand new episode of This Week in Marvel, presented by Loot Crate, to help you kick off the weekend!
Ryan and Ben tackle this week's comic releases including DEADPOOL VS. THE PUNISHER, BLACK PANTHER AND THE CREW, X-MEN: BLUE, and more! Holding down the fort on the West Coast, Christine runs through all the big Marvel film, TV and games news (47:47). Hear from ROCKET & GROOT novelist Tom Angleberger (51:04), and much more, including your questions and comments (1:04:39)!
Can't wait for the next installment of "Marvel's Guardians of the Galaxy" to hit theaters? Ryan and Ben are going to get you ready with the next #TWIMURC – GUARDIANS OF THE GALAXY by Dan Abnett and Andy Lanning! Be sure to share your thoughts with us using the hashtag #TWIMURC!
Loot Crate has assembled the Marvel Gear and Goods crate for the ultimate Marvel fan. This crate features official Marvel items like collectible home goods, apparel and more every other month! So you just stopped Thanos from undoing reality (again) and Nova Prime is probably going to spend weeks on the paperwork alone. Here's an Infinity Gem of an idea: let's kick off the space boots, head to the backyard and have a COSMIC PARTY! We're inviting a motley crew of galactic greats and they're bringing essential party items featuring the Guardians of the Galaxy, Captain Marvel herself and the Nova Corps! Order by 5/15 at 9pm PT by heading to lootcrate.com/MarvelGear and use promo code "MARVELPOD" to save $3 on your subscription today.
Download episode #285 of This Week in Marvel from Marvel.com, check out Marvel Podcast Central, grab the TWiM RSS feed and subscribe to This Week in Marvel on iTunes, so you never miss an episode! We are now also on Soundcloud! Head over now to our new hub to listen to the full run of This Week in Marvel!

This Week in Marvel will focus on delivering all the Marvel info on news and new releases–from comics to video games to toys to TV to film and beyond! New episodes will be released every Thursday (or so) and TWiM is co-hosted by Marvel VP & Executive Editor of Digital Media Ryan "Agent M" Penagos and Marvel Editorial Director of Digital Media Ben Morse, along with Marvel.com Editor Marc Strom, Marvel.com Assistant Editor Christine Dinh, and Manager of Video & Content Production Blake Garris. We also want your feedback, as well as questions for us to answer on future episodes!  Tweet your questions, comments and thoughts about TWiM to @AgentM, @BenJMorse, @chrissypedia or @Marvel with the hashtag #ThisWeekinMarvel!
The Hype Box
Can't-miss news and updates from across the Marvel Universe!