Comics
Published June 2, 2017
Download Episode 292 of This Week in Marvel
Enjoy the latest episode of the official Marvel podcast, with comics, movies, TV, games, and more!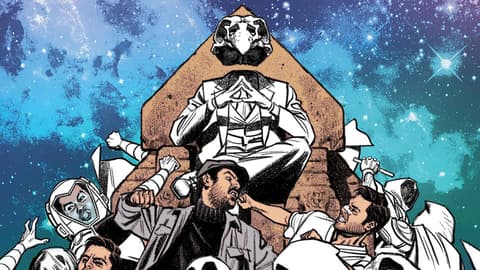 We've got a brand new episode of This Week in Marvel, presented by Loot Crate, to help you kick off the weekend!
Ryan and Ben give you the rundown on this week's comics hottest releases including SECRET EMPIRE, MOON KNIGHT, CABLE and more! We've also got tons of comics news from Tom Brevoort and Alanna Smith (49:23); West Coast news from Marc, Christine with your weekly dose of Marvel Games and Marvel Animation (1:14:21); and both coasts dive into the 90s-tastic world of X-Cutioner's Song Pt. 1 with our Unlimited Reading Club (1:21:13)! It's all here on a funky fresh episode of the official Marvel podcast!
Be sure to join our #TWIMURC next time where we have both coasts tackle X-Cutioner's Song Pt. 2! Share your thoughts with us using the hashtag #TWIMURC!
Loot Crate has assembled the Marvel Gear and Goods crate for the ultimate Marvel fan. This crate features official Marvel items like collectible home goods, apparel and more every other month! If anyone knows the importance of downtime, it's Peter Parker, Miles Morales, Gwen Stacy, Jessica Drew and their Wall-Crawling peers. Unwind after a hard day with denizens of the SPIDER-VERSE! Order your own Marvel Gear and Goods crate by heading to lootcrate.com/MarvelGear and use promo code "MARVELPOD" to save $3 on your subscription today.
Download episode #292 of This Week in Marvel from Marvel.com, check out Marvel Podcast Central, grab the TWiM RSS feed and subscribe to This Week in Marvel on iTunes, so you never miss an episode! We are now also on Soundcloud! Head over now to our new hub to listen to the full run of This Week in Marvel!

This Week in Marvel will focus on delivering all the Marvel info on news and new releases–from comics to video games to toys to TV to film and beyond! New episodes will be released every Thursday (or so) and TWiM is co-hosted by Marvel VP & Executive Editor of Digital Media Ryan "Agent M" Penagos and Marvel Editorial Director of Digital Media Ben Morse, along with Marvel.com Editor Marc Strom, Marvel.com Assistant Editor Christine Dinh, and Manager of Video & Content Production Blake Garris. We also want your feedback, as well as questions for us to answer on future episodes!  Tweet your questions, comments and thoughts about TWiM to @AgentM, @BenJMorse, @chrissypedia or @Marvel with the hashtag #ThisWeekinMarvel!
The Hype Box
Can't-miss news and updates from across the Marvel Universe!