Comics
Published May 31, 2017
Drawing The Punisher Back to NYC
Kris Anka brings Frank Castle home in an exclusive sketchbook!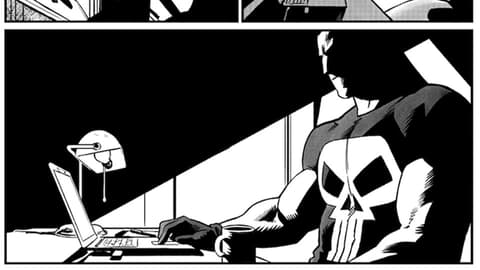 In a lot of ways, New York City made Frank Castle the man he is today. In THE PUNISHER #13, he'll return home to continue keeping families safe from the kind of tragedy he suffered all those years ago.
After sending Frank on a series of adventures across the American Northeast, series writer Becky Cloonan and guest artist Kris Anka plan to welcome The Punisher back with all the flair, violence and bloodshed you'd expect! With the issue hitting on June 28, we talked with Anka about his love of the character, returning Castle to the city that never sleeps, and developing his targets with Cloonan.
Marvel.com: The last issue of STAR-LORD hit not too long ago. Is it a big transition going from a series like that to PUNISHER?
Kris Anka: Sort of, not really. It's no secret that the PUNISHER MAX series by Garth Ennis is one of my favorite [comics] of all time, so I've definitely always itched to draw a Punisher book. Thankfully, I finally got to scratch that itch. The fun part was I was able to stretch muscles I've never gotten to really play with before. There was a fair amount of me just cutting loose and experimenting with things on this issue that helped make it fresh for me and [embraced] the tonal shift between this book and STAR-LORD.
Marvel.com: What are the key visual and physical elements in capturing Frank Castle?
Kris Anka: The word I kept going back to with Frank was "foreboding." I wanted the character oozing intimidation as soon as he steps in to the room. There are a lot of scenes in this issue of Frank walking up to people, and I wanted the terror of Frank to be immediate and believable. A lot of what went to this was hiding Frank in shadow a lot; not seeing everything helped to shape him more of a force of nature rather [than] just a human.
Marvel.com: Becky Cloonan is an artist as well as a writer. Does that come across in her scripts or your communications with her about the story?
Kris Anka: There is a conciseness to her scripts that helps convey just enough for me to picture what she has in mind. However, there is still enough wiggle room for me to really make the pages my own without feeling like I'm stepping on someone's creative toes.
Marvel.com: This issue finds Punisher back in New York City. How does operating in his home town change the way Frank does his business?
Kris Anka: Yeah there is sort of an ease to it. These are environments Frank is comfortable in so he doesn't have to constantly be on edge and looking over his shoulder. This is his home, and he's here to remind everyone of it.
Marvel.com: Can you talk about any of the targets Frank will be aiming for? What's the design process like for developing them? 
Kris Anka: The targets this issue are mostly normal people, people who have forgotten about Frank. Something that was fun I got to play with was rather than making Frank be full on attack [instead] keeping him reserved. Playing with less is more, that it doesn't take a lot to remind them of who Frank is and why they should be afraid.
Frank Castle heads back to the Big Apple in THE PUNISHER #13 by Becky Cloonan and Kris Anka on June 28!
The Hype Box
Can't-miss news and updates from across the Marvel Universe!