Comics
Published November 8, 2018
Earth's Mightiest Show: Explore Marvel Science and Take an Unstoppable Wasp Quiz
UNSTOPPABLE WASP writer Jeremy Whitley stops by EMS to talk all things Nadia van Dyne!
Earth's Mightiest Show is back with an unstoppable new episode that you can watch above! This week, Lorraine and Langston discuss some of Marvel's most brilliant Super Heroes - including the Unstoppable Wasp herself, Nadia van Dyne! Lorraine then sits down with the writer guiding Nadia's adventures in UNSTOPPABLE WASP, Jeremy Whitley, to chat about what makes Nadia stand out in the Marvel Universe. 
Jeremy also takes part in a special Wasp quiz that helps determine if he's more of a Nadia or Janet van Dyne when it comes to Wasps. Want to take it yourself? Here's the quiz below!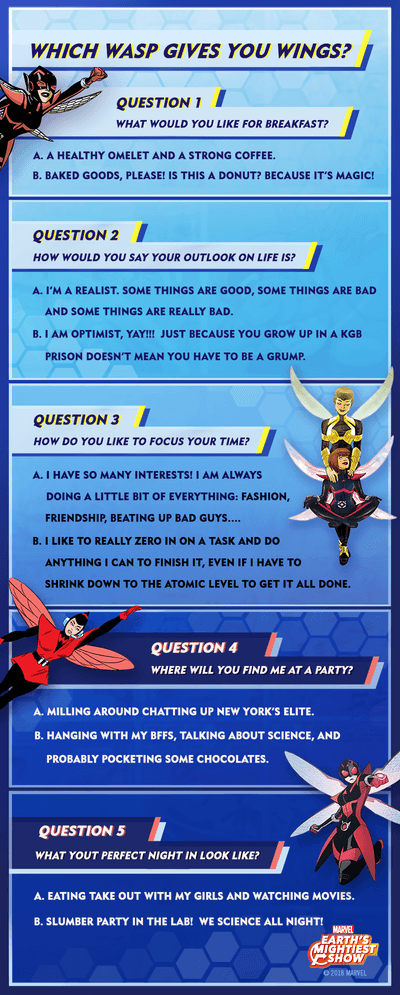 Quiz Illustration by Puthima Wongdeeprasith
Once you've decided on your answers, continue on below to see if you're more of a Nadia or a Janet...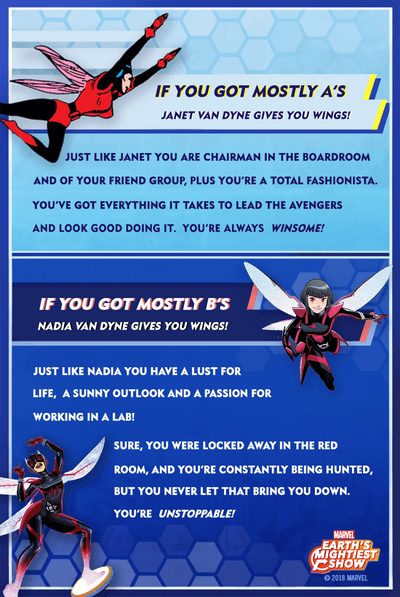 Make sure to watch the newest Earth's Mightiest Show above - and learn what it means to be an Omega Level Nerd! 
Check out the Earth's Mightiest Show page at Marvel.com for more from the series.
The Hype Box
Can't-miss news and updates from across the Marvel Universe!