Comics
Published May 22, 2017
Enter the Venomverse
Yellowcard lead singer Ryan Key dives into the venomous event action!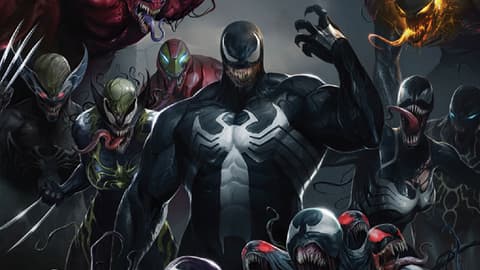 A Venom comic written by Yellowcard frontman Ryan Key with art from Andrew Lima Araujo? Sounds like Marvel music to our ears! As we inch closer and closer to the major symbiote event of the summer, be sure to check out EDGE OF VENOMVERSE #4, an exciting story of fathers and sons—and T-Rexes—set after the events of the original "Old Man Logan" saga.
Before the sticky tendrils of the alien goo complete their takeover of the Marvel Universe, however, we had a chat with Key about his first-ever comic—childhood classroom doodles notwithstanding—writing an epilogue of sorts to a beloved story, and how this issue will directly set the stage for the summer's Venomverse.
Marvel.com: We'll be seeing some iconic X-Men characters in EDGE OF VENOMVERSE #4, which is set after the events of "Old Man Logan." Can you talk a little bit about your approach to writing a follow-up to this classic story?
Ryan Key: At the start I was given basic instructions: "We need Old Man Logan to encounter the Venom T-Rex from the original story and end up in the symbiote suit somehow." I was pretty much free to build the story around that. Mark Millar and Steve McNiven's original story left me with a lot of really cool toys to play with and I decided to pick up the thread not long after that. In the last scene of "Old Man Logan," Logan is riding off into the sunset with the Hulk's infant son, Banner Jr. strapped to his back. Even though he'd lost his whole family, Logan has so much hope in that moment. He's going to raise this kid he's adopted to be a hero—they're gonna save the world together. I don't want to spoil too much, but I can say, Logan's past eventually catches up to him and it has huge consequences for him and Banner Jr.
Marvel.com: In a way, the Venomverse is the flip side of the popular Spider-Verse. What's it like to explore this "dark side" of the Spider-Man universe that is now bleeding into the Marvel Universe at large?
Ryan Key: I was beyond excited when I found out I was going to get to work with Venom for my first ever attempt at writing a comic. I don't know if you can count the comics I wrote and drew during class as a kid. Spider-Man was a huge part of my childhood and Venom has always been, without a doubt, one of my all-time favorite villains in the Marvel Universe. I feel like Logan has always had a "dark side" himself and this version of him in his older age where he slips into this apathy we saw in the first ["Old Man Logan"], provided an opportunity to fuse him with the symbiote and awaken that rage we've always seen from him. Just the thought of Wolverine in a Venom suit was more than enough to get me on board for this!
Marvel.com: How does it feel to help set up this major summer event?
Ryan Key: I am so honored to have been asked to write this book. If you had told me 30 years ago when I was starting to get into comics that I would be writing my own for Marvel someday I don't know that I could have even comprehended that! This has been such an amazing process. I have learned so much about how creating a book is done. I was definitely nervous at first, but as it all started to come together I was just too excited for words. It has been incredible.
Marvel.com: How will your story specifically help set up the Venomverse?
Ryan Key: At a certain point a symbiote suited Logan gets pulled away from the adventure he's on at the start of my story by some unknown force.  I can't say where he goes, or why this happens, but readers will immediately see that there's something much bigger going on—and it's all connected to the symbiote!
Marvel.com: What are you most looking forward to with this issue?
Ryan Key: I am like a kid on Christmas Eve waiting to see the artwork for the first time. I am still sort of pinching myself to make sure this is all really happening! I am just so excited to see the words come to life through the art.
Marvel.com: As a musician, do you find anything similar between writing music and writings comics?
Ryan Key: I have always told stories in a lot of my lyrics so I think there is a loose connection there. However writing a script for a comic is definitely a new adventure. I really hope that people enjoy this story so that I might get the opportunity to write more in the future.
Marvel.com: What would you say is Venom's and/or the Venom symbiote's theme song?
Ryan Key: Without a doubt, "Killing in the Name" by Rage Against the Machine.
Stay tuned to Marvel.com and our social channels this week for more information about Venomverse!
The Hype Box
Can't-miss news and updates from across the Marvel Universe!