Comics
Published November 26, 2018
Eve Ewing Reintroduces Riri Williams in Ironheart #1
The writer joins Marvel.com for a chat ahead of this Wednesday's release!
Ironheart is a super genius, a student of M.I.T., a mentee of the A.I. ghost of Tony Stark, an inventor, and...just a teenager. She's also a lonely young woman, someone left alone and traumatized by the violent deaths of her step-father and best friend.
Riri Williams first appeared in an Iron Man suit as a new untested hero in the pages of 2016's INVINCIBLE IRON MAN. She was a self-made hero still trying to find a name of her own (that wasn't "Irongirl"). She has since joined the Champions alongside other young heroes like Kamala Khan and Miles Morales, and has made other appearances across the Marvel Universe, but never before has she really flown solo. Until now.
On November 28, IRONHEART #1 begins a new era for the character, and according to series writer Eve Ewing, "readers might discover along with her that some of the details of her past are not quite what they seem..."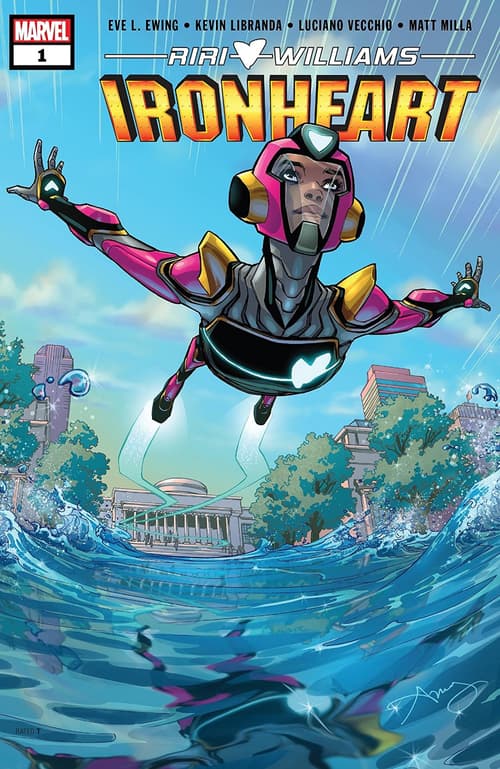 Eve Ewing was brought on to write Riri's solo series by popular demand, following several Twitter exchanges, a fan petition, and with the support of creators like fellow writers Ta-Nehisi Coates, Gail Simone, and many more. She is a poet, playwright, and professor, as well as a Chicago-native who identifies with Riri (and even purportedly bears a striking resemblance to her).
Needless to say, we were very excited to catch up with Eve to hear about her process in writing the series and what to expect when IRONHEART #1 rockets to shelves this week.
As we spoke, she shared her own Super Hero origin story: "Like anyone who grew up as a nerd, my interest in fandom started so long before I ever knew the word. Growing up, I just loved the things that I loved, and I had a vague understanding that not everyone else loved them as much as I did, but I didn't care.
"As an adult it's been so fun connecting over social media with other people who love the things I do. My husband often jokes, 'You had me at Sonic 2,' because one of our first conversations was about Sega Genesis. There are a lot of ways in which Riri and I are not alike, but that was one element of myself at her age that I wanted to share with her."
About Riri's interest in fandom, she wrote that, "She has a few obsessions that she's deeply into, and that's just another way of trying to make her a fuller, richer character.
"As I look at transitioning a character from sort of temporary appearances and being a member of an ensemble cast to having a solo title, my main job is to give her as many dimensions and details to her character as I can. Just the little touches to help us understand where she comes from and where she's going."
We asked about some of the challenges and advantages of crossing over into writing for comics after having authored works in other mediums and she explained that her experience has allowed her to get used to "moving between forms." She looked back. "Several years ago I wrote and drew a short graphic adaptation of an essay that I wrote, and I've had an on-and-off relationship with cartooning. I used to get really frustrated as a nascent cartoonist because I'm so much better at writing than I am at drawing, but that's also sort of what I liked about it.
"What I like the most about writing comics is the need to deal in brevity and concision, which I think are two of the greatest virtues for writing in any genre. That, and the need to push your imagination to its limits. Those are both elements of craft that I love, so it's been fun to flex those muscles with IRONHEART."
One of her inspirations in writing IRONHEART was a comic that features another one of the Champions, writer G. Willow Wilson's MS. MARVEL, which first hit shelves in February 2014. She explained, "Given how recently Kamala entered the canon, there's just so much there. She is so lovable, so full, with such a clear sense of character and voice and such a clear compass. She reads like a classic, like a character who's been around for generations, because she has so much depth.
"That's what I want to accomplish with Riri. I want people to feel like they've known her forever."
Look out for an upcoming interview with series artist Luciano Vecchio, and make sure to pick up IRONHEART #1 on Wednesday, November 28!
The Hype Box
Can't-miss news and updates from across the Marvel Universe!