Comics
Published June 26, 2020
Everything That's Happened in 'Daredevil' So Far
Catch up with the Eisner Award nominated series before pre-ordering 'Daredevil' #21!
There's nothing quite like a great run of Daredevil comics to create excitement in the Marvel Universe. Frank Miller, Brian Michael Bendis, Alex Maleev, Ed Brubaker, Michael Lark, Mark Waid, and Chris Samnee are among the creators who have astounded audiences while chronicling the Man Without Fear's adventures in the past.
Now, writer Chip Zdarsky, artist Marco Checchetto, cover artist Julian Totino Tedesco, and a few other incredible illustrators are currently putting together a classic run of their own. The story began last year with DAREDEVIL #1, and has become an Eisner Award nominated epic that must be read to be believed.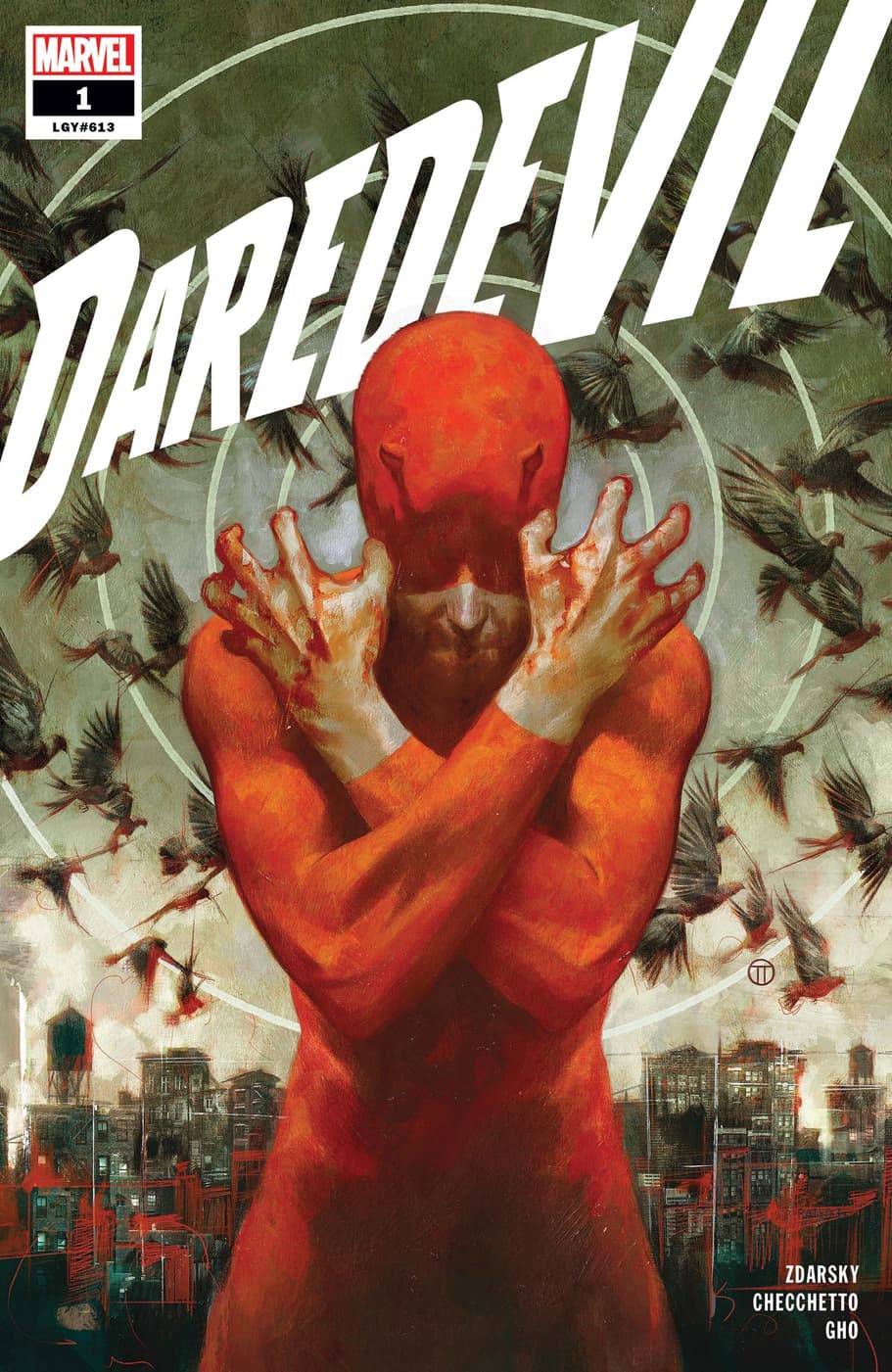 This creative team has reassembled many iconic Daredevil villains while introducing some memorable new baddies with a few fresh ways of making trouble for Matt Murdock⁠—and luckily, the first 15 issues of the series are available to read on Marvel Unlimited right now! Coming to your local comic shop on July 22, though, is DAREDEVIL #21, which will pick up the story as Matt once again embraces his dual identity...all while facing a potential murder charge. And it's only going to get wilder from there. 
To get everyone up to speed on the latest DD storylines, Marvel.com is looking back at some of the most memorable developments in DAREDEVIL!
Know Fear 
After getting hit by a truck in DAREDEVIL (2015) #612, Matt Murdock wasn't quite up to the task of hitting the streets. While breaking up a routine robbery in DAREDEVIL (2019) #1, Matt accidentally killed a small-time crook named Leo Carraro. At first, Matt believed that he was framed by Wilson Fisk or one of his other enemies. However, in issue #4, Murdock was forced to acknowledge that he alone was truly responsible for Leo's death.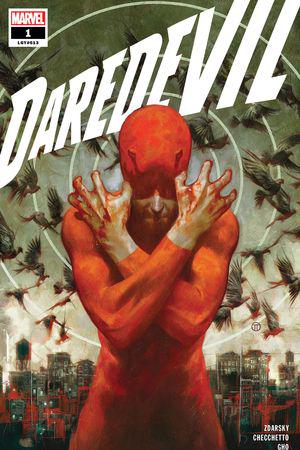 Daredevil (2019) #1
published

added to marvel unlimited

letterer

colorist

inker

penciler

editor

writer

inker (cover)

painter (cover)

penciler (cover)
What is Marvel Unlimited?
The Last Good Cop in Hell's Kitchen 
Recent Chicago PD transplant Detective Cole North then made it his business to arrest Daredevil. In issue #3, North even had a very public fist fight with Daredevil. He actually had Matt in handcuffs before the Punisher saved Daredevil and spirited him away. Subsequently, North was relegated to the Anti-Spider-Man task force as he witnessed corruption all around him. 
The corrupt cops on the force turned on North and mercilessly beat him. Later, they even killed his partner, Detective Fred Higgins. This forced North to reexamine everything he thought he knew about right and wrong. 
Cast Out the Devil 
In DAREDEVIL #4, the Punisher really seemed to believe that Matt had finally crossed the line and become like him. That angered Matt, who then took down the Punisher and dropped him off into police custody. In issue #5, Matt went into battle wearing the Punisher's shirt as he spiralled out of control. Luke Cage, Jessica Jones, and Iron Fist saved their friend, but Spider-Man had some harsh words for Matt. He even told him to quit being Daredevil.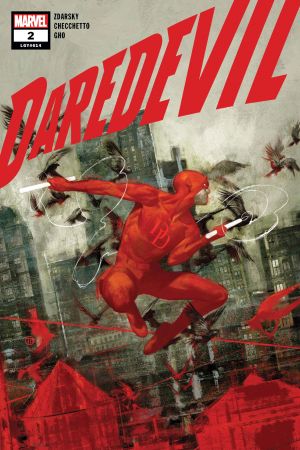 Daredevil (2019) #2
published

added to marvel unlimited

letterer

colorist

inker

penciler

editor

writer

painter (cover)

penciler (cover)
What is Marvel Unlimited?
Surprisingly...Matt did exactly that. For months afterwards, no one saw Daredevil in action, and even the underworld believed he was dead. 
We Are Daredevil 
Although Matt Murdock abandoned his alter-ego, the citizens of Hell's Kitchen did not. In the face of overwhelming corruption and police inaction, several residents took up Daredevil's mask as their own. Men and women became the heroes of their neighborhood, and the legend of Daredevil lived on. 
Kingpin No More 
Mayor Wilson Fisk wasn't fooled by the fake Daredevils. In issue #7, Fisk announced his intent to retire from his criminal enterprises and embrace the legitimacy that his position offered. Unfortunately, the ex-Kingpin soon discovered that he's no longer the biggest fish in the pond. In issue #12, Fisk was humiliated by ultra-rich siblings Quinn and Una Stromwyn, as well as their friends. Fisk was so angered that he actually murdered his chief tormentor in the Stromwyns' home.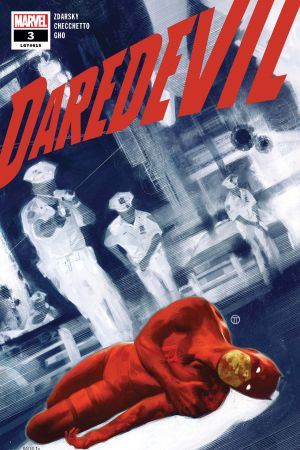 Daredevil (2019) #3
published

added to marvel unlimited

letterer

colorist

inker

penciler

editor

writer

painter (cover)

penciler (cover)
What is Marvel Unlimited?
The Stromwyns retaliated in issue #14 by denying Fisk's attempt to cash in on drug legalization. And in issue #15, the Stromwyns had Fisk beaten by their operatives and literally thrown through a window of their building. Fisk survived, but he has been humbled by the experience. 
A Complicated Love Life 
Mindy Libris caught Matt's attention in issue #7, and he was immediately attracted to her despite knowing that she was a married woman. Matt was thrown for a loop in mag #8, when Mindy invited him to eat dinner with her husband, Tom Libris, and the rest of their family. That's when Matt learned that Mindy's mother-in-law, Izzy Libris, is the head of the Libris crime family.  
Matt saved the family from an assassination attempt, and he also began an ill-advised affair with Mindy in issues #9-10. Regardless, Mindy still loves her husband. 
Elektra Returns 
To further complicate things, Elektra reentered Matt's life in DAREDEVIL #10-12 with an offer to retrain him in order for Matt to once again achieve his physical peak. Matt initially refused to become Daredevil again, and he donned a new black outfit when he and Elektra challenged the Stromwyns and successfully stole billions from them in issues #15-16. For the first time in years, Matt and Elektra reignited their love affair. But Elektra betrayed his trust when Matt learned that she kept a billion for herself instead of redistributing it to Hell's Kitchen as planned.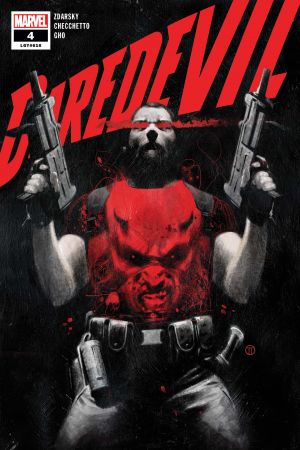 Daredevil (2019) #4
published

added to marvel unlimited

letterer

colorist

inker

penciler

editor

writer

painter (cover)

penciler (cover)
What is Marvel Unlimited?
Elektra also wants Matt for something "big" that she's creating, but he rejected her before Elektra could reveal that she once again knows his secret identity.  
His Brother's Keeper 
It should be noted that Matt no longer works as an attorney. As a parole officer, Matt tried to rehabilitate his charges and help them reenter society. It was during the course of his current job that Matt met Joey Carraro in issue #7. Matt immediately realized that Joey was the brother of the man he killed back when he was Daredevil. Consumed by guilt, Matt went out of his way to help Joey. Unfortunately for Matt, he also exposed his Daredevil alter-ego to Joey while he was saving North's life in issue #10. 
In issue #17, Joey and Leo's mother confirmed Matt's suspicion that Joey knows all about his secret. She also forgave Matt for his role in Leo's death. However, Joey has struggled with how to punish Matt for his sin against his family. 
A Desperate Alliance 
Matt and North found common ground in DAREDEVIL #14, and they've subsequently been working together to expose the crooked cops under the control of the Stromwyns. They also learned that the Stromwyns have been keeping the police out of Hell's Kitchen in order to further their own agenda. In issue #18, North confronted his fellow officers and challenged them to stand up to the Stromwyns' corruption. Some of them actually followed North's example and defied their orders.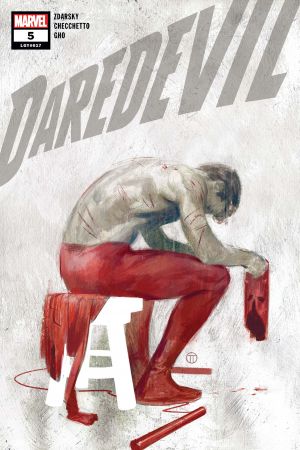 Daredevil (2019) #5
published

added to marvel unlimited

letterer

colorist

inker

penciler

editor

writer

painter (cover)

penciler (cover)
What is Marvel Unlimited?
Turf War
With Fisk largely out of the picture, the Owl has emerged as the top contender to be the new Kingpin. He openly attacked Izzy Libris' men in issue #13, and he later killed her son, Tom, in issue #18. Izzy tried to form an alliance with Hammerhead, but he turned on her in issue #16. Izzy turned the tables on Hammerhead in the following issue, but the control of her empire is rapidly dwindling. 
Mary, Mary... 
Throughout the series, Matt has confided in Sister Elizabeth, a young nun who provided him with advice and emotional support. However, Sister Elizabeth has unwillingly been hiding a secret. When Crossbones, Stilt-Man, Bullet, Bullseye, and Rhino attacked Hell's Kitchen, it awakened Elizbath's true self: Typhoid Mary!  
For now, Typhoid Mary is fighting against the villains who were sent by the Stromwyns. But she's still an incredibly dangerous wildcard. 
Daredevil (2019) #6
published

added to marvel unlimited

inker

colorist

letterer

editor

writer

painter (cover)

penciler (cover)

penciler
What is Marvel Unlimited?
The Battle For Hell's Kitchen 
The Stromwyns were behind the villains' assault on the city in issues #18-20, but it led to a remarkable team up of Matt, North, Typhoid Mary, and even Fisk. Several Hell's Kitchen residents also fought for their lives while wearing Daredevil's mask. After Bullseye killed one of the Daredevils, Matt reclaimed his mask and his alter-ego. 
In the aftermath of the battle, and in front of Fisk and Joey, a masked Matt confirmed that he was the one true Daredevil...immediately before surrendering to authorities for the murder of Leo Carraro.  
The story continues next month when DAREDEVIL #21 hits comic book stores on July 22! Pre-order the issue today!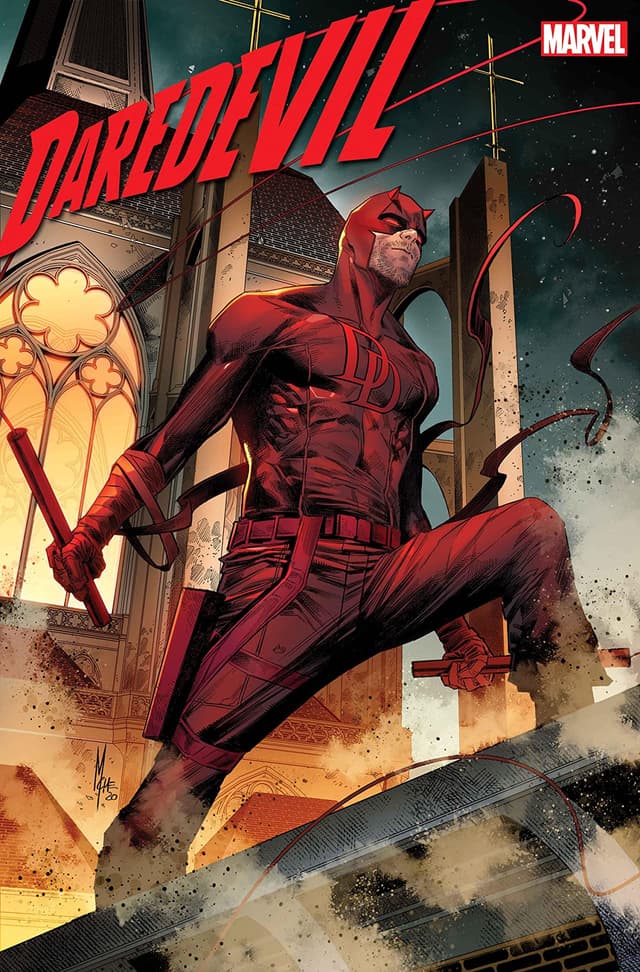 The Hype Box
Can't-miss news and updates from across the Marvel Universe!