Comics
Published June 7, 2019
Everything You Need to Know About Black Cat
Catch up on Felicia Hardy's recent past as her first ongoing series begins with 'Black Cat' #1!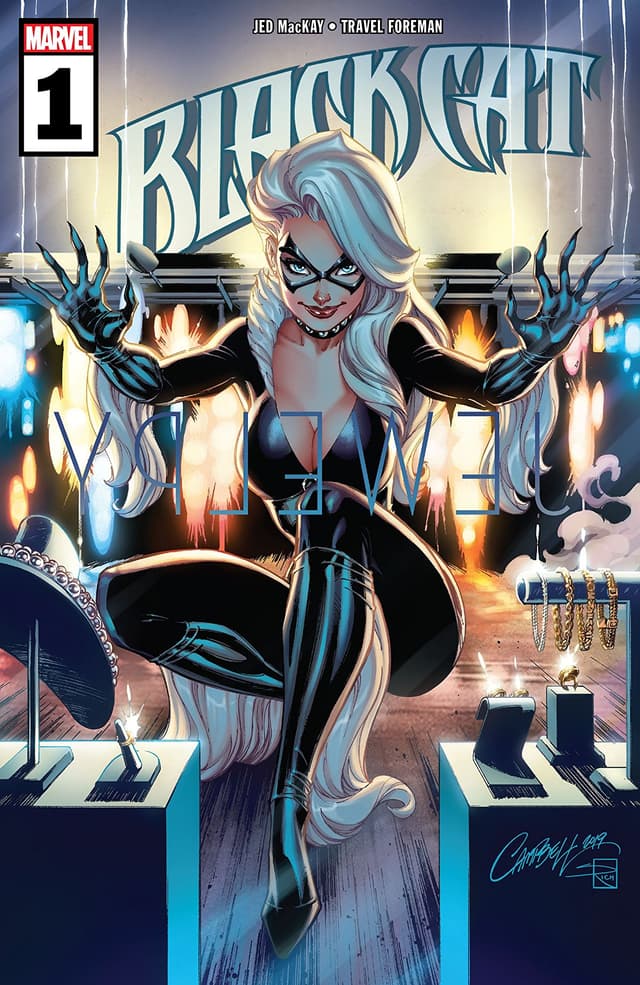 On the prowl since her 1979 debut in AMAZING SPIDER-MAN #194, Felicia Hardy has been a member of the Heroes for Hire, taken center stage in a number of limited series, and guest-starred in countless Spider comics, but this week's ish marks the start of her first solo book!
With that in mind, we decided to look back at Hardy's recent history. For years, this luck-fueled cat burglar seemed content to steal whatever she wanted while flirting with Spider-Man, but in 2013 she took a drastic turn by becoming a major crime boss in New York City!
That decision can be traced back to SUPERIOR SPIDER-MAN #20 by Dan Slott and Giuseppe Camuncoli. In that story, Felicia's latest break-in was stopped by Spider-Man, but not the one she'd known for years. This version may have been the same physical body, but it had been taken over by the mind of Otto Octavius. The Cat had no idea about any of this though, and she was outraged when he punched a tooth out of her mouth and webbed her up.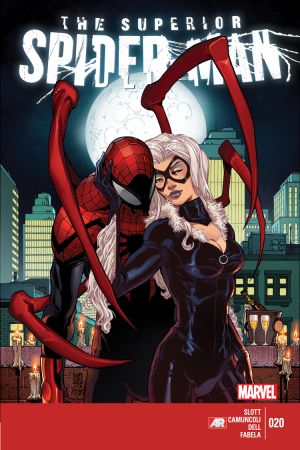 Feeling betrayed, Black Cat began amassing power, making deals with villains like Mr. Negative, Hammerhead, Scorpion, and Electro. Throughout most of the rest of Slott's run on AMAZING SPIDER-MAN, she continued building her base. She also became a fixture in the second volume of SILK wherein that young hero posed as a criminal to funnel information on Hardy's operation back to S.H.I.E.L.D.
Felicia began to move back towards her semi-heroic past with the VENOM, INC. crossover storyline which smashed into her operation in the form of the still Venomized Lee Price and his gang. They managed to overtake Hardy and company, getting them covered in symbiotes in the process. However, some part of her figured that getting in close to Flash Thompson, then running around as Anti-Venom, would be the cure!
Back under her own power, Black Cat decided to run for it and landed right on the original Venom, Eddie Brock. The black-and-white clad vigilantes began working together to free Spider-Man from the symbiotes' control. She also figured out where Price and his VENOMIZED army were heading, so she led the others into a huge battle there. Black Cat also figured out an important piece of information that helped them beat the big bad!
With her operation in a shambles in the pages of AMAZING SPIDER-MAN: VENOM INC. - OMEGA, Venom offered some advice about moving on with a fresh start saying, "Now you can follow your own code, punish the people who truly deserve it. Protect the innocent. After all Cat...the city always needs heroes." Along the way, Black Cat finally took Spider-Man at his word about Doc Ock being in control when he punched her, and they made peace.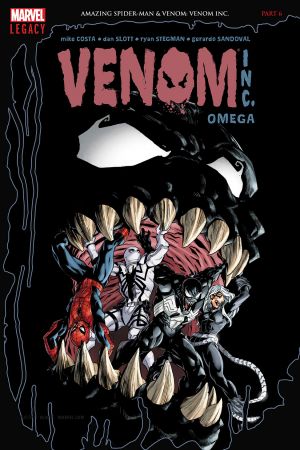 Amazing Spider-Man: Venom Inc. Omega (2018) #1
published

added to marvel unlimited

colorist

colorist (cover)

inker

inker (cover)

penciler

penciler (cover)

editor

letterer

writer
What is Marvel Unlimited?
Since then, she's exacted her own form of justice in DEFENDERS and become a regular player in the Nick Spencer-penned AMAZING SPIDER-MAN that launched last year. In issues #8-10, she literally swooped in to save the Web-Slinger when he realized that the Odessa Drake-led Thieves Guild had stolen his web-shooters as well as objects from other heroes.
After working out some of her aggression towards the Spider, Hardy recounted how she'd seen her father, a thief, drop 10 percent of his loot in a fountain. She further explained that this was par for the course for crooks in New York City until costumed criminals and heroes changed the game. She helped him get all the heroes' stuff back and afterwards had a heart-to-heart with Spidey where she explained that she was confused because, even though they were together, she couldn't remember his face or real name. To make up for their past troubles, he unmasked in front of her.
Most recently, in the "Hunted" story arc that began in AMAZING SPIDER-MAN #16.HU, readers found out that the Cat had been reliving her past with Peter on an endless loop that made her itchy for a fight. She got exactly that when her old number two Hammerhead tasked her with finding his new boss, the Owl, who had been kidnapped by Taskmaster and Black Ant. This turned out to be a trap orchestrated by Kraven who had all of these animal-themed villains kidnapped along with Spider-Man and placed them in Central Park with a force field around it so hunters could take them out with killer robots.
While Spider-Man dealt with all of that, Black Cat did her best to escape with Billy Connors, the Lizard's son! This effort led to a direct confrontation with the cloned son of Kraven who stabbed her before Billy's dad showed up in all his green glory to stop him. Before running off, the Lizard left Billy with Black Cat...
Now, in the new BLACK CAT series, Felicia deals with the fallout from both her dealings with Odessa and the Thieves Guild as well as her ever-evolving relationship with justice!
Read BLACK CAT #1 at your local comic shop now!
The Hype Box
Can't-miss news and updates from across the Marvel Universe!