Comics
Published March 6, 2020
Everything You Need to Know About 'Star Wars: Doctor Aphra'
Revisit the original series ahead of next month's new #1!
It may seem unlikely, but one of the most fascinating and complex characters in Star Wars history emerged just five years ago. Her name is Doctor Chelli Lona Aphra.
After her initial debut in the pages of DARTH VADER (2015) and then a subsequent smash-hit 40-issue run in STAR WARS: DOCTOR APHRA (2016), the rogue archaeologist returns on April 1 with a brand-new DOCTOR APHRA #1!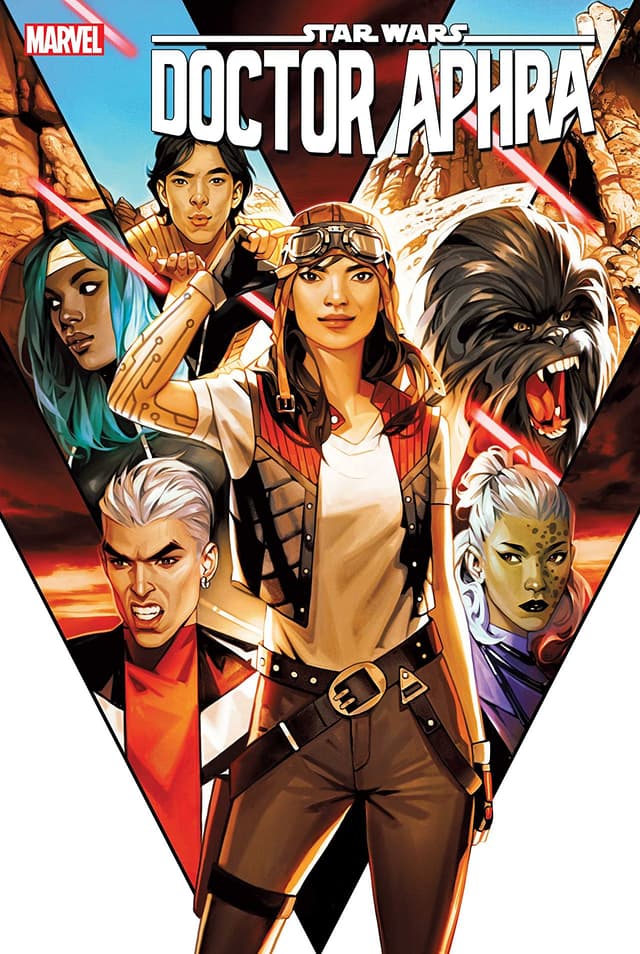 Written by by Alyssa Wong with art by Marika Cresta, the series begins in the aftermath of The Empire Strikes Back. To date, many Star Wars comics have chronicled the lives of characters in the wake of A New Hope, but now the narrative shifts to a time of reveberations after the bombshell revelations of Star Wars: Episode V.
With the Rebel Alliance back on the run after their defeat at the Battle of Hoth, it's never been a more dangerous time for outlaws and scoundrels—and errant archaeologists—making their way in the galaxy. But after a string of bad luck and near escapes, Doctor Aphra is back! She's been keeping a low profile—jobs are scarce and credits scarcer. But the promise of the score of a lifetime might be a chance too good for her to pass up.... So, as the new series kicks off, we're playing archaeologist and digging up all the action from the original DOCTOR APHRA (2016)!
The now-headlining character debuted in DARTH VADER (2015) #3 during a time immediately after the destruction of the first Death Star, when Vader felt his back against the wall and all Imperial eyes on him. In response, the Dark Lord decided to build up his own dedicated support system, which began with droids and the woman who could make them: rogue archaeologist, Doctor Aphra.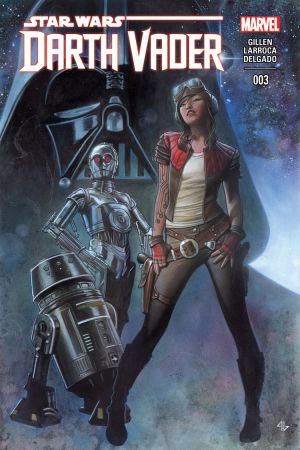 They first met when she was stealing the 0-0-0 protocol personality matrix which resulted in a droid obsessed with torturing living beings and draining their blood. Vader helped her crack the code to get Triple Zero up and running aboard her ship, the Ark Angel. She then had Trip wake up BT-1, a "Blastomech" droid jam packed with weapons and a mean streak.
Throughout the rest of the 25-issue series, Aphra did her best to serve Vader without getting killed. She helped him set up his own droid factory stolen from Geonosis, traveled alongside him to Tatooine, stole a fortune in credits for their operation, and confirmed Luke's connection to Vader on Naboo.
During the "Vader Down" crossover with STAR WARS (2015), the Dark Lord of the Sith told her boss that Skywalker was on Vrogas Vos. She had no idea that a small army of Rebels was already there and that he would crash on the planet. In an effort to save face with her boss, she called on the Wookiee bounty hunter Black Krrsantan, who traveled there too, resulting in face-to-face meetings with Luke Skywalker, Han Solo, and Chewbacca. But it was Leia who got the drop on Aphra and knocked her out.
From there, Doctor Aphra moved over to STAR WARS from issues #16-19 when Leia and Sana Starros—who happened to be one of her exes—took her to the Rebel jail known as Sunspot Prison. But when Eneb Ray attacked with his droid minions, Leia freed Chelli so she could help save the prison...but mainly so she could figure out a way off the station, which she did.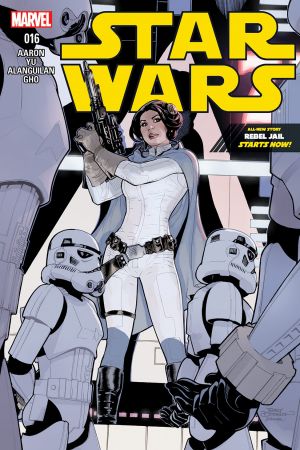 Star Wars (2015) #16
published

added to marvel unlimited

colorist (cover)

penciler (cover)

inker (cover)

penciler

inker

editor

writer

colorist

letterer
What is Marvel Unlimited?
Aphra was forced back in to Darth Vader's fold in the 21st issue of his series. Thanks to an earlier request not to be killed by being tossed out into the void of space, Aphra figured that her boss would do exactly that the next time she crossed him. And when he did, Chelli had a plan which saved her life—without Vader knowing.
In 2016, DOCTOR APHRA launched, which not only furthered her wild adventures, but also dug into her past. As a kid, Chelli grew up with her survival-focused mother Lona and a history-obsessed father, Korin. When the latter proved too idealistic, the former took her daughter to a backwater planet where she was eventually killed by Stormtroopers disguised as raiders who were there to get the locals to freely give themselves over to the Empire.
While trying to both stay off of Vader's radar and also continue making money by stealing very old things, Doctor Aphra reunited with her dad and then met Captain Magna Tolvan, with whom she would begin a wild on-again, off-again relationship. She also tried using Luke Skywalker as collateral in the "Screaming Citadel" crossover, became Triple Zero's human servant for a while, orchestrated the collision of a Rebel flight school with an Imperial data storage facility, began working with and deceiving Star Wars Rebels star Hera Syndulla, and even found herself tethered to Trip for a time.
She also met a young girl named Vulaada and began taking care of her, a huge step for someone so used to only looking out for themselves. As she began to develop something akin to a moral code, Aphra continued to spin as many plates in the air as possible, making moves playing both the Rebels and the Empire to guarantee not just her own survival, but also that of her expanding circle, including her dad, her love, and her new ward!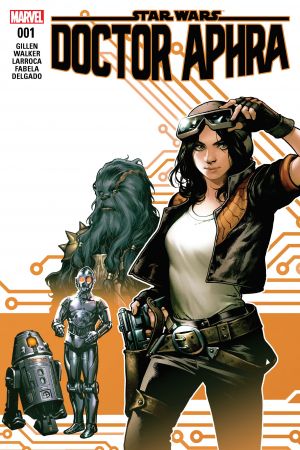 Star Wars: Doctor Aphra (2016) #1
published

added to marvel unlimited

penciller

penciller (cover)

editor

writer
What is Marvel Unlimited?
As her first series ended, Aphra managed to get her friends and family away from Vader before he discovered that the Rebels were setting up their base on Hoth, but managed to take the Sith Lord to Tython, the home of a confessional in a Force-sensitive mountain that she used to briefly short Vader's powers out. She then managed to hack his systems, rig Imperial security, and scramble the information beamed in by probe droids looking for the new Rebel base, which gave them enough time to build up their forces, shield, and evacuation procedures.
Now traveling the spaceways with 0-0-0's severed head and BeeTee's processor, she's looking for her next adventure, secure (for now) in the knowledge that Vulaada, Korin, and Tolvan have all safely joined the Rebellion.
Pre-order DOCTOR APHRA #1 at your local comic shop today, then pick it up on April 1!
The Hype Box
Can't-miss news and updates from across the Marvel Universe!