Comics
Published May 10, 2017
Excelsior! Presenting the Stan Lee Comicbook Box
The Marvel legend kicks off his own subscription service!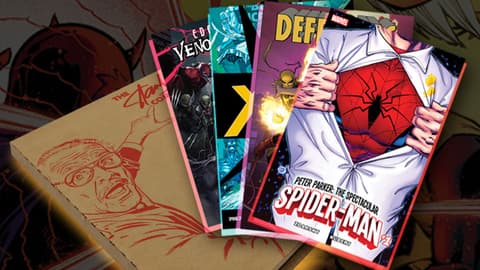 These days, Stan Lee cameos have taken on a life of their own. It almost feels like you can't call it a Marvel movie if it doesn't have a clever one-liner from "The Man" himself. Soon, we'll see the cameos extending beyond the movies and into the world of comics.
We're talking about the upcoming launch of the Stan Lee Comicbook Box. Subscribers will get four comics every month, each with an exclusive variant cover featuring a Stan Lee cameo. The comics will include a combination of both old and new issues—and who wouldn't want to score an old-school favorite with a brand new cover?
But wait, there's more! Some of the items will come signed by Stan, as well. In addition, at $19.95 per month, it's affordable too.
"Based on the unique data we received from our original Stan Lee Box subscribers, launching this secondary comicbook box subscription program was an obvious next step," says Jeff Cherkassky, CEO of Box Boulevard. "We are immediately opening this program to 31 different countries, and will be partnering with many different comic book publishers to deliver collectors and Stan Lee super fans around the world a unique and incredible experience."
Stan chimed in himself, as well, saying, "I am so excited to announce my new monthly comicbook box program for true believers. Our team will be working with many of my favorite publishers to deliver an exclusive comic book experience to doorsteps every month, and I am proud to have a cameo on each limited edition variant cover inside all boxes. Keep reading comic books, True Believers. 'Nuff Said!"
If we've piqued your interest—and your heart may be as cold as the frosty climes of Jotunheim if not—you can find out more at comicbookbox.com.
The Hype Box
Can't-miss news and updates from across the Marvel Universe!