Comics
Published May 18, 2020
Exclusive Announcement: New Marvel Comics Coming in July 2020
Flip through a full announcement of all the brand-new issues arriving at your local comic shop in July!
As fans everywhere prepare for the return of new Marvel comics at their local comic shops next week, Marvel is thrilled to reveal its release schedule for comics and collections through the rest of July! Upcoming releases include new installments for fan-favorite series like X-MEN, FANTASTIC FOUR, and AVENGERS, and the highly anticipated start of Marvel's earth-shattering comics event, EMPYRE!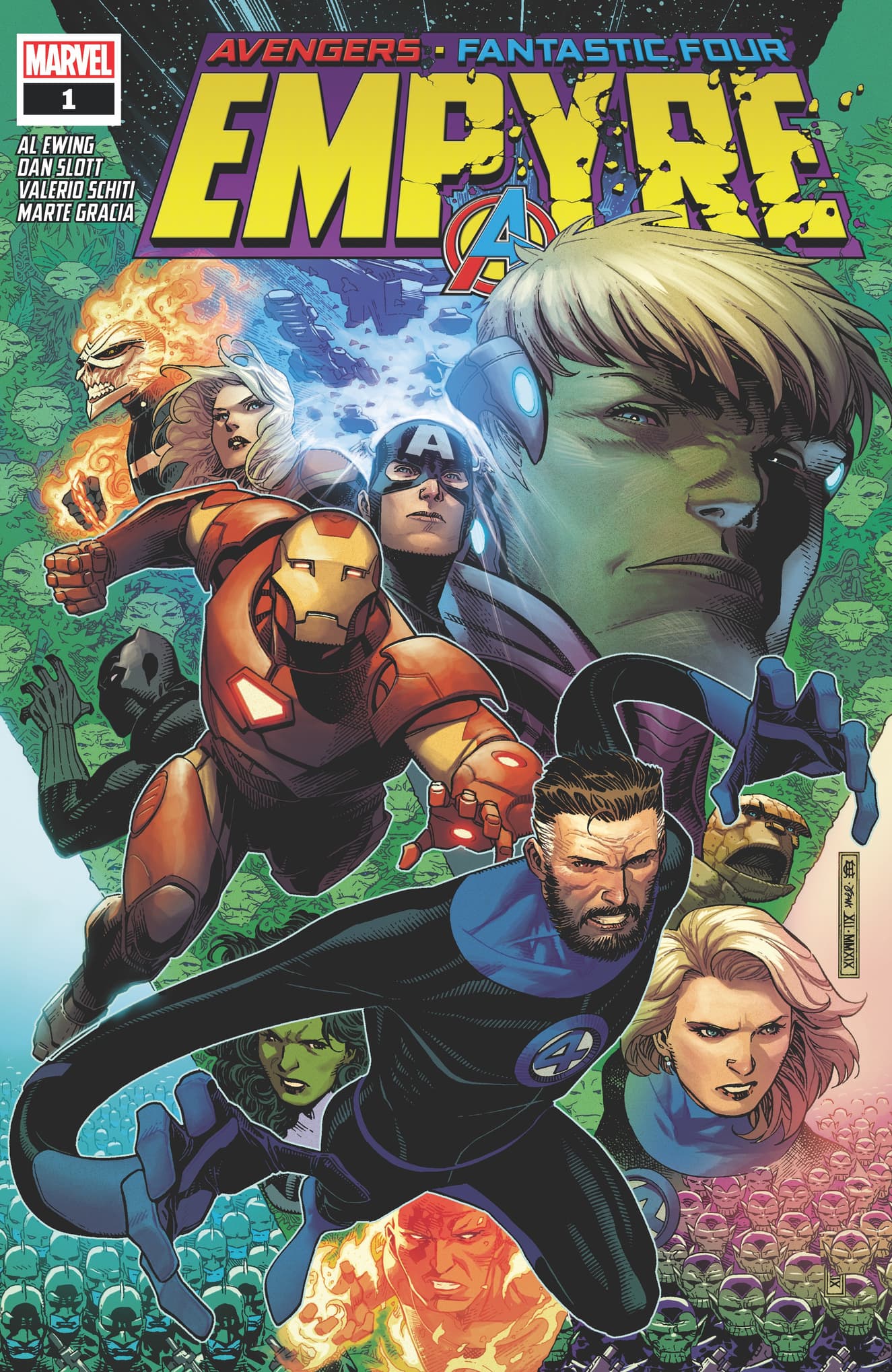 Now releasing weekly starting July 15, Marvel's sprawling space epic will leave the Marvel Universe changed forever. As EMPYRE begins, the Kree and the Skrulls have united under a new emperor – and their war fleet is on a collision course for our world. The Avengers are ready to strike with the full power of Earth's Mightiest Heroes, while the Fantastic Four are seeking a diplomatic solution…but will they be able to stop this unstoppable new Alliance?
"We couldn't be more excited to start rolling out new Marvel comics again on a weekly basis, including our long-anticipated cosmic summer event, EMPYRE!" said Marvel Editor-in-Chief C.B. Cebulski. "We know Marvel fans are eager to dive back into the Marvel Universe, and we can't wait to bring you spectacular new stories with stunning art every Wednesday. As anticipation and excitement builds, we'll continue to keep a balanced release schedule for our comics and trade collections, and starting in mid-July, fans can look forward to even more releases for Marvel's latest comics!"
Be sure to ask your local comic book shop about their current business policies to observe social distancing or other services they may offer, including holding or creating pull lists, curbside pick-ups, special deliveries and other options to accommodate. Find and support your local comic book shop at comicshoplocator.com or by visiting marvel.com/lovecomicshops. Check out the current release schedule for your favorite Marvel comics below - then flip through the covers for each in the galleries below!
Wednesday, July 15
Comics:
2020 iWOLVERINE #1 (MAR200973)
AMAZING SPIDER-MAN #44 (FEB200926)
AVENGERS #34 (MAR201019)
CAPTAIN MARVEL #17 (FEB200964)
EMPYRE #1 (FEB200753)
FANTASTIC FOUR #21 (FEB200793)
GIANT-SIZE X-MEN: MAGNETO #1 (FEB200889)
GUARDIANS OF THE GALAXY #4 (FEB200975)
IMMORTAL HULK #35 (MAR201021)
SPIDER-WOMAN #2 (FEB200916)
VENOM #26 (MAR200999)
Collections:
AMAZING SPIDER-MAN: FULL CIRCLE HC (OCT191101)
ASTONISHING X-MEN COMPANION TPB (FEB201062)
CONAN: SERPENT WAR TPB (JAN201066)
DEATH OF WOLVERINE PRELUDE: THREE MONTHS TO DIE TPB (JAN201073)
MS. MARVEL BY SALADIN AHMED VOL. 2: STORMRANGER TPB (JAN201060)
RUNAWAYS: PRIDE & JOY MARVEL SELECT HC (OCT191102)
THE UNCANNY X-MEN OMNIBUS VOL. 1 HC KANE COVER (NEW PRINTING 3) (NOV190957)
THE UNCANNY X-MEN OMNIBUS VOL. 1 HC WATSON COVER (NEW PRINTING 3, DM ONLY) (NOV190958)
Wednesday, July 22
Comics:
AMAZING SPIDER-MAN: SINS RISING PRELUDE #1 (FEB200922)
DAREDEVIL #21 (MAR201052)
EMPYRE #2 (FEB200766)
EMPYRE: AVENGERS #1 (FEB200782)
EMPYRE: X-MEN #1 (MAR200834)
HELLIONS #2 (FEB200872)
LORDS OF EMPYRE: EMPEROR HULKLING #1 (FEB200784)
NEW MUTANTS #11 (MAR200909)
STAR WARS: DOCTOR APHRA #2 (FEB201027)
WOLVERINE #3 (FEB200881)
X-MEN/FANTASTIC FOUR #4 (FEB200877)
Collections:
AMAZING SPIDER-MAN 2099 COMPANION TPB (FEB201056)
AVENGERS BY JASON AARON VOL. 6: STARBRAND REBORN TPB (FEB201055)
ETERNALS BY JACK KIRBY: THE COMPLETE COLLECTION TPB CLASSIC COVER (DM ONLY) (APR201085)
ETERNALS BY JACK KIRBY: THE COMPLETE COLLECTION TPB REMASTERED COVER (APR201084)
MILES MORALES VOL. 3: FAMILY BUSINESS TPB (FEB201048)
RUINS OF RAVENCROFT TPB (APR201103)
VENOM BY DONNY CATES VOL. 4: VENOM ISLAND TPB (FEB201050)
WOLVERINE: WEAPON X TPB (NEW PRINTING 2) (FEB201066)
X-FORCE BY BENJAMIN PERCY VOL. 1 TPB (DNMC) (FEB201053)
Wednesday, July 29
Comics:
AMAZING SPIDER-MAN #45 (MAR200987)
CABLE #2 (FEB200874)
CAPTAIN MARVEL #18 (MAR200875)
EMPYRE #3 (MAR200838)
EMPYRE HANDBOOK #1 (FEB200788)
EMPYRE: CAPTAIN AMERICA #1 (MAR200846)
EMPYRE: SAVAGE AVENGERS #1 (MAR200844)
IRON MAN 2020 #5 (MAR200977)
STAR WARS: DARTH VADER #3 (FEB201032)
STAR WARS: THE ACTION FIGURE VARIANT COVERS 1 (FEB201035)
SYMBIOTE SPIDER-MAN: ALIEN REALITY #5 (FEB200933)
X-FACTOR #1 (FEB200865)
X-MEN #10 (FEB200789)
Collections:
ADVENTURE INTO FEAR OMNIBUS HC (DEC190975)
AVENGERS EPIC COLLECTION: THIS BEACHHEAD EARTH TPB (MAR201110)
AVENGERS: LIVE KREE OR DIE TPB (MAR201115)
MARVEL MASTERWORKS: MARVEL TEAM-UP VOL. 5 HC (DEC190977)
MARVEL MASTERWORKS: MARVEL TEAM-UP VOL. 5 HC VARIANT (DM ONLY) (DEC190978)
MARVEL-VERSE: CAPTAIN AMERICA GN-TPB (MAR201119)
MS. MARVEL MEETS THE MARVEL UNIVERSE GN-TPB (FEB201074)
SILVER SURFER: PARABLE TPB (NEW PRINTING) (APR201107)
SPIDER-VERSE: SPIDER-ZERO TPB (FEB201047)
STAR WARS: THE RISE OF KYLO REN TPB (SDOS) (FEB201057)
...Now get an exhilarating eyeful of all of these covers right here! 
The Hype Box
Can't-miss news and updates from across the Marvel Universe!