Comics
Published December 28, 2017
Falcon: Bird Out of Hell
Sam Wilson fights tooth and nail to free himself from Mephisto's snare!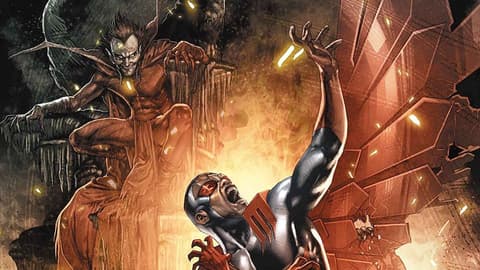 On January 24, after experiencing Hell on Earth, Falcon will experience Hell in, well…Hell.
In FALCON #4, by writer Rodney Barnes and artist Joshua Cassara, Sam Wilson witnesses the true magnitude of Mephisto's might. And as the hero struggles among demons and fire, Patriot and Doctor Voodoo find themselves stuck topside trying to figure out how to help rescue their friend, body and soul.
We found Mr. Barnes in an abandoned warehouse lighting candles and making a circle in salt. While he wouldn't explain why he was doing that, he did answer our questions about issue #4.
Marvel.com: What excited you about pushing Mephisto to not just threaten Falcon's soul, but to capture it?
Rodney Barnes: The idea was to make the capture personal as well as literal. If Sam has to face aspects of himself that may be uncomfortable in order to gain his freedom, then he leaves Hell as a better version of himself.
We all have our demons to wrestle with in this life, and overcoming them can be the path to freedom in my opinion. For Sam, it'll only make him stronger.
Marvel.com: How has that left Patriot and Doctor Voodoo reeling? How do they manage the situation?
Rodney Barnes: For Doctor Voodoo, it's a matter of freeing his friend and finding help in achieving that goal. For Shaun Lucas, he's lost his mentor, but he's also seeing the reality of the cost that can come with being a super hero. For him this could be a period of growth or a setback; it's all up to how decides to deal with the situation.
Marvel.com: Sam would never give up in a fight. Even with his soul in Mephisto's hands, how does he resist and fight back?
Rodney Barnes: The initial reaction is fear and anger. Both emotions play directly into what's going on within him presently. Once he comes to terms with his personal demons, it'll be easier to battle the ones physically in front of him. With the help of his friends and his own sheer will, he fights back.
Marvel.com: What made Mephisto such an exciting villain for Falcon?
Rodney Barnes: After the events of Secret Empire and Sam's recent history, he's gone through a lot of changes. Manifesting those as a literal demon mirrored the story I wanted to tell about personal demons.
Marvel.com: Series artist Joshua Cassara has utilized Mephisto's more traditionally human look for this story. What made that the right choice for both of you? And how does Joshua help you realize the extremely disparate settings of Chicago and Hell?
Rodney Barnes: Well, Sam's father having been a religious leader plays a role in his faith. But that said, he's seen it all: gods, aliens, monsters.
Josh is great at capturing tension and pain in characters faces. Because Blackheart has cast a spell on the city, people will take on the chaotic look that comes with a demon's influence. So when the riot and chaos reaches its peak, it rivals the madness of Hades. I can't think of a better artist than Josh to pull off that balance.
Marvel.com: This feels like a climatic moment in your run. For new readers, what makes this issue an essential one?
Rodney Barnes: It's essential in a couple of ways. Yes, it's certainly the first hurdle. We're in the heat of battle now and the gloves are off. The twists and turns will be coming fast from this point to the conclusion, so yes, this point is a pivotal one. As a writer, I'm becoming more comfortable telling the tale, and as a team, Josh and I have figured out how to best complement one another. So on a number of levels, now would be the time to hop on!
Dive into the fire with FALCON #4, by Rodney Barnes and artist Joshua Cassara, on January 24!
The Hype Box
Can't-miss news and updates from across the Marvel Universe!