Comics
Published October 26, 2017
Fantastic Three: A Moon Girl Sketchbook
Tamra Bonvillain balances the Thing and Human Torch with our hero!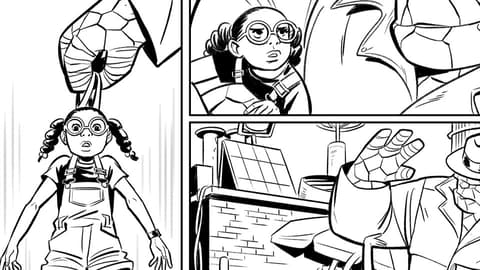 Two of Marvel's most beloved heroes will join up with one of its biggest brains as The Thing and Human Torch form a new team with Lunella Lafayette in MOON GIRL AND DEVIL DINOSAUR #25, coming November 22. The title character recently lost her crimson companion, so the two Fantastic Four members will try to take his spot as Silver Surfer and Galactus pay Earth another visit.
As Lunella joins a new team, the MOON GIRL squad continues to roll ahead at full steam thanks to writer Brandon Montclare, artist Natacha Bustos, and colorist Tamra Bonvillain. We talked with Bonvillain about the challenges offered by the book's very different new additions, continuing to work with her team, and some in-depth coloring tips and tricks.
Marvel.com: The Thing has such a textured look. Does that offer any specific challenges when coloring his scenes?

Tamra Bonvillain: Not too much. I feel like Natacha's done most of the heavy lifting giving it that textured look. I do approach it a little differently in that I'll try to stay within the individual rock bits to give the coloring kind of a faceted look. If we were doing things in a more realistic type style, I'd do more textural stuff, but this seems to work pretty well for the cartoony world in our book.
Marvel.com: Along similar lines, Human Torch must throw off all kinds of light. How is it keeping track of those light sources while coloring?

Tamra Bonvillain: I work in Photoshop and I keep all my rendering layers for different things separate. If there's different colored lighting in a scene, they each have their own layer for me to manipulate, so I just kind of treat them one at a time. For example, if Human Torch is near stuff, I'll use the orange light layer I have to light those objects, and use the other layers to light up different bits from other angles. Sometimes the lighting might overlap a little, but that's okay, because the effects will interact with each other to create the right effect.
Marvel.com: The Silver Surfer will also make an appearance in the book. Are there any special tricks to making him look appropriately shiny?

Tamra Bonvillain: With metallic surfaces, I try to give it more exaggerated contrast. You'll have dark forms right up against extreme, bright highlights, and since he's all metallic, I carried that over his body.
Marvel.com: With all of these physically different characters around, how do you make Lunella stand out?

Tamra Bonvillain: When I render, I try to do figures or groupings of objects at one time. So when rendering Lunella, I have her whole figure selected, and the background is another selection, and foreground elements a third. There may be more sections broken down depending on the complexity of the scene. I always do my best to make these things all separate out from one another, and of course, Lunella or who or whatever the central focus is of that panel should stand out the most.
There's different ways to accomplish that, primarily through value, color, and saturation. Value is lightness and darkness. So, say Lunella is against a light background, you'd want her to appear darker against that. You can contrast colors by picking colors that are more opposite on the color wheel. Say Lunella is against a blue sky; that works because of the warm tones of her skin, and if possible, I can work that into her clothing.
Characters move from scene to scene and that doesn't always line up that way so conveniently, so you can tweak a figure overall to give it a different color feel to the background while maintaining the consistency of a character's outfit. Saturation refers to the intensity of the color. If Lunella was against a kind of gray or muted background, you could then amp up the color saturation on her to help stand out, or vice versa. You can use each of these things and in combination to alter contrast further. There are other ways to achieve this, but that's primarily the factors I'm thinking about in color.
Marvel.com: How has it been working with Team Moon Girl up to this point?

Tamra Bonvillain: Everything has been great! It's a joy working on Natacha's line art, and [former writer] Amy [Reeder] and Brandon have always given us fun characters and locations to create. I feel very fortunate that I was given this opportunity from [editor] Mark [Paniccia] when MOON GIRL started a couple years ago. Both he and our other editor, Chris [Robinson], have always been easy to work with, and while I do''t have as much interaction with [letterer] Travis [Lanham], his lettering is a great fit for the book.
MOON GIRL AND DEVIL DINOSAUR #25 by Brandon Montclare, Natacha Bustos and Tamra Bonvillain gets even more fantastic on November 22.
The Hype Box
Can't-miss news and updates from across the Marvel Universe!