Comics
Published July 5, 2018
Five Artists, One Story: The Immortal Hulk #3
Al Ewing tells a tale with multiple perspectives, art styles, and artists!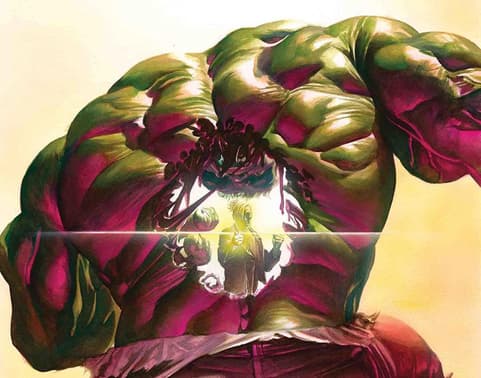 In the story of IMMORTAL HULK #3, four people encounter a monster...yet they all see different things.
Written by Al Ewing with a framing sequence by series artist Joe Bennett, this very special issue sees a journalist visit four civilians who have each come across a monster known as the Hulk. But as they each recall their stories, their interpretations of the events differ drastically. And to tell each of those four stories, Ewing and Bennett have teamed up with four artists who will tell the tales in four different artistic styles.
Leonardo Romero draws a cop's version of the encounter with old school, classic Super Hero visuals. Paul Hornschemeier contributes a bartender's version of the encounter in "indie" style. Marguerite Sauvage illustrates an old woman's version of the encounter with a romance comic interpretation. And Garry Brown adds a priest's version of the encounter with a horror approach.
We caught up with Ewing to break down the process of devising such a powerfully distinct story.
Marvel.com: What is it about the IMMORTAL HULK that makes it so conducive to this multiple perspective tale?
Al Ewing: I had issue #3 as a multi-artist issue right from the original pitch—it seemed like a really smart way to give Joe a breather in the middle of the first arc, to make sure he has everything he needed for the huge stuff in issues #4 and #5. I know how readers feel about "guest artist" issues, so I wanted to make the first one a special thing in its own right—something to get people talking in a positive way. That's when I had the idea of a Rashomon-style issue—now that we've been introduced to the new Hulk in issue #1, and given Bruce Banner gets his turn in the spotlight in issue #2, it makes a lot of sense to use this third issue to look at the different ways the general public perceives the Hulk.
Is he a Super Hero? A mindless beast? A horror? Or just Bruce Banner, a guy you wouldn't look twice at?
Marvel.com: When writing this issue, how did you decide on the manners in which these four stories would be told?
Al Ewing: I knew going in that as well as Joe Bennett on the framing sequence, I wanted to do a classic Super Hero style and a horror style, so we had the classic mode of the Hulk covered as well as his newer tone. And I also wanted a much more indie style than we generally see in a Marvel book, something that might have crept in from the '90s art-comix I used to read. And with one slot to fill, I figured we'd have something completely different—and since there was a doomed romance at the centre of the plot, a romance-comic style fits the bill.
Marvel.com: Why did each style feel specifically relevant to the respective characters telling those stories?
Al Ewing: The narrator of our "Super Hero" segment is a small town cop—a genial guy who's a big fan of the Avengers, and who'll be dining out on the slam-bang action he witnessed for life. Leonardo did an amazing job there—I know it's gauche to compare artists to other artists, but he's really reminiscent of the greats like Toth, and I'd love to work with him again on something soon.
The "indie" segment is brought to us by a grouchy bartender who's telling his story to camera—he's on the edges of the action, but his story is important because it gives us a look at Banner. Paul lettered that one as well, and it just fits perfectly in—like a slice of an auto-bio comic. I can see that being the point where readers get a little stunned by what they're seeing.
The "romance" segment is narrated by an old lady who saw the best in the "villain"—he does look very like James Dean—and Maurgerite took that ball and ran with it. Her pages—self-colored—are probably some of the funnest and funniest in the issue, but it's so beautifully handled that the joke never overwhelms the art. I really hope she had a good time on this—it looks like she did.
And finally, the "horror" pages come to us from a shell-shocked Priest, who's been very badly affected by the awful events. Garry gave us a really dark, shadowy, sketchy feel, and Paul Mounts colored that perfectly...a really classic horror look, but at the same time very much its own thing.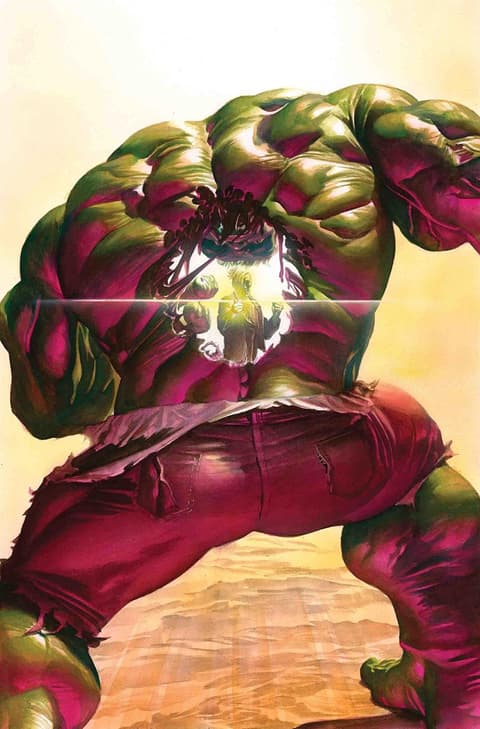 Marvel.com: Were you inspired by any other films, genres, books, or comics for this issue?
Al Ewing: There's an episode of the Italian strip Il Commissario Spada, by Gianluigi Gonano and Gianni De Luca, I think, that involved the titular policeman chasing a purse-snatcher and asking various witnesses about him—each witness describing him differently, accompanied by a visual sketch of what they're talking about. The actual perp looks totally different, of course. That was in my mind while I wrote this—we see a very different Hulk and Hotshot in each of the segments.
Unless you're seeing Joe Bennett's framing sequence, readers probably shouldn't trust anything they see entirely.
Marvel.com: How does this issue propel us forward in the larger story of the Immortal Hulk?
Al Ewing: It's another Hulk sighting, so we're one step closer to Bruce's return being common knowledge. It's the return of Jackie McGee, doggedly on the trail of the Hulk—and we're starting to find out about something else that might be lurking in the background of things, below everything...One Below All, if you will. Oh, and there's a guest appearance by a certain hairy Canadian with claws—not that one—who'll become very important to this book...
Here's the full cast of creators teaming up for this extraordinary issue of IMMORTAL HULK:
WRITER: Al Ewing
FRAMING SEQUENCE: Joe Bennett (pencils), Ruy José (inks), Paul Mounts (colors), VC's Cory Petit (letters)
COP'S STORY: Leonardo Romero (pencils & inks), Paul Mounts (colors), VC's Cory Petit (letters)
BARTENDER'S STORY: Paul Hornschemeier (pencils, inks, colors, letters)
OLD LADY'S STORY: Marguerite Sauvage (pencils, inks, colors) and VC's Cory Petit (letters)
PRIEST'S STORY: Garry Brown (pencils and inks), Paul Mounts (colors), VC's Cory Petit (letters)
COVER: Alex Ross
On July 18, experience a story unlike any other with IMMORTAL HULK #3! Contact your local comic shop now to reserve an issue!
Get the exclusive first look inside July 18's IMMORTAL HULK #3 right here:
The Hype Box
Can't-miss news and updates from across the Marvel Universe!