Comics
Published April 9, 2021
Flash Thompson, Scream, Phage, and More Arrive in 'Extreme Carnage'
The story spins out of 'King in Black' and begins this July!
This July, Marvel's wild lineup of symbiote characters are in for the ride of their life in EXTREME CARNAGE! And today, three new books were announced that will herald the terrifying arrival of the scarlet symbiote.
Carnage has sinister plans for his siblings, the world's symbiotes including the recently-returned Anti-Venom! After his surprise appearance in the explosive conclusion of KING IN BLACK, Flash Thompson is back and ready for a fight and will be a major player in this action-packed event. It all kicks off in July's EXTREME CARNAGE ALPHA #1 by Eisner-nominated writer Phillip Kennedy Johnson and artist Manuel Garcia.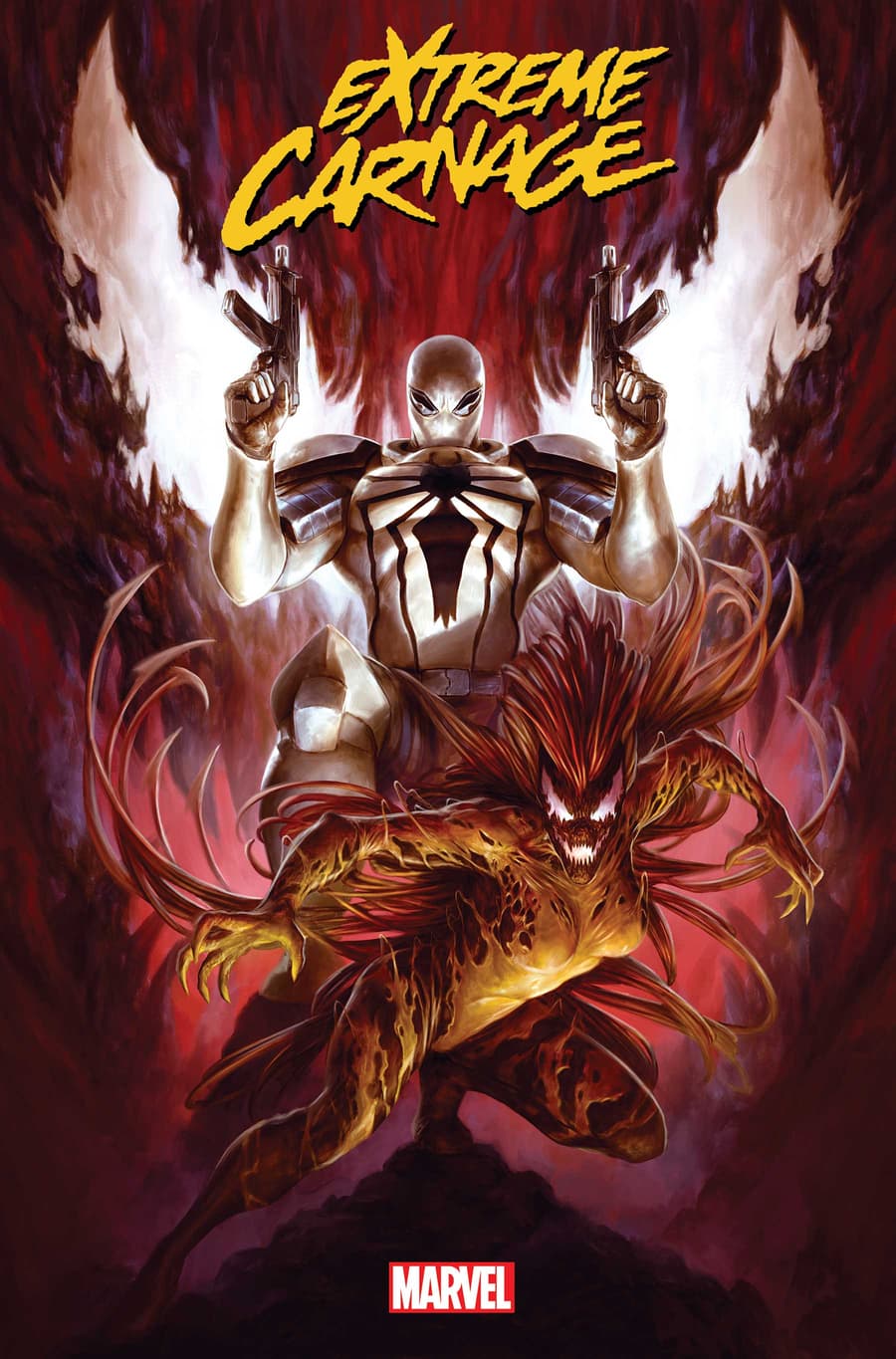 "After KING IN BLACK, everything we thought we knew about the symbiotes will have changed. Every man, woman, and child in the Marvel Universe will finally understand the massive threat the symbiotes represent, and the symbiotes that are still among us are now in the crosshairs of some extremely angry, scared, and powerful forces," Johnson explained. "In the pages of EXTREME CARNAGE, we'll not only explain what Carnage is in this new, post-KING IN BLACK era, but also see a return-to-form for the deadliest symbiotes that have ever lived while putting them on a lethal new path for the future." 
Check out the main cover by Dave Rapoza above and the fully revealed wraparound cover by Leinil Francis Yu below! Don't miss this explosive family reunion when EXTREME CARNAGE begins in July!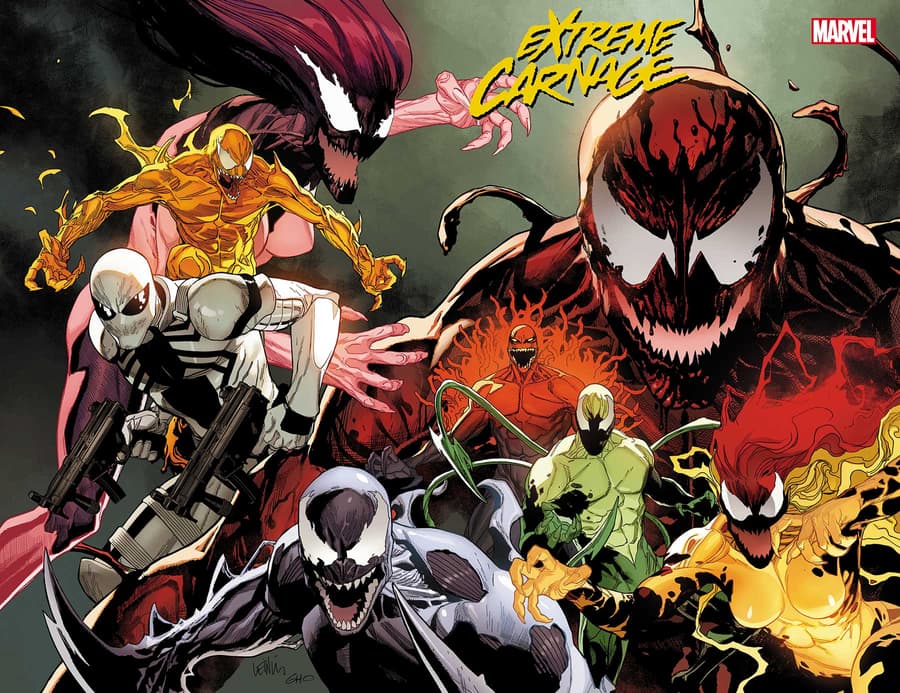 EXTREME CARNAGE ALPHA #1
Written by PHILLIP KENNEDY JOHNSON
Art by MANUEL GARCIA
Cover by DAVE RAPOZA
Wraparound Variant Cover by LEINIL FRANCIS YU
After kicking off in July with EXTREME CARNAGE ALPHA #1, the event will take place over a series of one-shots, each one spotlighting a different symbiote offspring beginning with Scream! EXTREME CARNAGE: SCREAM #1 will see the return of writer Clay McLeod Chapman and artist Chris Mooneyham, the hit creative team behind SCREAM: CURSE OF CARNAGE. Their reinvention of one of Marvel's most iconic—and lethal—symbiotes continues as Scream must find a way to put an end to the twisted vision that Carnage has in store for their kind.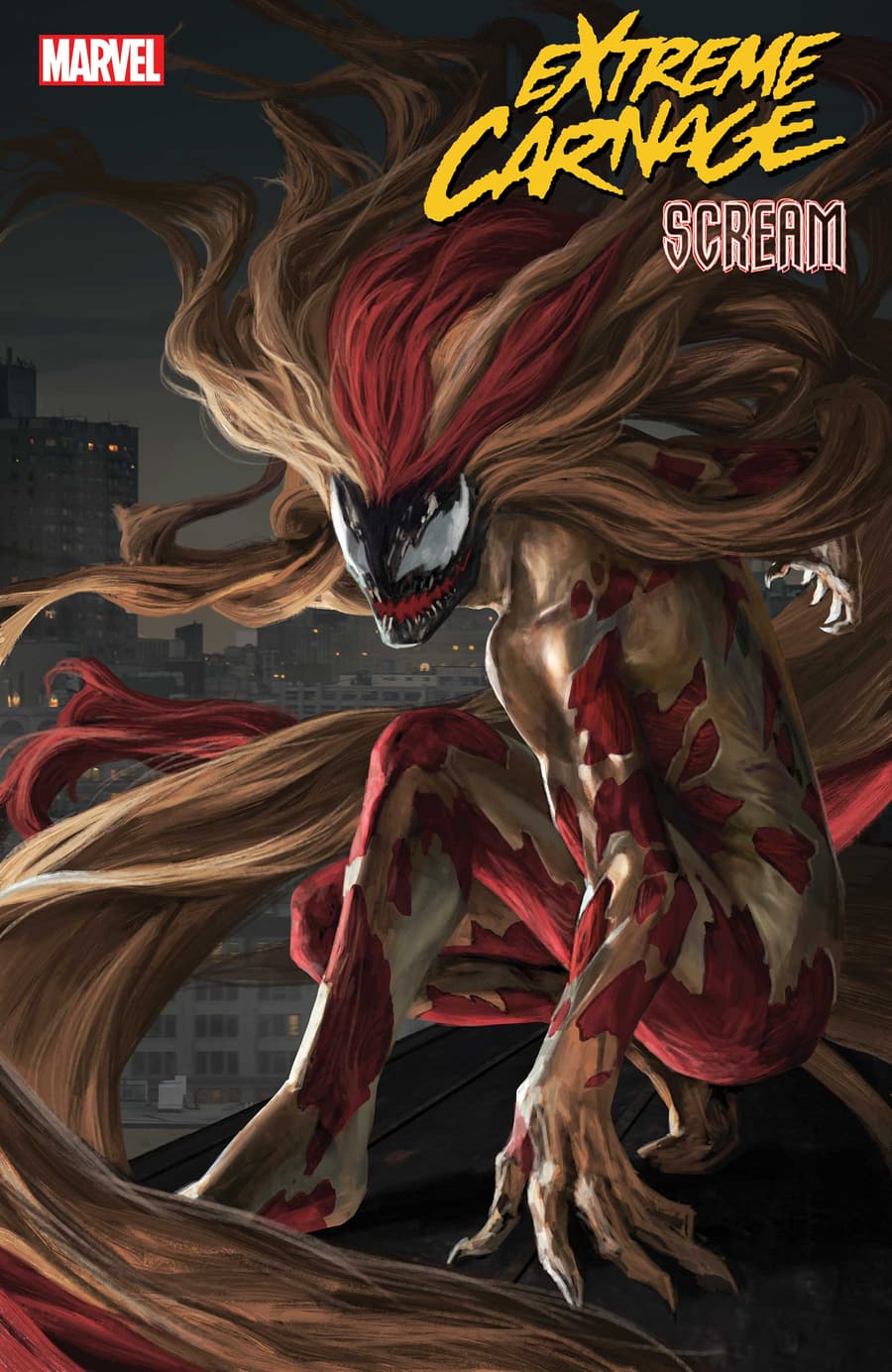 Andi Benton has always been a fighter, and that's never been truer than since she bonded to the Scream symbiote a few months ago. But even after ABSOLUTE CARNAGE and KING IN BLACK, Andi has never had to fight like this—and, worse still, if she can't save her symbiote from whatever unseen force is affecting it, she might have to do it alone… Here's what Chapman had to say about continuing the thrilling saga of Andi Benton:
"Extreme Carnage is a dream—scream?—come true. Not only am I utterly in awe of the sheer talent involved in mapping out this massive event, but I feel honored to be able to return to the character of Scream and further explore the complex relationship dynamics between them and Andi Benton. These two characters have such a profound bond with one another, whether fused together or torn apart, that every time I get to tell another chapter in their legacy feels like an immense privilege. Viva la Scream!"
EXTREME CARNAGE: SCREAM #1
Written by CLAY MCLEOD CHAPMAN
Art by CHRIS MOONEYHAM
Cover by SKAN
On Sale 7/14
After writer Clay McLeod Chapman and artist Chris Mooneyham return to the adventure of Andi Benton in EXTREME CARNAGE: SCREAM, Phage, one of the deadly life foundation Symbiotes, will get the spotlight in EXTREME CARNAGE: PHAGE #1 by writer Steve Orlando and artist Gerardo Sandoval.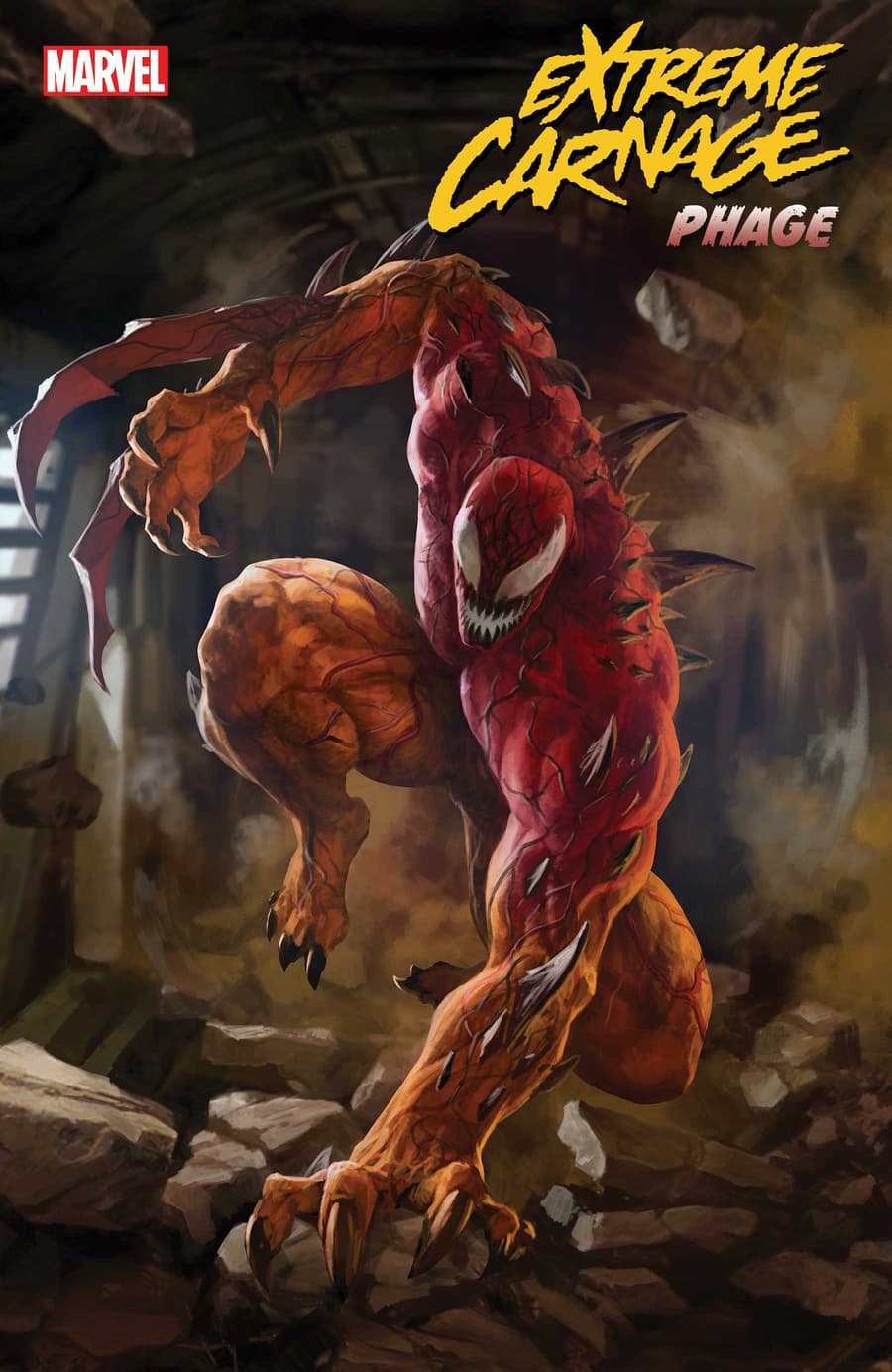 Collectively called the Life Foundation, symbiotes SCREAM, PHAGE, RIOT, LASHER, and AGONY have tried to reconcile the sometimes-noble intentions of their hosts with their often-bloodthirsty impulses. But the Life Foundation symbiotes aren't the only symbiotes who find themselves reinvented after KING IN BLACK. They have an older sibling who may be reinvented in its own right: CARNAGE. Here's what Orlando had to say about Carnage's twisted plans and tackling one of this fan-favorite character:
"As a young reader in the '90s, no event was bigger and more blockbuster for me than MAXIMUM CARNAGE - between the console games and the comic stories, it was an entire chapter of my life! So to be part of EXTREME CARNAGE, and work with the Life Foundation symbiotes (who also popped into my life early thanks to SNES) is beyond exciting! Carnage's new plan is about to upend our world from its bedrock, and being able to explore how Phage fits into that world has been a great moment. He'll come out of our issue with a power and charisma even more terrifying than before - and trust me, he'll live up to his name in the first five pages alone!"
EXTREME CARNAGE: PHAGE #1
Written by STEVE ORLANDO
Art by GERARDO SANDOVAL
Cover by SKAN
On Sale 7/21
Stay tuned for more information on the other action-packed installments that await when EXTREME CARNAGE begins in July!
The Hype Box
Can't-miss news and updates from across the Marvel Universe!