Comics
Published December 15, 2017
Flashback Friday: Blackheart
The son of Mephisto challenges his first heroic foil in Daredevil!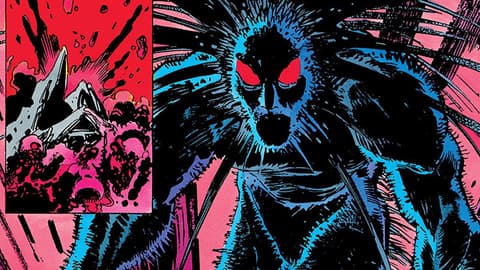 Every Friday we use the powers of Marvel Unlimited to look back at the very first appearance of a major character, place, or object that made waves this week.
Sam Wilson just can't seem to catch a break. First he had to deal with bigots and nuts during his tenure as Captain America, then he thought Steve Rogers turned evil during Secret Empire and now Blackheart's trying to destroy him in Chicago. With Mephisto's son causing all kinds of problems for the FALCON star, it's time to look back at his first appearance in 1989's DAREDEVIL #270 by writer Ann Nocenti and artist John Romita Jr.!
Blackheart sprang up in the modern era when a couple snuck onto the hill and the man attacked the woman. The newly formed demon lashed out, destroying both before a brief meeting with his father. Mephisto appeared to offer his offspring some advice after making him look more human: "You must walk among men in this form, for the eyes of men diminish evil. If too many see your true form, you lose power." As the devilish dad disappeared, he offered one more pearl of wisdom: "When you see a worthy foe, you may reveal your true self."
A few pages later, the humanized form of Blackheart laid eyes on Daredevil leaping around an abandoned amusement park. Sensing a worthy foe, the villain changed back to his real form and attacked ol' Horn Head. Thanks to his advanced senses, our hero dodged the initial attack. Nearby, Peter Parker found himself sitting on a bus returning from a trip when he saw smoke rising from the old park. Spider Sense a-tingling, he swung into action, knocking the creature away from DD right before a potentially catastrophic blow. However, Blackheart's physical attacks acted to mask his real intention of corrupting the goodness in Matt Murdock's heart.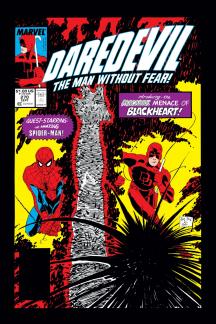 The do-gooders used their combined might as well as the disposable roller coasters around them to try and stop Blackheart, but didn't do much aside from draw a crowd. However, that proved exactly the right move as their foe remembered his father's words about familiarity diminishing evil's power and used a distraction to return to a more human form and escape—but not before Daredevil recognized the stink of Mephisto on the departing demon.
Blackheart returned in DAREDEVIL #278–282, a story that found DD helping Black Bolt find his son, but ultimately lead into Hell and a confrontation with Mephisto. Since then, the villain has popped up in a variety of books ranging from GHOST RIDER and X-FORCE to WONDER MAN and now FALCON.
Flash Forward
For a character without a plethora of appearances in comics, Blackheart's done a great job of getting his name out there in other formats. Many people first heard of him when he appeared as a playable character in 1995's arcade-turned-console classic "Marvel Super Heroes." Mephisto's bouncing baby boy would go on to appear in crossover games like "Marvel Super Heroes vs. Street Fighter" and "Marvel vs. Capcom 2: New Age of Heroes." You may have also seen him on the big screen portrayed by Wes Bentley in "Ghost Rider"!
The Hype Box
Can't-miss news and updates from across the Marvel Universe!