Comics
Published February 24, 2017
Flashback Friday: Elektra
In her first appearance, the ninja assassin bets on red!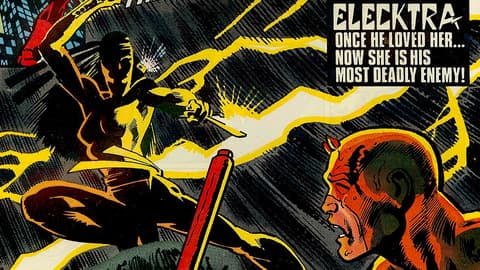 Every Friday we use the powers of Marvel Unlimited to look back at the very first appearance of a major character, place or object that made waves this week.
As ELEKTRA #1 bets our favorite Sai-wielding assassin's life in a Vegas-set adventure by Matt Owens and Juan Cabal this week, it's the best time possible to roll back the tape and check out her debut.
Created as part of Frank Miller's epic DAREDEVIL run, Elektra first appeared in 1981's issue #168. The writer and artist put the basics of her relationship with the Man Without Fear right on the cover in a blurb that read: "Once he loved her…now she is his most deadly enemy!"
While looking for information, Daredevil ran into some punks who preferred fisticuffs to communication. As he handled them, Elektra watched from her perch on a nearby power line. As she worried that the Man Without Fear's presence could "ruin everything," he completely missed her presence because of the fight.
A moment later, the warrior woman threw the handle-end of her Sai into the back of Daredevil's head and proceeded to beat up our hero's quarry in an effort to get the same intel. Just before passing out from injuries sustained, Matt Murdock recognized Elektra.
While unconscious, Matt's mind drifted back to meeting the woman known as Elektra Natchios back when he and Foggy Nelson attended Columbia. They literally ran into the young lady, her father, and their body guards, which gave the future Daredevil a chance to take in her scent.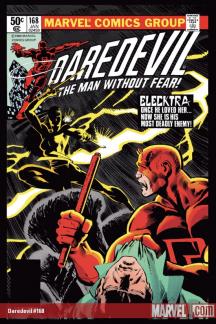 Later, Matt used a paper airplane and less-than-subtle subterfuge to distract the bodyguard so he could briefly converse with Elektra and pass her a rose. After she said she didn't want to go out with him, Matt spilled the beans on his secret origin, explaining his heightened senses.
The play worked and the two had a year of happiness in college. That all ended when some terrorists held Elektra and her father at gunpoint and Matt's attempt at diffusing the situation inadvertently led to Mr. Natchios' death. She didn't stick around long after that, returning to Europe and a life that would eventually shape her into one of the world's foremost assassins.
Eventually Daredevil recovered and made it to the docks in time to help save Elektra from some of the men she tried to pump for info. Before leaving, he kissed her and she knew the masked man's true identity.
Elektra stuck around for a while, but eventually wound up on the wrong end of her own Sai thanks to an attack by Bullseye in DAREDEVIL #181. Far from her last appearance, the master of combat has spent time as the head of the Hand, a Thunderbolt and even an Agent of S.H.I.E.L.D.
Flash Forward
Much to her chagrin, Elektra fell to the invaders during Secret Invasion. As seen in MIGHTY AVENGERS #16, the assassin nearly defeated an entire squad of shapeshifters, but lost in battle to a Super Skrull sporting a combination of Invisible Woman and Colossus' abilities called Pagon. This is the Skrull who then took over the Hand and sacrificed itself in battle with the Avengers to let the heroes know they'd been infiltrated. That story actually set off the invasion in NEW AVENGERS #31 when the dead "Elektra" turned green and Skrully. Upon escaping from her initial captors, Elektra and others found themselves incarcerated by S.H.I.E.L.D. and its follow-up organization H.A.M.M.E.R., run by Norman Osborn. Being one of the most dangerous people on the planet, though, she eventually broke out and got back to her life as can be seen in DARK REIGN: ELEKTRA.
The Hype Box
Can't-miss news and updates from across the Marvel Universe!