Comics
Published March 24, 2017
Flashback Friday: Iron Fist
Danny Rand journeys from the mystic village of K'un Lun to Netflix!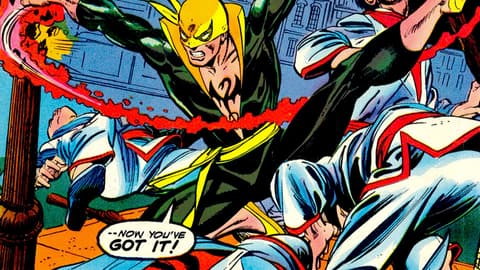 Every Friday we use the powers of Marvel Unlimited to look back at the very first appearance of a major character, place or object that made waves this week.
Considering Danny Rand not only just debuted his own Netflix series, but also starred in a new comic by Ed Brisson and Mike Perkins, it couldn't be a better time to take a glance back at his debut in the pages of MARVEL PREMIERE #15.
The issue, which dropped in 1974, came from the minds of Roy Thomas and Gil Kane. It opened with Iron Fist taking on a quartet of trained attackers for an audience that included Yu-Ti – otherwise known as the August Personage of Jade – and the four hooded Dragon Kings.
Having defeated his opponents, Iron Fist looked up to Yu-Ti asking about The Challenge of the One when the elder asked him to think back on his past. This filled in the reader about a 9-year-old boy who scaled a mountain with his parents Wendell and Heather as well as his dad's business partner a decade prior in search of K'un Lun.
That journey ended for his father, when Meacham, the business partner, took advantage of a minor accident to distract them from his true intent: murdering Danny's dad. Remembering the focus he and his mother had in trying to climb down to safety, Iron Fist used that in his battle with the silent, deadly and huge Shu-Hu.
Danny failed to gain the upper hand with this challenge and soon found himself being battered around. In an effort to regain his focus, he dug even deeper into the memory of surviving with his mother in the unforgiving mountains, hiding in caves and avoiding wolves. While the hungry pack chased them, Danny and his mother saw the bridge to K'un Lun, but Heather didn't think they'd make it so she thrust her son ahead and then ran back, offering herself to their pursuers.
The memory of his mother's bravery spurred Danny on to battle his enemy more fiercely than before, actually spilling over into a berserker rage. Fully back in the fight, he won the match upon funneling his will to his fist which "becomes like unto a thing of iron!" Of course, this would be just the first of many fights we'd see Iron Fist take on as he'd travel through the Marvel Universe joining groups like the Heroes for Hire, New Avengers and even The Defenders.
During his run on PREMIERE, which went until #25, other luminaries like Larry Hama, Chris Claremont, Len Wein and John Byrne worked on the character. Danny then starred in his own ongoing series for 15 issues though the final story carried over to MARVEL TEAM-UP #63-64.
And then true comic book magic happened when the powers that be teamed Rand with Luke Cage in POWER MAN & IRON FIST, a partnership that continues to give readers a thrill to this day. In fact, a series of that same name can be found on shelves right now even as the new IRON FIST series kicks off.
Flash Forward
In the pages of IMMORTAL IRON FIST, Ed Brubaker, Matt Fraction, David Aja and others expanded upon the mythology of Iron Fist. They not only chronicled the adventures of other, previous bearers of the name, but also expanded on the idea of K'un Lun as one of many mystical cities with their own warriors. Readers met the likes of Fat Cobra, Dog Brother #1, Bride of Nine Spiders, Prince of Orphans, Tiger's Beautiful Daughter and Steel Phoenix.
The Hype Box
Can't-miss news and updates from across the Marvel Universe!