Comics
Published February 10, 2017
Flashback Friday: Kingpin
Wilson Fisk takes advantage of a Spider-Man-less New York City in his first appearance!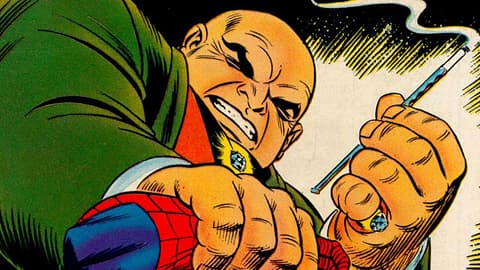 Every Friday we use the powers of Marvel Unlimited to look back at the very first appearance of a major character, place or object that made waves this week.
Wilson Fisk might be trying to go straight in the first issue of his new series KINGPIN, which launched this week from Matthew Rosenberg and Ben Torres, but he certainly didn't start out that way.
Though mostly associated with Daredevil, Kingpin actually debuted in the book of another New York-based vigilante: Spider-Man! And in a strange way, he actually convinced Peter Parker about his important as a hero. 1969's AMAZING SPIDER-MAN #50 not only marks the Kingpin's first appearance as a major Marvel villain, but also the landmark story titled "Spider-Man No More!"
Written by Stan Lee and drawn by John Romita, the issue started off like many others with the Web Head taking on four would-be robbers. With the baddies firmly ensconced in a door, Spidey swung off to ruminate about how J. Jonah Jameson has completely ruined his reputation with Daily Bugle editorials.
Upon Pete returning home, his roommate Harry Osborn told him Aunt May has had another attack, so our hero rushed to her side. Once there, he wondered why he spends so much time helping people who fear him, especially when it takes him away from his loved ones. Fed up, Peter threw his Spider-Man costume in the trash, where it's found by a kid and taken to JJJ who considered the act a victory. As the news went live, we then cut to a shot of Wilson Fisk overlooking the city telling an underling that he, The Kingpin, planned on taking over all crime in NYC!
With Kingpin taking over the mobs, crime ran wild. The man himself explained his plan: "The underworld will now be run like a business—and the chairman of the board will be – the Kingpin!"
Meanwhile, things moved along pretty nicely for Peter Parker. With Spider-Man out of his life he could focus on school, family and even dating his lady, Mary Jane Watson. Still, he heard about the crime wave and even stumbled upon an assault that he stopped. Remembering that his inaction led to the death of Uncle Ben, Peter pledged to continue fighting to help innocents. He then broke into JJJ's office, got his old costume back and got back in on the super hero action.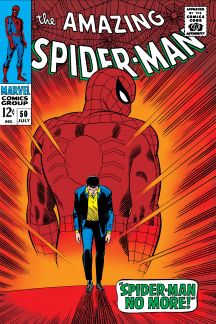 In the following issue, after waging a one-man war on crime against the Kingpin, Spider-Man finally met his new foe leading into a multi-page fight between the two. Not only did Fisk prove faster and stronger than he looked, but also well-equipped with items like a gas-shooting pendant. Kingpin followed that up in issue #52 by tying the unconscious Spider-Man to Jameson and putting them in an air-tight room filling with water. Spidey made a protective bubble out of webbing, knocked out the goons and made his way towards another altercation with Fisk.
Once again, Kingpin used a trick—this time a secret passageway in his office—to escape from Spider-Man, but the two would cross paths many times. Not one to make friends in the hero community, Kingpin also lists Daredevil and Punisher among of his more regular adversaries.
Flash Forward
Before launching KINGPIN, writer Matthew Rosenberg wrote Fisk in the series CIVIL WAR II: KINGPIN. Upon returning from San Francisco, Kingpin learned that a former minion named Janus Jardeesh exhibited an interesting Inhuman ability: he essentially became invisible to the future-seeing Ulysses at the center of Civil War II. As you might expect, Kingpin used this to commit all kinds of crimes. With all that success, though, he attracted ill will from criminals outside his organization and even dissent from within. Fisk fought tooth and nail to save everything he'd built in a four issue series that displayed Rosenberg's deep understanding of the character!
The Hype Box
Can't-miss news and updates from across the Marvel Universe!