Comics
Published October 28, 2017
Flashback Friday: Klaw
View Ulysses Klaw's change from an invader to a super-powered sound slinger!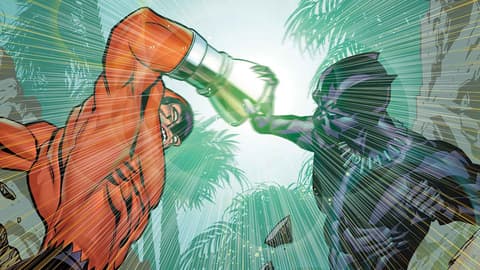 Every Friday we use the powers of Marvel Unlimited to look back at the very first appearance of a major character, place or object that made waves this week.
Klaw made his diabolical return to comics with this week's BLACK PANTHER #166. He and T'Challa have raged against each other for years, which means that he makes an excellent candidate for this week's FLASHBACK FRIDAY!
The character debuted in a very different form back in 1966's FANTASTIC FOUR #53 by Stan Lee and Jack Kirby, which also happened to be Black Panther's second appearance. In the previous issue, T'Challa brought the Fantastic Four to Wakanda and challenged them physically. In this one, though, he revealed his true purpose for bringing them to his homeland.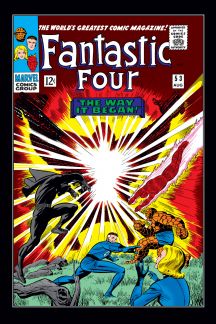 The king showed his guests around and explained both the mantle of the Black Panther and the existence of Vibranium. In a flashback, we met Klaw who had arrived in Wakanda to mine the unique element. He needed it to power his own invention, the Sound Transformer. When T'Challa's father refused permission, Klaw killed him.
Back in the present, Wakanda had been plagued by mysterious red creatures that left no trace when they finally fell in battle. While the Fantastic Four fought the projections, T'Challa went after the perpetrator himself. Klaw intended to kill anyone who stood between him and the Vibranium he craved. To put a stop to his enemy and avenge his father, T'Challa brought an entire mountain down on Klaw.
Instead of dying, though, the villain leaped into his own sound converter, thus turning his body into pure sound. The villain returned in a far more familiar form not long after in the pages of FANTASTIC FOUR #56. He popped up out of nowhere to trap Mr. Fantastic and Thing in Reed's lab.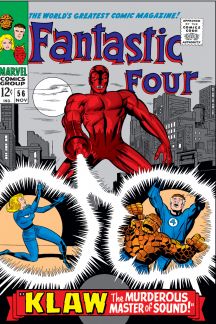 Klaw then attacked Sue Storm and explained his new look and powers. "My physical structure is now composed of solidified sound – sound which serves me as a weapon, far greater than any ever known!"
Sue did her best to hold her own against the mad villain looking to prove himself. Meanwhile, Ben and Reed continued to try and escape from Klaw's trap, which they eventually did! After Thing failed to drop the bad guy, Reed received a pair of Vibranium knuckles rocketed to Manhattan by T'Challa.
Properly armed, Richards knocked Klaw out with a few punches that would make Ben Grimm proud before smothering him with his own stretchy body. Having properly drained the villain of his powers, the team disabled his weaponry and then thanked Black Panther for his well-timed delivery.
Flash Forward
Klaw returned next in AVENGERS #54–55 as a member of the Masters of Evil along with Whirlwind, Melter, Black Knight and Radioactive Man lead by the mysterious Crimson Cowl who turned out to be Ultron-5. The villains worked well together to take out the heroes! In the second issue, Klaw tried killing the Crimson Cowl, but failed. He then swore his allegiance. That failed to help, though, as the Avengers eventually escaped and Black Panther appropriately put Klaw down in the final battle.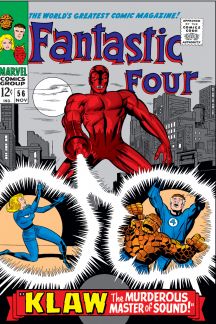 The Hype Box
Can't-miss news and updates from across the Marvel Universe!