Comics
Published March 16, 2018
Flashback Friday: Magik
See Illyana Rasputin go from Colossus' little sister to leader of the New Mutants!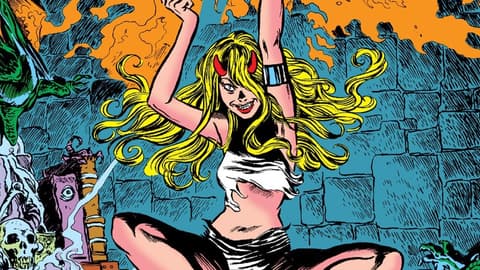 Every Friday we use the powers of Marvel Unlimited to look back at the very first appearance of a major character, place, or object that made waves this week.
NEW MUTANTS: DEAD SOULS debuted this week, giving team leader Magik and her crew—Rictor, Strong Guy, Wolfsbane, and Boom-Boom—a mission to investigate some of the weirder, more supernatural threats hiding out in the shadows of the Marvel Universe. With issue #1 of this six issue limited series by Matthew Rosenberg and Adam Gorham already in stores, we decided to focus on the New Mutants' leader and check out her wild history in comics!
Illyana Rasputin debuted right alongside her big brother Piotr, A.K.A. Colossus, in 1975's GIANT SIZE X-MEN #1. Though unnamed in that story, we see her saved by her brother after he armored up and stopped a tractor from running her over. This heroic act led Professor X to ask Piotr to be part of his new X-Men.
Some time later, Arcade used a robot double of Illyana to attack Polaris in UNCANNY X-MEN #145–#147. The real version of the hero had been kidnapped and brought to Doctor Doom's castle in an effort to lure Colossus and the X-Men there. After being saved, Illyana returned with her brother to the X-Mansion and lived there for a while.
Then everything changed for the young woman in the pages of UNCANNY X-MEN #160. In that story, a demon called Belasco lured the girl away from her fellow mutants to another dimension called Limbo. Belasco intended to use both Illyana and Kitty Pryde to help get him out of of the zone, but the X-Men fought the demon and made their escape. With Kitty grabbing hold of Illyana in her dimension and Belasco holding onto her in his, Kitty eventually managed to pull her through, but instead of seeing the little girl version of Illyana that went in, a 13-year-old teen stood in front of her! Though she seemed to only spend a few seconds on the other side of the portal to Limbo, Illyana actually spent seven full years with Belasco in his demonic realm.
Feeling out of place, but now with a great deal of power and experience, Illyana joined the New Mutants, took the codename Magik, and became an important member of her team, as well as the larger X-Men squad. Magik has dealt with the dark corners of the universe plenty of times, even serving as one of the five hosts for the Phoenix Force during AVENGERS VS. X-MEN.
Flash Forward
In the four issue MAGIK limited series by Chris Claremont and John Buscema, readers learned more about what actually happened to Illyana in Limbo. Though tormented, she did have allies like that dimension's versions of Storm and Kitty Pryde who taught her white magic and physical combat skills.
Still, Belasco managed to train her in the ways of black magic while also creating Bloodstones every time he corrupted part of her soul. In defiance, Illyana managed to create the Soulsword, take over Limbo, and banish Belasco before being pulled back into her home dimension nearly a decade older.
The Hype Box
Can't-miss news and updates from across the Marvel Universe!