Comics
Published March 10, 2017
Flashback Friday: Man-Thing
As the muck monster bubbles up in a new series, crawl back to his early appearances!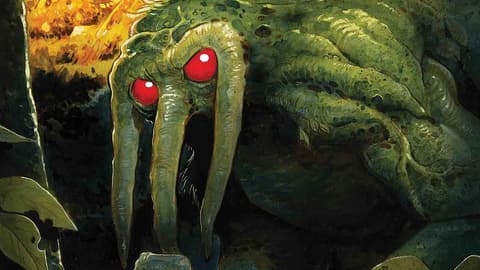 Every Friday we use the powers of Marvel Unlimited to look back at the very first appearance of a major character, place or object that made waves this week.
A legendary writer officially entered the House of Ideas this week with a monster of a debut. That's right, R.L. Stine's MAN-THING #1 just hit, so let's jump back to the muck monster's earliest appearances!
Manny's very first appearance came in 1971's SAVAGE TALES #1. That story by Stan Lee, Roy Thomas, Gerry Conway, and Gray Morrow introduced the world to the creature formerly known as Dr. Ted Sallis who burned those who knew fear with his touch.
Len Wein and Neal Adams created a seven-page Man-Thing story that didn't have a home after SAVAGE TALES got the axe. It was then integrated into a Ka-Zar story in 1972's ASTONISHING TALES #12. That escapade carried over into the next issue as well and featured the two stars first getting into a tussle and then teaming up against A.I.M. agents.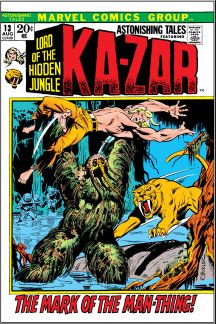 From there, Man-Thing transferred his tales over to ADVENTURES INTO FEAR where he anchored the book from #10–19. With #11, the legendary writer Steve Gerber began his relationship with Man-Thing. That union bore glorious fruit for the creature, and also directly led to the creation of Howard the Duck who bowed in ADVENTURES INTO FEAR #19.
The feature proved popular enough to launch MAN-THING in 1974. Gerber wrote every issue of the series, joined by artists like Mike Ploog, Val Mayerik, John Buscema and others. Gerber also worked on the quarterly book GIANT-SIZE MAN-THING which racked up five huge issues along the way.
From there Man-Thing appeared in places like the first dozen issues of MARVEL COMICS PRESENTS, the Evolutionary War crossover, and a second ongoing series in the late 70's. Gerber returned to the character with INFERNAL MAN-THING, a much-delayed project with art by Kevin Nowlan, which directly references his original run on the character.
Stine's take on the character marks a return to the stands as the headliner, but he's never far away, especially for those who truly know fear!
Flash Forward
Though he might not seem like much of a team player, Man-Thing has actually worked with his fair share of them over the years. He appeared alongside some of his fellow beastly characters in LEGION OF MONSTERS during the 70's and then with Franklin Richards, Artie, Leech, Tana Nile, and Howard the Duck in DAYDREAMERS. A few years back, he agreed to act as transport for the Thunderbolts when Luke Cage ran the group. Most recently he worked with S.T.A.K.E. and the LMD Dum Dum Duggan in the pages of HOWLING COMMANDOS OF S.H.I.E.L.D.
The Hype Box
Can't-miss news and updates from across the Marvel Universe!